The Alpine Buildings range of agricultural sheds are designed to withstand the tough requirements of life on the farm. Whether you're after an implement shed to store your large machinery or an animal shelter to protect your herd from extreme weather conditions, choosing the right design of shed is important to help protect the things most important for keeping your farm running. With so many different farm buildings available it can be difficult to determine which shed is right for you and your needs. Although farm buildings may look the same from the outside, it's important to take a look at the design features and how they can best benefit your operations. Our clearspan designs, for example, with their easy access and bird-proof rafters, make for ideal farm buildings no matter what the requirement may be.
In this article, we help to make the decision-making process a little easier by outlining the Alpine Buildings range of agricultural farm sheds, so you can decide on the shed type that may be best for you.
CONTRACTOR FARM SHEDS
For Farm Contractors, their machinery is their livelihood. Whether it be harvest time, transporting goods or having the perfect tool available for a specific job, contractor sheds need to be secure and spacious to keep operations running smoothly. Let's look at a few of the common contractor shed types.
Implement Storage
No matter the size of your operation, farm machinery is a big investment, so keeping your assets well looked after and protected is a high priority. Providing storage for large farm machinery can prove to be difficult, with some farm equipment being too large to fit inside typical farm storage sheds. And with New Zealand's temperamental weather, it's vital to have a durable, safe and secure shed to store valuable machinery. An Alpine Buildings' implement storage shed ticks all of the boxes when it comes to the ultimate needs and specifications when storing your hard-working farm machinery. With Alpine Buildings, you can be assured that your shed will be designed specifically to suit your needs, offering a wide range of options.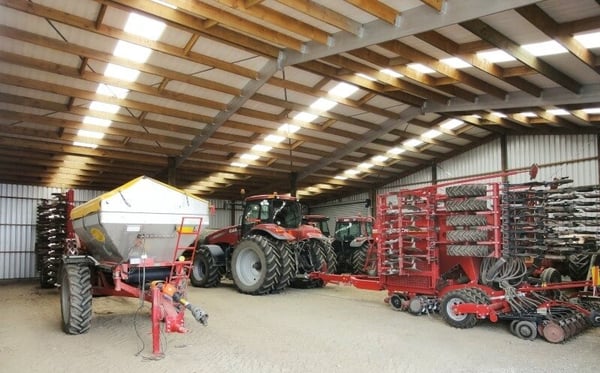 An implement storage shed features clearspans, high-studs and extra-wide bays allowing large machinery and implements to be stored away safely. Our popular size range of 15m, 18m or 20m clearspans, provide more usable space and less risk of damage being caused to the structure from machinery, and the clearspan rafters also provide a bird proof environment protecting your machinery from droppings and nests.
---
HAY SHEDS
Hay is an important resource on many farms, so having the space to store it correctly is key. We've previously talked about the 5 different styles of hay sheds available and the benefits of these depending on the amount of hay you will be storing and the amount of time you will be storing it for. There are many things to consider when building hay and straw storage sheds, with simple design changes having an impact on the quality of the hay, from water penetration, wind and nutrient leaching, to incorrectly stacked hay, so having the right hay shed for your farm can help to ensure your hay is kept dry and healthy by reducing heat and moisture build-up.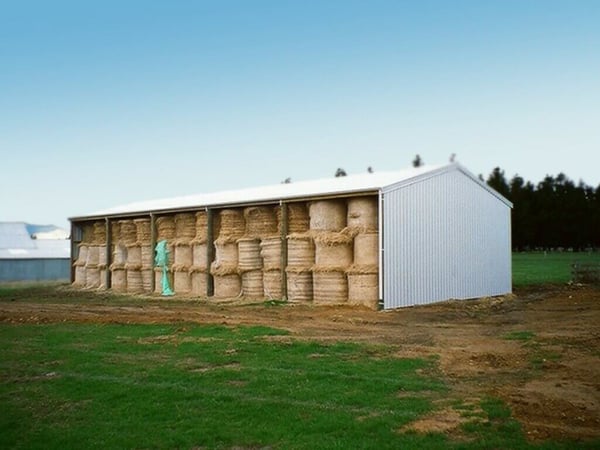 Alpine Buildings provide a wide range of hay sheds with wide spans and large bay sizes perfect for machinery loading and unloading. Using galvanised steel cladding provides a watertight environment while a gable roof design creates natural ventilation above the hay bales. Alpine Buildings' steel rafters also provide the added benefit of 'Zero-bird-perch' features to ensure birds don't have a place to nest, eliminating the spread of lice in your valuable hay.
Whether you require a hybrid hay shed design to store both hay and machinery, a three-sided shed design for easy access, a roof only hay shed, or a custom-built design, an Alpine Buildings hay shed is designed with easy access and protection, no matter the situation.
---
Animal Shelters
New Zealand weather can be unpredictable and extreme. From soaring temperatures in summer to well below zero in winter and torrential rain; ensuring you have adequate shelter to protect your animals is essential. Providing an animal shelter for your valuable stock ensures you have a comfortable shelter in place for the animals no matter the weather.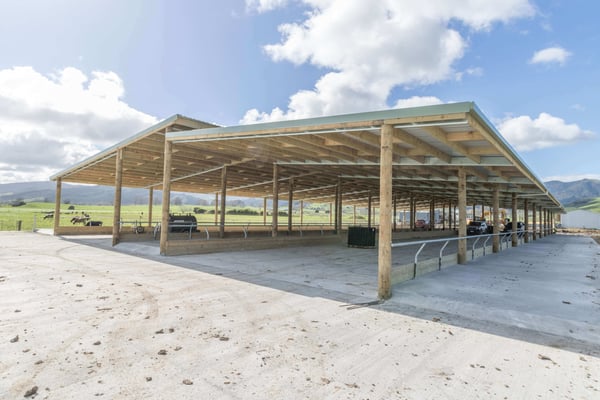 Designed with farming life in mind, an Alpine Buildings shed has you covered with a wide range of durable and long-lasting kit-set animal shelters. All Alpine Building sheds are designed to suit your site location, ensuring easy access for animals and plenty of efficient airflows. A clearspan design limiting the number of internal poles and beams within the shed makes for more usable space for the animals to freely move around.
With optional extras such as clearlight panels for additional natural light or upgrading to Colorsteel DRIDEX, with its anti-condensation fleece layer minimising the moisture within the shed ensures your animals stay dry and comfortable.
But what about Alpine Buildings' range of non-farming sheds? What shed options exist for the part-time pilot or classic car enthusiast? The good news is that Alpine Buildings' innovative shed design and robust craftsmanship makes their sheds the perfect solution for any application where space and strength are at the top of the requirements list. Let's look at a few of those other applications.
---
Hangars
If you're looking to store a recreational plane or a fleet of helicopters, it's important to find a shed wide and durable enough that will keep them safe. Made using structural steel rafters and clearspan openings of 30m+, Alpine Buildings' hangars makes for the ideal aircraft storage space, specifically designed to make any aircraft movement in and out of the shed a breeze.

There are many things to consider when picking the best type of hanger to store your aircraft. All Alpine Buildings clearspan hangars offer a sleek rafter system without knee or apex braces to ensure maximum interior space; design flexibility to suit your needs and wants; and robust structure that ensures the safety and protection of your aircraft. The use of hot-dip galvanised steel and strong rafters means the addition of a gantry is possible with a few tweaks to the design, therefore if you're planning on doing maintenance on your aircraft your shed is strong enough to lift additional heavy parts.

A great thing about a hangar is that it can be used for many other purposes than just the storing of aircraft! The clearspan design of a hangar has the opportunity to store additional large equipment or double as a workshop to increase the functionality of your investment. A few of our previous hangar builds can be found here, showcasing different designs we have created including some custom features.
---
Workshops and Lockups
The dream for many is to extend your storage space on-site and protect highly valuable equipment in a secure and bird-free workshop. The Alpine Buildings range of workshops and lockups ensures plenty of space with sheds ranging from 9m to 30m+ wide, custom heights, bay sizes and almost unlimited lengths available, ensuring your workshop is tailored for its intended use.

Previously discussing the 10 things to think of when building your contractor/workshop shed, Alpine Buildings understand that every individual will require a workshop and lockup dependent on the purpose and intended use! Alpine Buildings provides custom designs and options available including roller doors as well as personnel doors, and with the option to build with or without a concrete floor pad. The addition of clearlight panels can be fitted within any workshop for maximising natural light and the bird proof rafters prevent birds perching and nesting in the roof cavity, keeping your valuable storage items free of corrosive bird droppings.

And while workshops are known to be the home of loud and busy machinery and equipment, Alpine Buildings timber purlins and girts provide sound absorption and a building that breathes and is more temperature-controlled and significantly quieter to work in.
---
Bulk storage and Produce Sheds
Whether it's used to keep your bulk goods dry and clean, or for storing produce after harvesting and packing, Alpine Buildings bulk storage and produce sheds can be tailored to your requirements with a large range of custom-designed produce storage, packing sheds and cold storage facilities.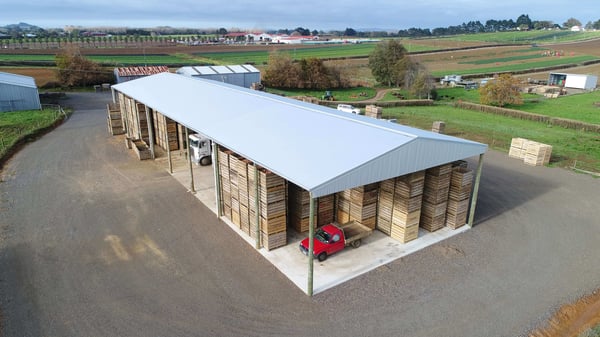 Ranging from 9m to 30m+ wide Alpine Buildings bulk storage sheds include fertiliser bins, grain storage, hay sheds, packhouses and produce sheds, all built with custom heights and bay sizes. The clearspan structure system provides more usable space and the ability to increase bulk storage, and produce storage if required in the future, perfect for a bumper crop. Bird-proof rafters ensure there's no space for birds to perch or nest in the roof cavity of your storage facility, keeping your produce mess-free. There's a wide range of optional features available for your shed including clearlight panels for natural light, enclosed bays within your storage shed to keep bulk goods dry and clean, and a range of doors for easy access.
---
Forestry sheds
Many types of forestry machinery are often too large to fit inside a typical shed, resulting in the hassle and time needed to fold it away at the end of each day and unfold it every morning. A top priority for any forestry owner is the protection of their expensive equipment with a wide range of heavy plant machinery including loaders, skidders, excavators and more.

Alpine Buildings custom-designed forestry sheds are built to accommodate the varying sizes of forestry equipment at the size required and within specification. With height and width a top priority for many forestry machinery, the clearspan of the designs ensure machinery can be loaded and locked away securely when not in use, and without having to be folded up or dodge extra interior knee or apex bracing.

Alpine Buildings forestry sheds are also ideal to be used as an on-site workshop for times when repairs and maintenance are needed. The inclusion of timber framing helps to reduce the noise caused by repair work. Every shed design is adaptable, meaning extensions can be easily added on to an existing build at a later date to allow your operations to grow. We had the pleasure of working with one of Marlborough's most progressive forest harvesting businesses, learn more about how their Alpine forestry shed works for them here.
---
Having designed, manufactured and delivered hundreds of farm sheds across New Zealand we provide the best shed for your needs. Whether it be the perfect implement storage, aircraft hangar, or animal shelter we work with to ensure you receive the most efficient design. If you're unsure on which shed is best for you, why not reach out to one of the friendly team for a chat by contacting us by clicking the button below.