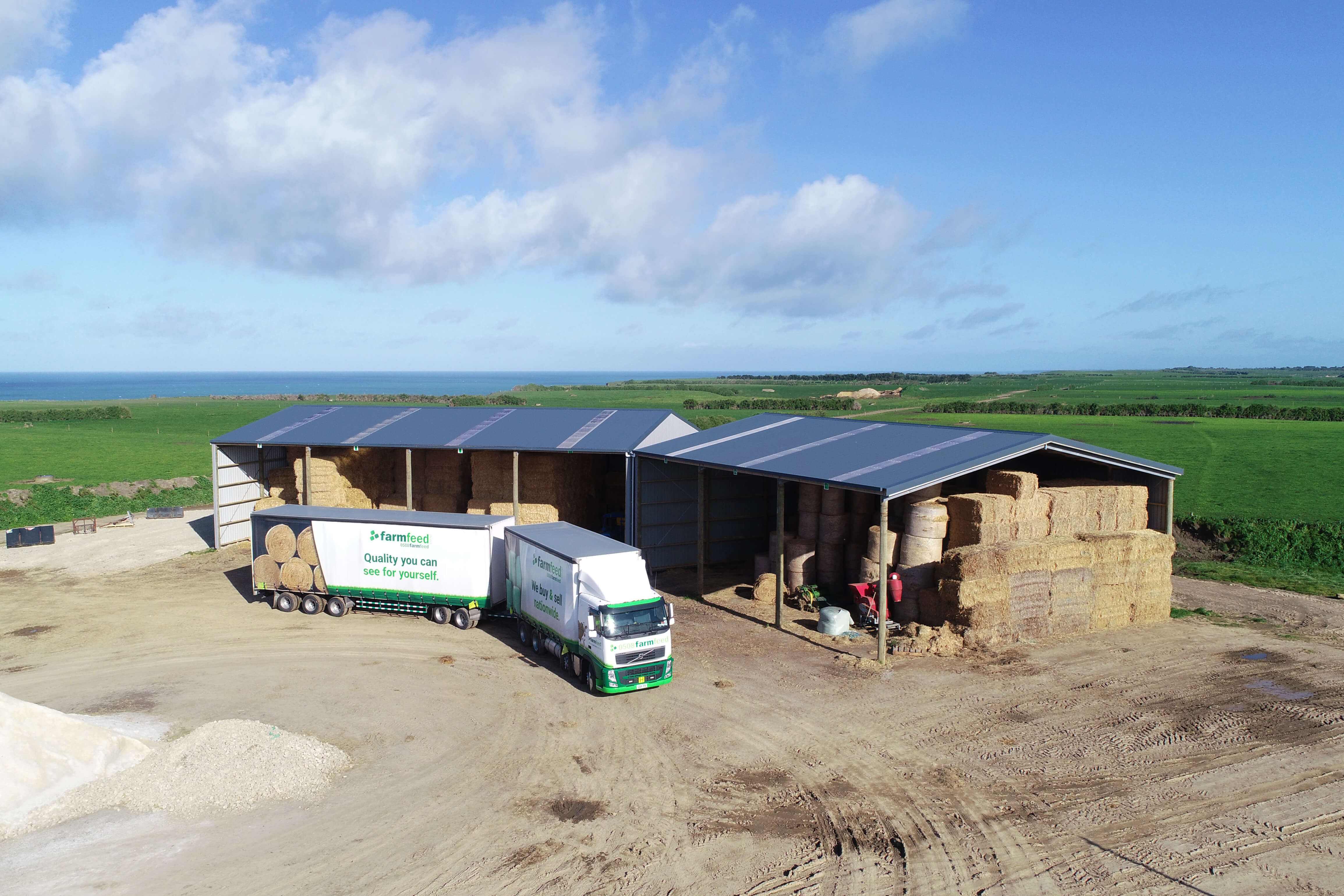 Whether it's baled hay or straw, the feed you buy or produce represents a significant investment for your farm or lifestyle business. It's only through effective storage and management of your straw and hay bales that you can expect to achieve the best results from the feed you purchase or produce.
According to research bales that are stored outside and uncovered are significantly affected by weathering. Water penetration, wind, and nutrient leaching can affect hay quality up to 12 inches deep. This means loss of nutrient value, damage, and even rotting which can negatively impact animal health and wellbeing should they come into contact with degraded feed.
The price of baled hay, straw and feed can vary hugely - especially if conditions have resulted in a poor harvest and increased demand. In a weak harvest maximising the useable hay and straw and reducing losses become even more important. But this doesn't mean it shouldn't also be a priority when times are good. After all, it's never a good thing to waste money!
Quality baled feed, such as barley straw in 4x4 square bales may be worth as much as $160 a bale, whereas ryegrass straw in 3x3s could be over $100. Meadow hay in 3x3s could cost over $120. If you're looking to get it cut and put in your shed then you may be looking at only around $10 - $20 per bale.
No matter the price you're paying, you don't want to lose any of that to rot or nutrient leaching. And that realisation has inspired many farmers and lifestyle block owners to look at storage options for their hay and straw. In this article we'll cover 5 things you need to know if you're looking at hay and straw storage sheds.
Hay/straw shed access
Getting your hay or straw into and out of the shed needs to be thought through. For many farmers machinery such as telehandlers or tractors are used to grab and distribute the hay, and the same will be said of how it's loaded into the shed.
Therefore ensuring your shed has the height and span to allow easy access is key. Having a nice tall shed littered with poles will reduce a vehicle's manoeuvrability and increase the time taken to load and unload. This is an opportunity for time to be wasted, and costs to increase if contractors are being used. It can also be a health and safety risk as there is a much greater chance of poles being hit and the shed or telehandler damaged.
Choose a design that reduces, or eliminates structural poles entirely to create an open space for machinery to easily get in and get out. This results in the added advantage of using the shed in the off season for machinery and implement storage.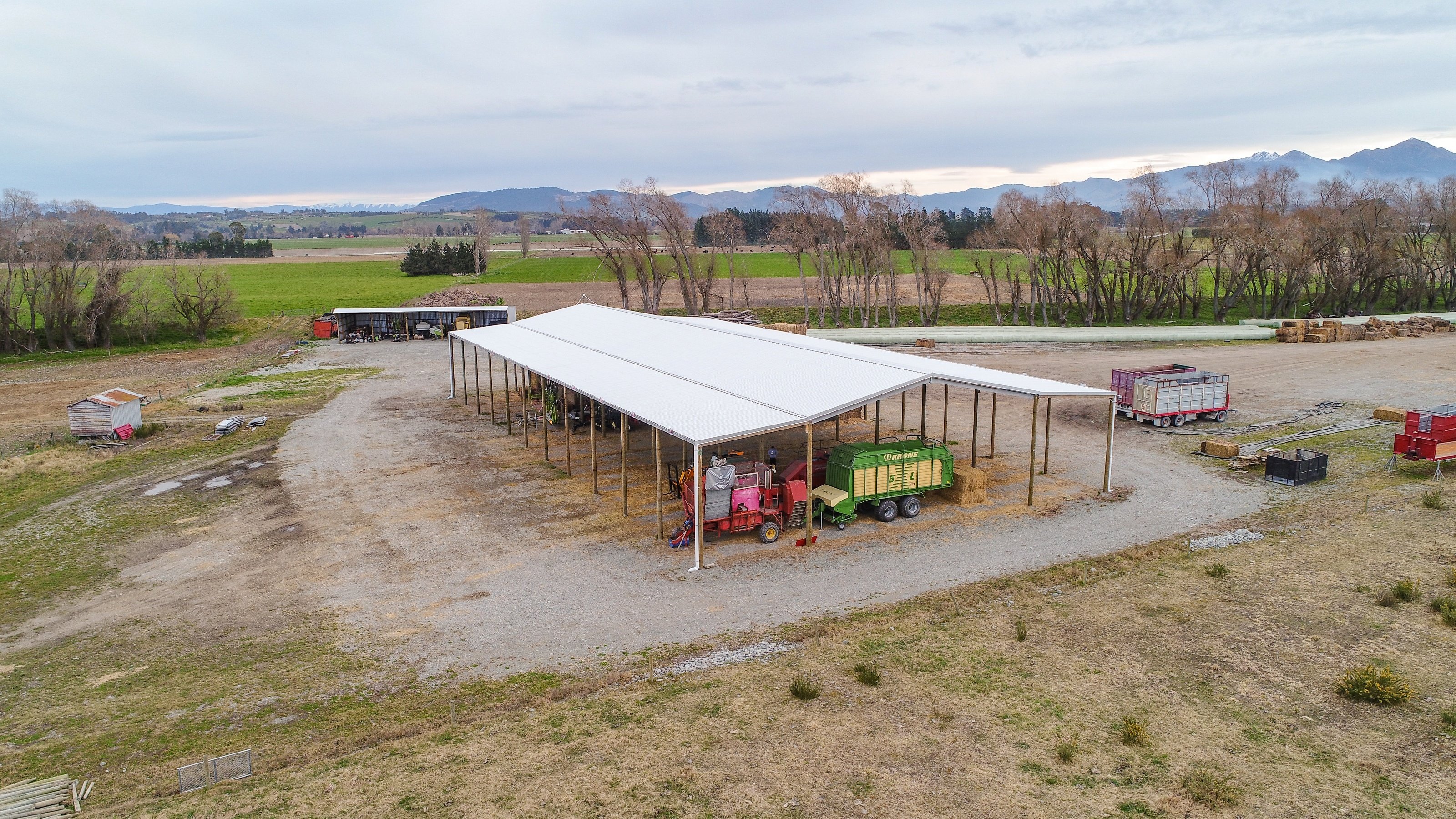 Hay/straw shed ventilation
It's common to see hay/straw sheds feature open sides as this increases ventilation and reduces moisture as well as heat build-up.
If open sides are not favourable then ensuring the eaves have openings to encourage air flow and effective ventilation while reducing moisture ingress and condensation build-up.
Hay/straw shed placement
It's worth considering the location of your new hay/straw shed. Not only should it be easily accessible to farm machinery and potentially close to the paddocks, but it should also avoid wet or boggy areas. Earthworks can encourage water to drain away if you don't have many options but you want to reduce the standing water in and around your shed.
Future developments should also be considered. Are you likely to need additional hay/straw sheds in the future? In which case you do want to group them near each other, but not so close that a fire in one could travel to another.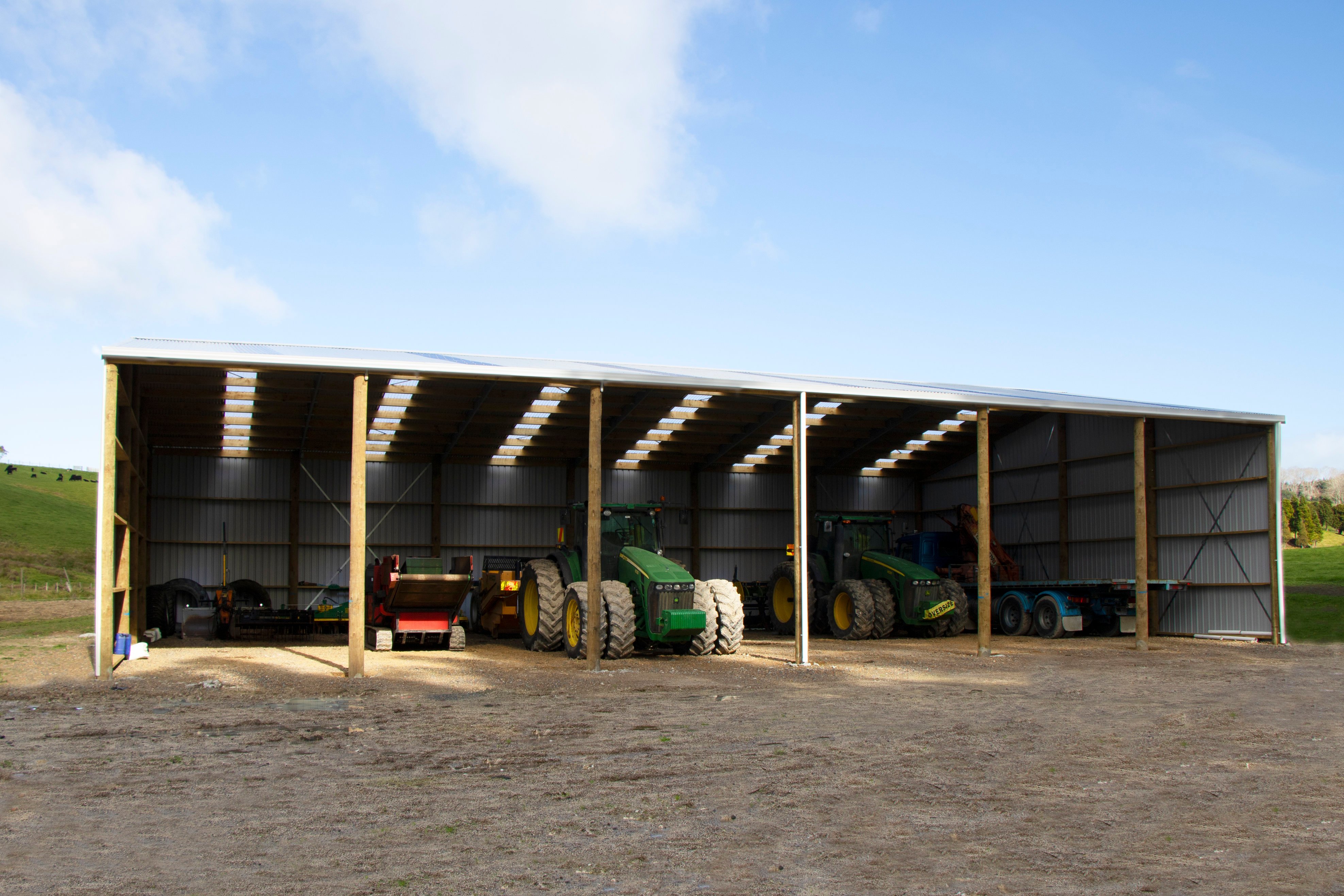 Hay/straw shed size
It's important to consider both your current and future needs in your hay/straw shed sizing. You need the shed to be big enough to cope, but to ensure the design and construction doesn't limit the shed's ability to grow.
At Alpine Buildings, for example, the strength of our structures enables them to be extended over time, meaning you can easily add another couple of bays in the future, should it be required. Likewise, it's very easy to add on additional structures, such as a lean-to for machinery and storage.
However building the entire shed with these needs in mind is the best way to go. It reduces transport costs, can save labour costs and gives you a shed that's fit for purpose. Changing one bay in the design to an enclosed area for machinery is quick and easy in the initial quoting phase, but is more expensive when the shed is built.
There are a number of other benefits to investing in a hay/straw shed that go far beyond the protection of your hay/straw assets.
A new shed can have tax benefits as a farm asset investment.
Can protect machinery and tools from weather in the off-season.
Reduces nutritional loss from weather exposure.
And with Alpine Buildings' team of in-house designers you can create the perfect configuration for your needs.
For a free quote and consultation talk to a member of the team today or use our online Shed Builder tool to specify your dream shed.