Our clearspan designs, with their easy access and bird-proof rafters, make for ideal aircraft hangars. The timber elements in these not only improve the aesthetics but also reduce noise and minimises condensation in the busy and open design of an aircraft hangar .
Below are just a few of our past hangars including different features from bifold doors to custom concertina doors, and even a built in service rail.

For more hangar inspiration download our aircraft hangar brochure by clicking here ››
---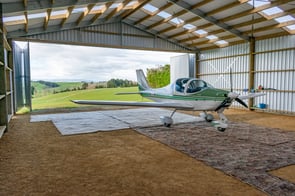 EASY DOES IT
Location: Southland
Specs: 12.0m wide x 14.4m long, 3 bays at 4.8m, 12.0m opening with bifold doors, Zincalume cladding, Side height of 4.0m up to 5.6m at the apex.
Highlight about this hangar:
The clearlight panels in this private aircraft hangar eliminated the need to run electricity to the building for lighting. Manually-operated bifold doors complete the off-the-gird simplicity of the shed and ensure minimal maintenance requirements.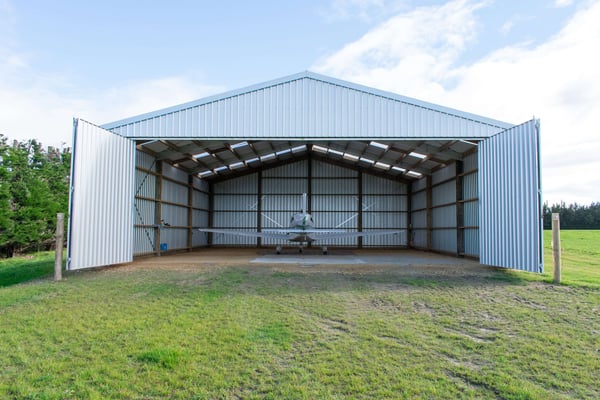 ---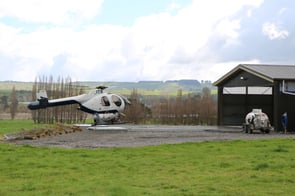 RARE IN REWA
Location: Rewa
Specs: 11m wide x 24m long, 2 hangar doors at both gable ends each 10.0m wide x 3.8m high, This shed has a side height of 4.2m x 5.670m at the apex, Coloursteel cladding.
Highlight about this hangar:
This hangar has been designed with extreme easy access in mind. Featuring clearspan doors on both ends, helicopter manoeuvrability can be achieved no matter the prevailing wind direction!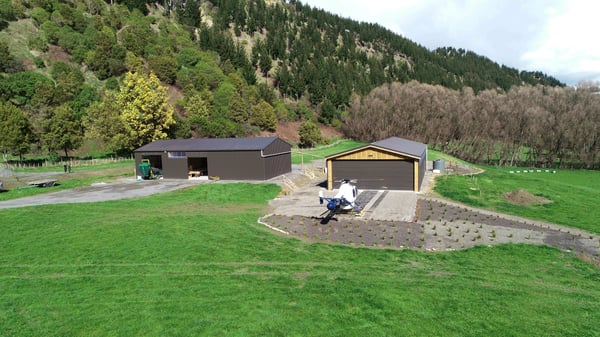 ---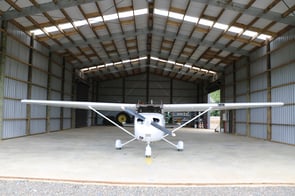 multi-purpose hangar
Location: Pukekohe
Specs: 15m wide x 30m long, 4 sliding doors giving a 15.0m x 4.5m high opening, Side height of 6.5m with 8.1m at the apex, Coloursteel cladding.
Highlight about this hangar:
This double-height hangar is a multi-purpose workhorse in this agricultural setting. With sliding bay doors the single prop aircraft has clearspan access. The double roller doors at the other end make machinery access easier than ever.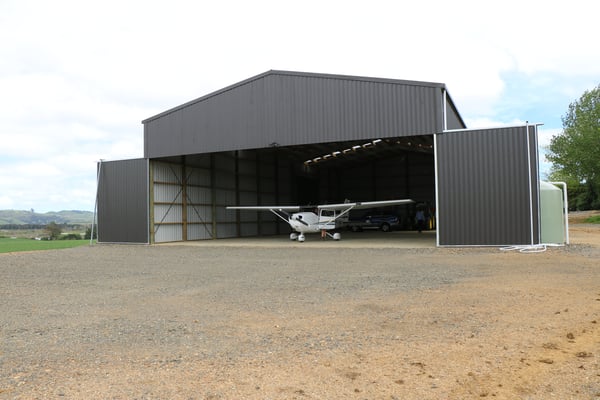 ---
PRIVATE & PRACTICAL
Location: Northland
Specs: 12.0m wide x 19.2m long shed, Lintel across 2 bays for a clearspan opening, Zincalume cladding.
Highlight about this hangar:
This hangar was thoughtfully aligned to shelter from the onshore winds allowing for easy access whatever the weather. With three different entry points taking up more than half a side, access was a real factor for the design of this building!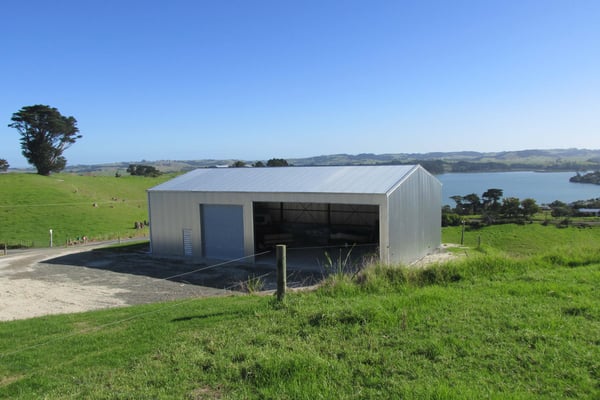 ---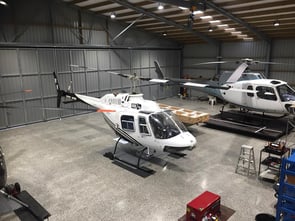 COMMERCIAL HANgar
Location: KihiKihi
Specs: 25m wide X 16m long, Custom concertina doors with a 24m span opening, Built in service rail and a Coloursteel cladding finish.
Highlight about this hangar:
This hangar can easily fit 2 3-bladed squirrels and around 10 2-bladed smaller helicopters. The gantry enables easy engine maintenance and the extra wide concertina doors allow for multiple aircraft to be loaded and exited simultaneously. The custom made concertina doors provide a 24m opening when fully folded.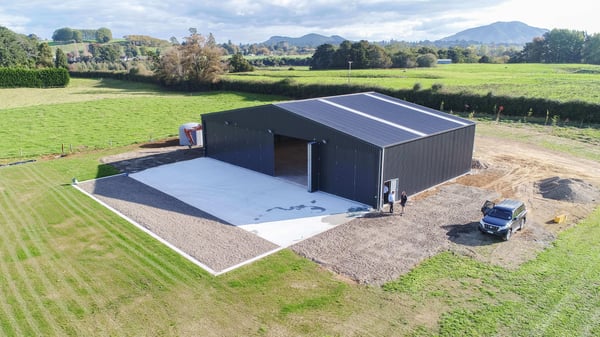 ---