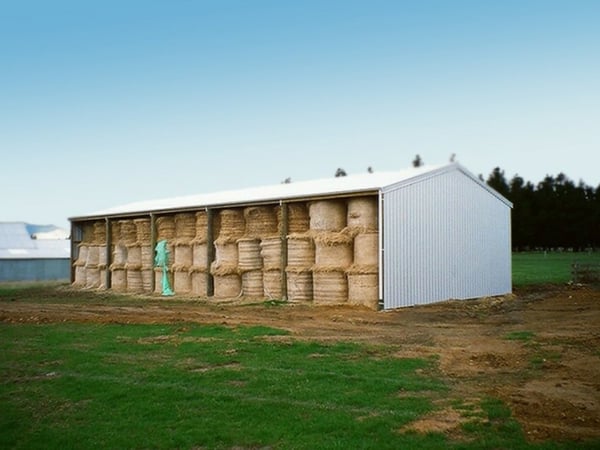 There are a number of different ways to store hay and while each provides certain benefits there's nothing quite like a shed for storing hay.
Not only does a hay shed reduce the heat and moisture build-up within the bales, and therefore reduce the opportunities for mould development, but it also provides airflow and protection from the elements. Exposure to water can cause nutrient loss in the hay, and ensuring each bale is as packed with goodness is key, losing some, or any, unnecessarily needs to be avoided. Studies have shown that even relatively small amounts of water can render the hay almost completely useless for feeding.
We've spoken at great length before about the benefits of a hay shed for storage over other methods, so now let's look at different types of hay sheds and the styles you can choose from. From hybrid sheds doubling as secure machinery storage to those maximising airflow and space, there's a style for every type of farmer and preferred process. So check out these 5 different styles of hay shed to find your perfect fit.
Hybrid hay shed design
Splitting the use of the shed between hay storage and machinery storage not only allows the efficiency-seeking farmer the ease of putting the tractor away but also provides both security and storage in one building.
Quite commonly a hybrid shed, like the one below, will have two or three bays full-enclosed with roller doors fitted as the ideal location for tractor and attachment storage. The remaining, open-sided bays provide easy access to feed while ensuring the hay is sheltered from the elements.
Facing these sheds away from the prevailing winds not only serves to protect the hay but reduces the pressure placed on the roller door rails in high winds. While these are not flimsy bits of kit their protection will ensure their longevity and smooth operation for years to come.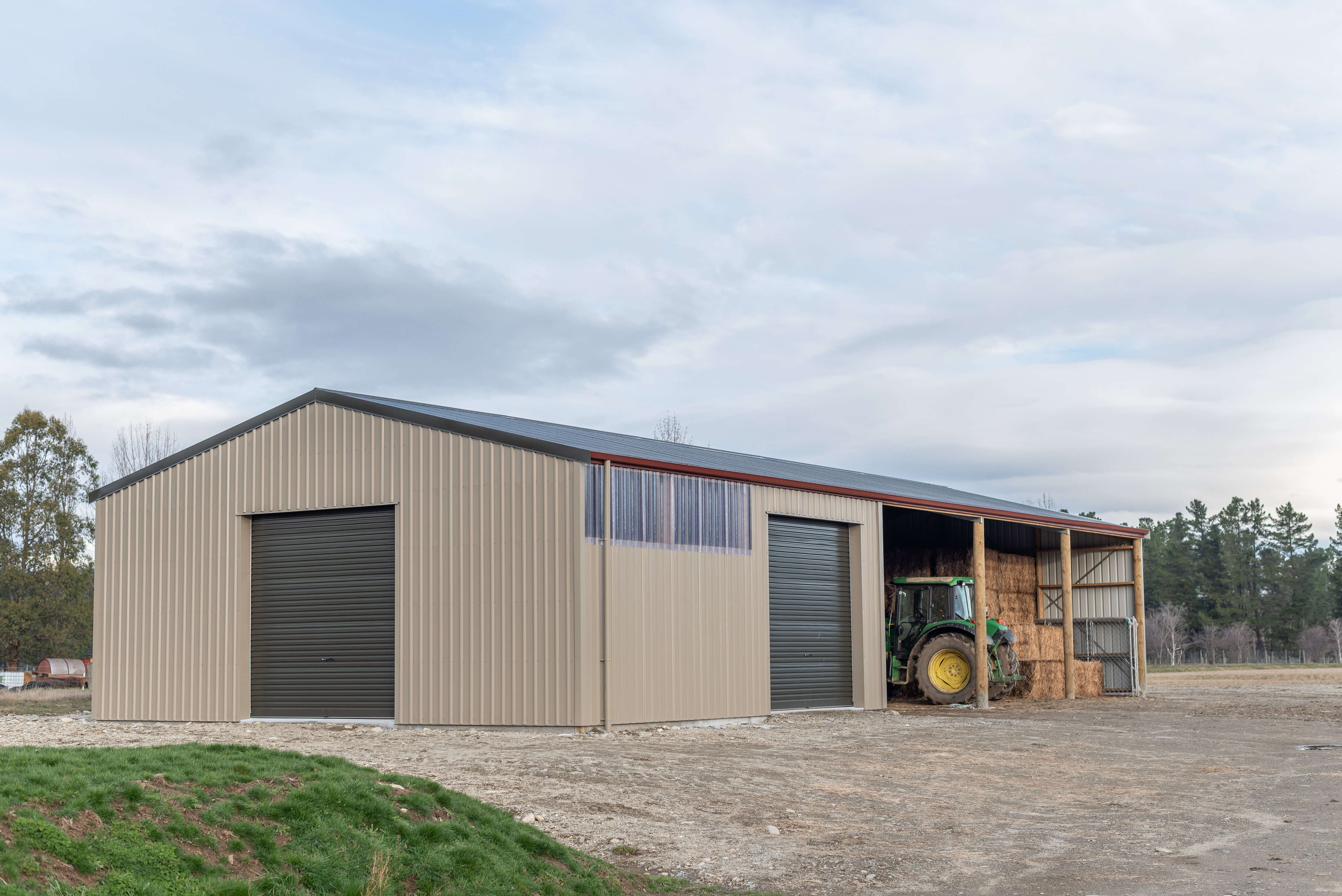 Three-sided shed design
The three-sided shed is a staple on farms across New Zealand. The archetypal shed features one open wall for easy access while ensuring the protection of everything within, against even the most tumultuous conditions!
If security isn't as much of a concern, and you've ruled out the hybrid shed design then this is sure to be the next best choice. A fully-enclosed shed is not advised for hay so this gives the maximum level of protection while enabling effective airflow and ventilation for the hay as it sits within.
Unused bays still offer the option for attachment and machinery storage, perfect for keeping some of your most valuable assets away from the elements. The bird-perch free rafter design keeps the birds from making a mess on your tractor as well. Which is a large added bonus to an Alpine Buildings hay shed design.


Roof only hay shed
These are also a popular choice for a number of reasons not least because they give 360-degree access when it comes to stacking and taking the feed out to the paddock. And while this design does lend itself to more exposure to the elements, the additional free-flowing air dries the outer layers of the hay rapidly and quickly wicks away any moisture that does find its way into the shed.
With an absence of knee and apex braces, these sheds offer maximum internal storage space, while the timber poles are more forgiving to a knock from farm machinery than roll form steel sheds would. The design below shows a roof design with a vented apex to direct rising warm air out and away from the hay while channelling external airflow down and around the bales within. This shed has been specially designed to use the elements to manage this bountiful natural resource!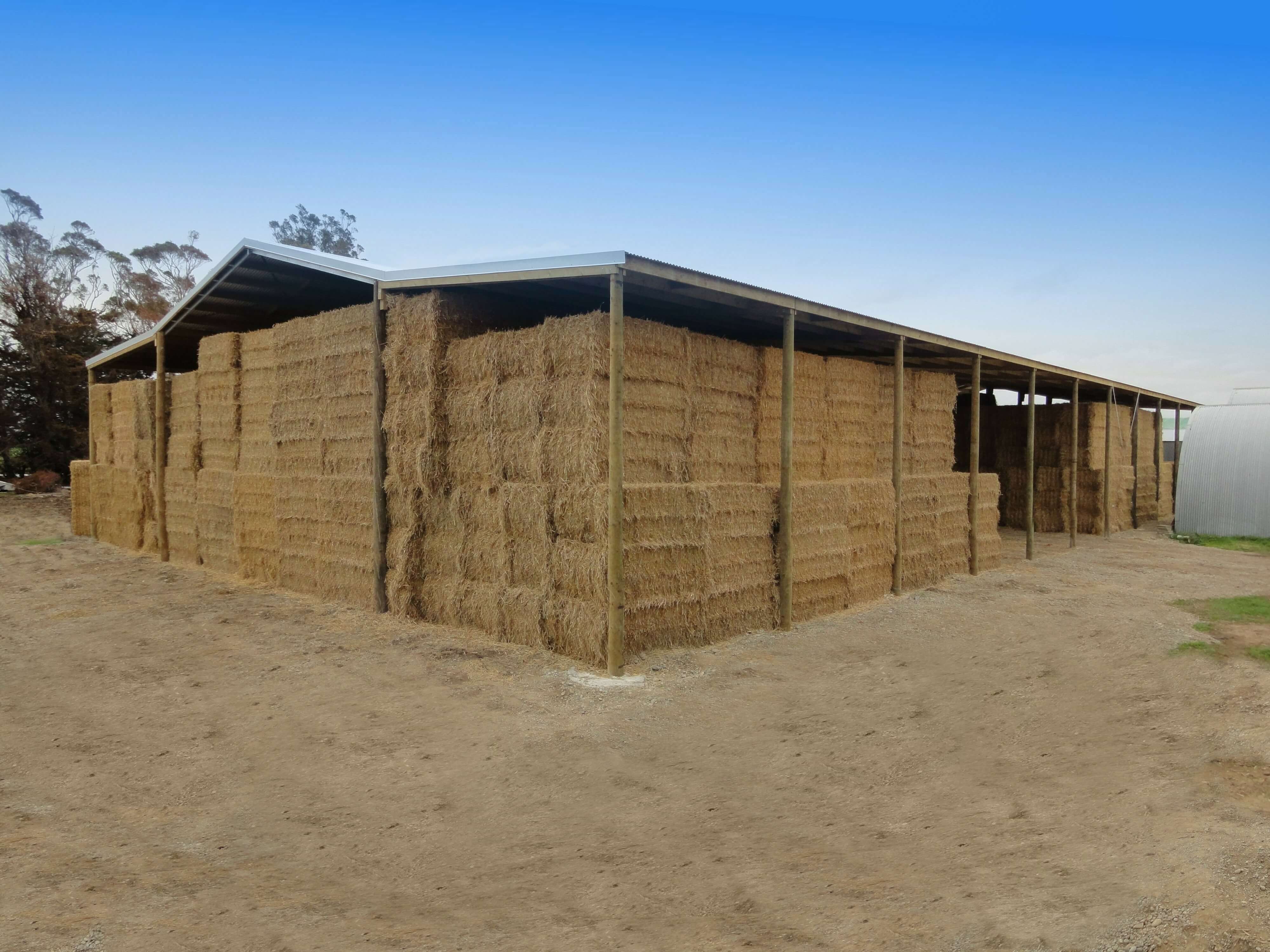 American barn style shed
If you've always dreamed of living in the American mid-west but didn't fancy the flight (or missing out on Super Rugby) then you might be tempted by this design. And while we don't sell American barn sheds we thought they were worth a mention to appease those that have a soft spot for the unique styling of these iconic sheds.
Whether painted red with white beams or coloured in something more modern, these sheds would historically have a smaller loft door with winch and the hay would be stored in the roof. Standing out with their taller central structure and smaller side wings, they're commonly used to store machinery in either side and the central element used as horse stables.
It's actually not all that common for them to be used for hay storage anymore as their mostly enclosed design makes it hard for the heat and moisture to escape and with self-combustion an issue regardless of shed design, enclosing such an event within a thin-walled steel structure seems like a recipe for disaster!


Custom hay shed design
With the years of experience in the Alpine team, we would recommend you reach out to discuss your requirements so we can ensure we provide the most efficient design specific to your bale sizes, site and what you are looking to achieve. Here at Alpine Buildings, you can rest assured that we'll use our in-house design team to deliver the best shed for your needs, whatever they may be.
Whether it's a two-sided, split roof wide span shed or a shed with a fully enclosed bay and roof only we can help.
Having designed, manufactured and delivered hundreds of sheds across New Zealand we're your premier partner in designing the perfect hay, animal shelter, aircraft hangar or implement storage shed. No matter what you're looking to store we can ensure your designs are up to code and last for decades to come.
If you're unsure of which shed you'd like why not use our interactive shed specifier tool to request your no-obligation custom quote and take the first step towards making your shed dreams a reality.