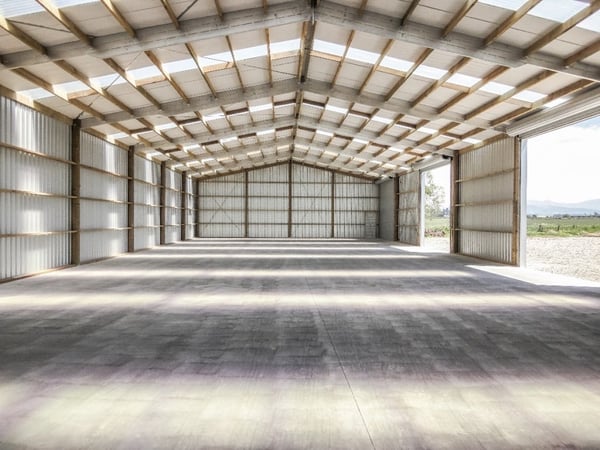 Here at Alpine, we get asked a wide variety of questions about shed building. Sometimes we even come across a few questions people didn't think to ask.
This has inspired us to highlight some of the things that you need to know about building a shed — so this is our top ten things you need to know when building your contractor/workshop shed!
1. Building Consent
Yes, that annoying little consent from the council that gives you the go-ahead with your build. It is required for most building, plumbing, and drainage work, unless smaller in nature (such as a carport on the ground level that is smaller than 20sqm which is exempt from building consent requirements) or replacing an existing building. To check if you need building consent look here.
The great thing is that we have an in-house consenting team working with councils all around the country. This means we can sort the consent for you as part of our service — phew!
Did you know that our buildings are designed for the longest building consent available, 50 years!


2. Think long-term
A workshop/commercial shed is a big investment so make sure you do your research! Ensure that the shed you choose is made to the best design, with the best materials, for ultimate longevity, as you'll want your investment to last. All of our sheds here at Alpine have been designed by our in-house design team — as experts in our field, with over 25 years of experience, we have seen it all (and have the designs to boot).
With all this in mind, it is better to spend a little bit extra now to save you money in the long run, rather than saving money now which will end up costing you later on down the track. This might mean going with the bigger option to maximise space, allowing you to store those excess materials and equipment inside of the building.


3. Extra Height
Again, think long-term not short.
Adding a few extra feet of height now will not add a huge amount to the cost of your build, and is something that cannot be added on at a later stage. If making the investment now, ensure you are also thinking about your business needs in the future, to allow for future growth and demand.


4. Maximising interior space
When it comes to design, there are a few little things that you can look out for to ensure you are maximising your interior space within your shed. The clearer your access can be, including width, length, and height — the better.
A few things to look out for are:
Designs that exclude knee and apex braces will allow for extra space. It all makes a difference when it comes down to ensuring height for those bigger pieces of machinery.
Opt for a design where purlins sit between the legs rather than on the outside — again, maximising space as well as strength.
Have a look at our clearspan designs, which really are the ultimate when it comes to more usable space.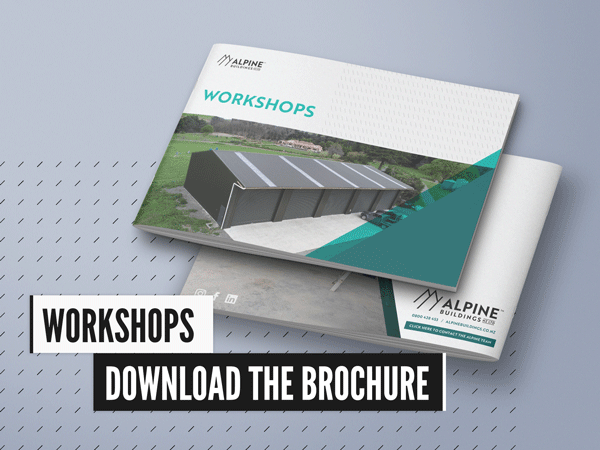 5. Timber framing
What material will your shed be built from? This may not be something you think of first. Things such as size, primary use, as well as location should all be factors in making a decision.
At Alpine, most of our range is built from steel rafters and versatile timber. We ensure we use the best quality structural steel so that it is structurally sound and able to weather the wind and rain. Combine this with timber framing and the benefits are many, such as:
Reduced noise: Timber significantly reduces the noise that you hear within the building, making for a much quieter work environment.
Wiring: Wood can be much easier, cheaper, and safer to wire compared with steel.
Lining: A timber frame makes it easy to fit lining, hooks, or shelving.
Lightweight: All of our timber is pre-dried making it much lighter, straighter, safer, and easier to build with.
Temperature controlled: Timber is breathable, allowing for a much more controlled temperature within your structure.


6. But what doors do I choose?
Here are our most commonly used doors, with a few corresponding pros and cons to get you started. If you would like to further customise your option or provide your own, just get in touch!
Roller shutter doors
These are great in high wind zones as they are a stronger design. They can go out as wide as 7-8m making them a great choice if you're needing a wider door. The roller shutter doors can however be heavy to open and shut.
Sectional doors
Sectional doors allow for maximum entry clearance. However, they can minimise the amount of headspace available inside the shed when they're open.
Sliding doors
These are the best doors for hangars to allow for full-width clearance, as they need to be engineered specifically for each shed they are often more costly. We don't specialise in these ourselves but we can work together to get the best outcome.
Roller doors
Roller doors are very common in contracting sheds. They are easy to open and shut, and they can go out 4m wide and 4.5m high. They are however, limited in their size range.


7. Snow & Wind Loading
Something that you may not know is that New Zealand is divided into zones for environmental factors such as wind, snow, and earthquakes, for the purpose of building code compliance. Check here for more information on zone categories.
Our sheds are all tailored to your specific requirements, taking into account your snow and wind category, as well as what will work best for your site. If you are unsure of what zone you are in we can help you!


8. The little things that improve functionality, overall quality & finish
Clearlight (translucent roofing panels): These allow natural light to enter the building. If you are working in your shed every day, then having natural light can be a worthwhile investment. It's also important to install high-quality clearlight panels for maximum durability.
Building paper: Typically used under the roof of an enclosed shed for moisture control.

Coloursteel

:

Why not add some colour!? Check out our colour steel options here.


9. Flexible delivery date
Your delivery date is very flexible, we work with you around what will work best. Once the deposit is paid, and council consent is approved, we can manufacture your kitset shed in as little as one week depending on factors such as size, number of builders required, and weather conditions.
However, if you want to delay delivery to work alongside another project, or to coincide with a quiet period, we can hold delivery for at least 6 months to suit you.
We also offer free delivery NZ-wide!


10. DIY couldn't be any easier
Our kitset sheds are all designed with the end buyer in mind catering to all skill levels, for the home handyman or an experienced builder — they are safe and easy to erect! A full set of instructions is included.
Don't want to install it yourself? That is completely fine! We also have an installation service where we can get in touch with one of our many loyal and experienced builders that we deal with NZ-wide. Or, if you have a preferred builder, just get in touch with them directly.


11. details do count
We always go the extra mile here at Alpine, so here is #11!
Our sheds are designed to last, with a building consent that covers your structure for 50 years. Our aim is to provide a building that is around for generations which is why we offer a number of unique benefits.
Structural steel rafters: Manufactured from RHS which we import directly from European suppliers.
Hot dip galvanized rafters: This gives your rafter a coating 2.5 times thicker than any other coating and is the best rust protection available.
Pre-dried timber:

Meaning your timber is a lot lighter, straighter, easier, and safer to build with.

Complete kitsets: Our triple-checking system ensures you receive a complete kitset.
Graded timber poles: Ensuring your poles are high quality and straight.
If you would like to talk to a member of our experienced team to talk you through your shed building needs please feel free to get in touch. We look forward to talking with you further.