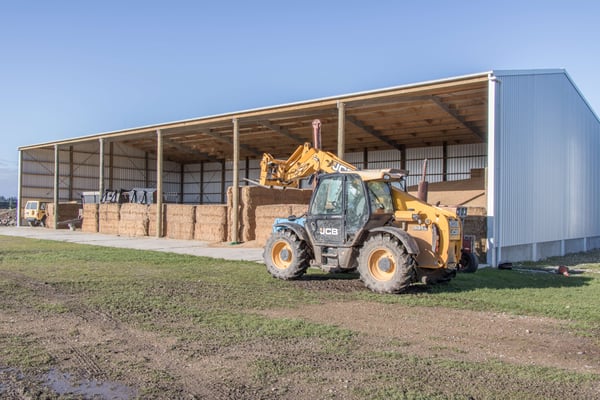 With so many different ways to store a successful harvest it's no wonder that a great debate rages as to the best method to keep hay bales in top condition. From being tied and left out in the open, to being wrapped in plastic or stored under a tarp, all you need to do is drive across rural New Zealand to see the different ways hay can be stored.
Many of these methods are chosen due to efficiency, habit and cost. Plastic sheets covered in tyres keep the rain and sun's rays off, while exposed bales get to dry in the breeze. Yet it's the humble hay shed that's making its way into more farms across the country. Storing bales of hay inside a shed delivers many benefits, some obvious and immediate while others are more subtle and long-term.
---
"We needed a shed to make it safer for the guys not having to deal with covers."
- HAYDEN MACKENZIE, FARMER & CONTRACTOR
---
We spoke to some of our customers to hear directly from them why they chose to build a hay storage shed and the difference it's made to their farms. Here's what they told us:
Increases productivity
Tying up tarpaulins is time-consuming, so it's no wonder why every farmer we talked to mentioned how having a hay shed has had a huge impact on their production. A hay storage shed means there is no longer a need to ensure each hay bale is covered which saves a lot of labour.


Creates a safer working environment
In addition to increasing the productivity of their workers, health and safety concerns were a big motivator for farmers looking to make the switch to a hay shed. Richard Wilson spoke about his concerns of working at heights when covering bales, so removing the need to climb up high onto the bale stacks to ensure the hay is covered was a big incentive for his decision in building his hay shed.

Building a shed with wide bays, clearspans as well as an open-sided design makes the stacking and removal of bales safe and quick. Speed shouldn't compromise safety and with the right shed design both can be achieved effortlessly.


Higher quality hay
"Every bale that goes in comes out good" says Phil May. Better quality hay can fetch higher prices, while not necessarily costing more to harvest. This can result in increased profitability per bale giving your farm more cash at the end of each harvest to reinvest, or set aside for future investment.

We've gone into great detail before about how the best method of storing hay is in a barn or hay shed. Essentially, the additional shelter reduces weathering, lessens dry matter loss, and the bales can be allowed proper ventilation to dry, resulting in higher quality hay that is more profitable.


Higher quantity of bales to sell
When speaking with Craig Clucas he told us he sees other farmers that use covers often lose the top and bottom bales as they end up partially ruined. That's two out of six bales lost, causing those farmers to go to market with only two-thirds of the bales they started out with.

So while plastic and tarp covers might seem lower cost than a shed, in the long-term the increased yield from the same sized harvest can increase revenue and profit - all with one simple change. Combine an increased number of bales to sell, thanks to better protection, with an increase in the quality of each bale and you could unlock greater financial returns for your farm.


Keeps implement equipment protected too
Farm machinery is a big investment so keeping your assets well looked after and protected is a high priority. A lot of our customers use their hay shed to store their implement equipment in the off-season, while others factor equipment into the initial design meaning they have space to store it all year round.

For ultimate versatility often farmers will add an additional one or two fully enclosed bays to their hay shed creating a secure lockup for machinery and associated tools. Talk to your insurance provider about whether these additional security measures would reduce your premiums to see if this is another way that a hay shed could

save you money

in the long run.
There are many ways a hay shed can improve your yield, increase your revenue and provide you peace of mind over the years. For more information on access, ventilation, placement and sizes for the optimal hay shed check out this article or to talk with someone about your specific concerns and requirements reach out to our A-team today.
Still unsure on whether a hay shed is right for you? Download our hay storage brochure to see designs and examples of other sheds across New Zealand by clicking below.