When people think of a man cave it's not uncommon to find that the dream of a dedicated 'man space' can fall into several categories. From a single room where you can hide away and watch the game with some team memorabilia on the wall, to a full-on workshop for creating the world's next best thing. A man cave is almost as unique as the passions that inhabit the space.
Budget is often the biggest limiting factor on the size of the perfect space. For some people a flat screen tv in a small shed might be the apex of their dreams, for others only a projector with a fridge, a surround sound system and sofas full of mates will do.
An understanding partner is obviously a key ingredient to getting the best man cave possible. And whereas we don't advocate any deception when specifying the perfect shed, there's no harm in a new tractor shed having a secondary function as well!
There are plenty of articles out there which appeal to the smaller shed lover but Alpine Buildings aren't in the business of small sheds. So if you want to know more about creating an epic man cave or man shed then read on!
Size matters
More space gives more options. We can all dream of having so many supercars/boats/bikes that the only logical solution is a large shed but in reality, a shed's size is more than the sum of its contents. We can't all have Joanna Pietras' car collection but the building it's housed within isn't a far cry from the types of sheds we build.
More space means freedom of choice. From a chillout area at one end, to space for working on vehicles, a larger shed provides the room to do it all. The shed below, commissioned by Simon Tutty, shows the full potential of a well-planned man cave. Roller doors make storage extremely easy, while the GIB walls and Clearlight roof panels give the shed a very un-cavelike feel!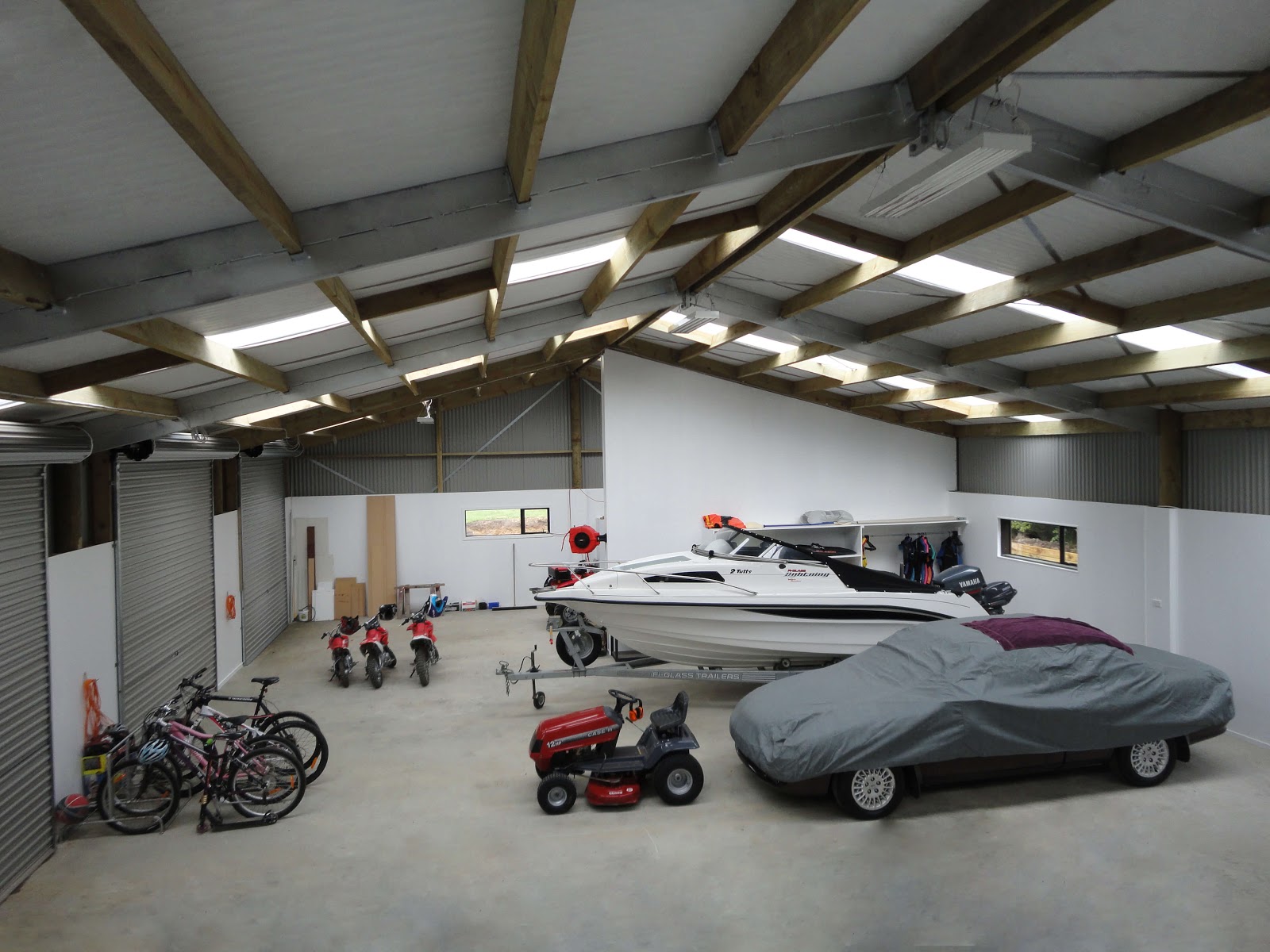 Workshop
If you like tinkering then a large man shed is the ultimate option. Not only does it give you the space to get creative but it also means your passion, and the mess it might create, is away from the judgement of others. It's hard for your tools to go missing or to be put back in the wrong place if you're the only one with the keys to the shed.
Our larger Structural Steel sheds are strong enough to take the weight of a gantry, so if an overhead crane is your idea of the perfect workshop tool then Alpine Buildings have a solution available.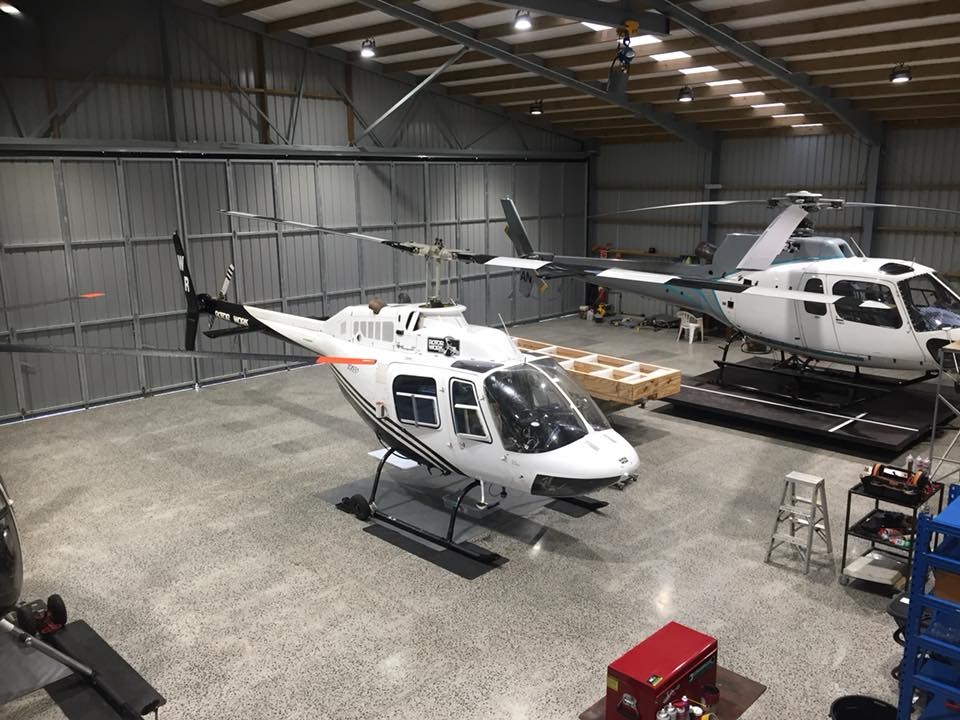 Designing the future
A shed is just the beginning. The potential that can come from a dedicated space for a mind to wander freely and explore ideas and craft solutions has led this country to be a fighting force for innovation and change across the world. Here are some examples of great things that have come out of sheds from across the country:
John Britten - Motorcycle
The Britten motorcycle was unlike any other ever created. Only 11 were ever made including the testing prototype. Not only did it use carbon fibre extensively but was famous for its frameless design and striking exhaust layout. If you ever want to see one there's an original on display in Te Papa.
John Pearse - Aviation
While the Wright brothers are credited for 'inventing' powered flight John Pearse may have achieved heavier-than-air flight 9 months beforehand. While eye-witness accounts place John's flight ahead of the famous endeavour by the Wright brothers the man himself never attested to have achieved the first powered flight. Probably that famous Kiwi humility at work! A representation of Pearse's early monoplane is on display in the South Canterbury Museum in Timaru.
Bill Hamilton - Jetboat
Whereas jet-powered boats were nothing new Bill Hamilton's design was tailor to work in shallow rivers like those around Christchurch. By adjusting the configuration of a Hanley hydro-jet his jet-powered boats were able to navigate rivers too shallow for propeller or traditional hydro-jet propulsion.
Frank Creswell - Sustainable energy
Using oil drums and scrap metal Frank set about generating electricity from the earth's natural resources from his home in Petone. Using solar panels to heat his water and a more traditional wind turbine to generate 200 watts of electrical energy Frank was heading for full self-sufficiency.
Colin Murdoch - Tranquilliser gun
Born in Christchurch and seeing the ends of his days out in peaceful Timaru, Colin Murdoch invented the modern tranquilliser gun. As a vet and keen inventor, his experience during the Great War fixing rifles meant that he had the perfect set of skills when presented with the challenge of sedating wild animals from a distance. Colin never pursued patent infringements on his designs so despite how infamous his invention is, and widely used, Colin never became a wealthy man.
It seems that many great things come out of Timaru and whereas Alpine Building sheds aren't quite on the same level as the tranquilliser gun or powered flight we think they're pretty special in their own right.
To create an epic man cave worthy of the world's next invention - or simply a space to store your collection then why not start by designing yours and getting a custom quote by using our online shed builder tool. Simply click the link below.