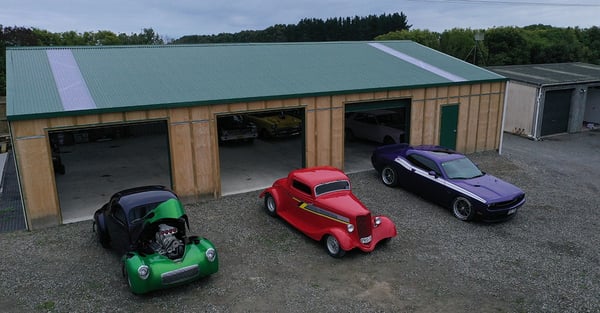 For Palmerston North's Nathan Seator Building, installing an Alpine Buildings shed is easy.
"Everything is done, and the plans are easy to follow" For him and his team it is a quick and simple process, and his guys can't wait for the next Alpine Buildings project to come through.



Right down to the nuts and bolts



When Nathan's client came to him with a list of non-negotiables for a shed to house their hot rod car collection, he knew that Alpine Buildings could accommodate all of their needs with the key importance being strength, durability, speed of construction and the ability to tailor build a design.
Having built a lot of sheds in his time, Nathan has seen them all and knows that not all sheds are built equal. "We knew exactly what we wanted out of this project, so approached four different shed companies for a price", he says.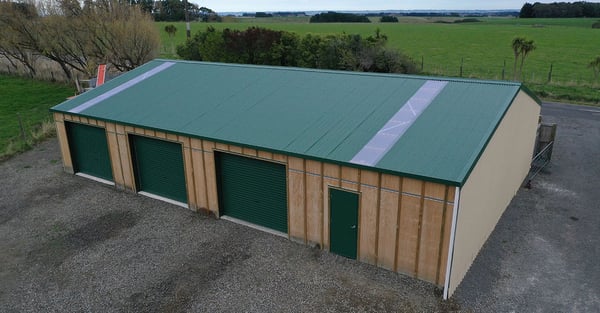 He is quick to advise that it's worth taking the time to look through all aspects of the building project from initial design through to completion to ensure that you aren't getting lured in by a lower initial estimate only to be stung with hidden charges along the way.
"Although Alpine Buildings came in as the most expensive option on paper when you took a closer look at the other quotes and the things that weren't included, Alpine came out on top in terms of overall cost efficiency", says Nathan.
He wanted to get across the understanding of the costing. You may have four quotes from four different shed companies – including Alpine Buildings – and wonder why they may be more expensive than the others. This is because someone at Alpine Buildings has done all the work. This saves time for the builders which equals money saved for the customer on labour charges. "Absolutely nothing was missing from the Alpine Buildings quote. There were zero hidden extras and every single aspect was taken care of, right down to the literal nuts and bolts. As a builder, it could not be easier, and the client is absolutely happy with the completed shed".


The Ferarri of sheds
For Nathan, the key factors of an Alpine Buildings shed is the steel rafter system, and how the purlins sit between the rafters. This enables a full bird proof system in the roof deterring our feathered friends from finding a place to nest, jeopardising expensive equipment with their droppings. Another aspect is the strength in the building itself. "A lot of the competitors that I've built sheds for rely on the iron for strength, whereas the construction of Alpine's sheds themselves are so strong that the cladding is basically an accessory, not part of the engineering of it", says Nathan.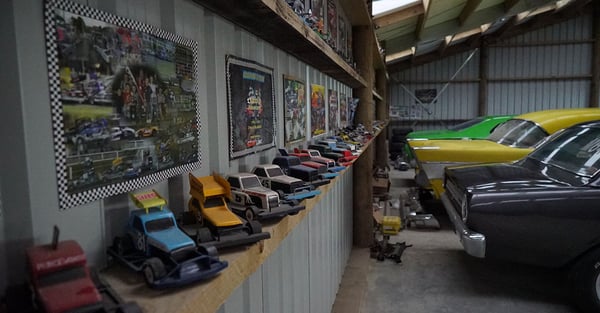 Nathan admits that he has built most brands of sheds available and he is quick to dub the Alpine Buildings shed the 'Ferrari of sheds', "I am yet to find anyone who does better than Alpine or who has thought of something they don't cover".
The clearspan system is another key feature in the selling of Alpine Buildings sheds for Nathan. Quite often the question is "How big can we build these sheds?" For Alpine, the answer is – "as big as you like. They can cater for some very large buildings", he says.
Another drawcard is the ability to customise the shed, even during construction. Because the design is simple, you can tailor the design to your needs.
For this particular project, Nathan's client quite often doesn't get into his shed till late in the afternoon, therefore they changed the location of the clearlight sheets in the back of the shed to maximise natural light for that time of day. "You can change whatever you like really. It makes it a dead easy shed to customise to your needs".


The best in their field
Nathan has no second guesses when recommending an Alpine Buildings shed. "They are the best in their field. It's not hard to sell an Alpine shed. "You are getting the best quality, plus the backing from the team. It's second to none", says Nathan. "The team are great; they are so friendly and so easy to deal with".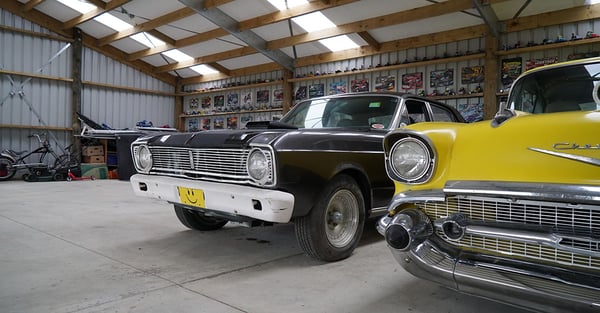 Everyone at Alpine Buildings from the sales team through to the guys in the yard are all there to help. "The entire kit arrives on-site with everything required, right down to the last bolt and fitting. They are never short and there's never anything missing. That reflects the level of detail that goes into every aspect of the project. It's that absolute professionalism that sets them apart. They even ask ahead of time how the shed materials will be unloaded on-site and pack it accordingly. For example, if it's with a bobcat, they make the individual packages smaller for convenience. That's some serious service right there", explains Nathan.
With this job now ticked off, Nathan is working on his next Alpine shed – a bigger version this time. "Knowing exactly what I'm going to get in terms of quality of service and product is reassuring for me and my clients. Working with Alpine gets a massive tick from me and means I can have complete confidence in the product I'm working with and know exactly what the end result will be".
Looking for your next shed or Man cave or you have a client who is? Then talk to one of the team today about how Alpine Buildings can make your next project the best it can be from concept to completion. Contact us here or submit your shed design using our online shed builder by clicking the button below.