With various shed designs available it's important to think about which shed is best for you and your needs. Certain sheds have particular benefits and there will be many factors that will determine which solution you go with. Whether it's to house a collection of small planes, to store valuable machinery and equipment, or if the shed will be used for industrial purposes, selecting the right type of shed needs careful thought.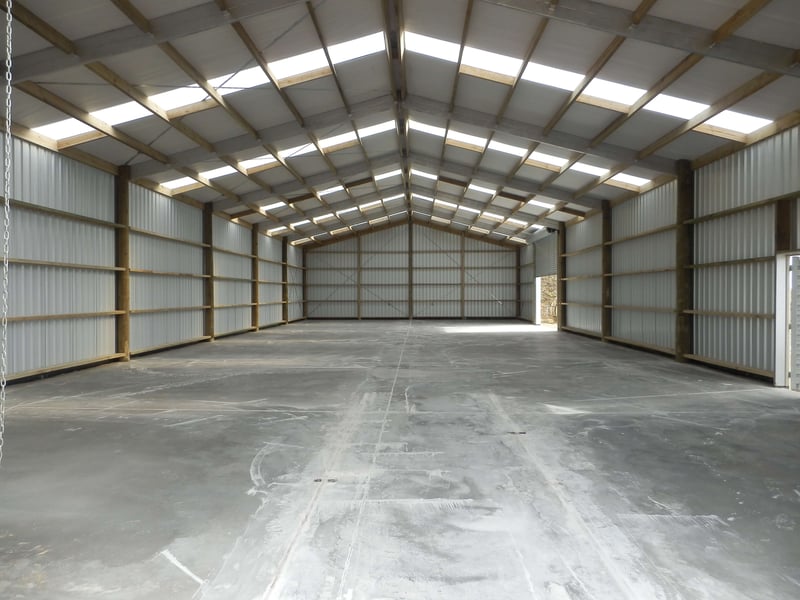 what is a clearspan design?
For many industries, a clearspan shed is game-changing with the ability to build a self-supporting shed with large bays, and no interior columns, making it perfect for machinery loading and unloading! The interior of a clearspan shed is completely open and unobstructed, providing the maximum amount of usable floor space and floor plan flexibility.
Choosing a design that minimises structural poles to create an open space for machinery to easily get in and out of is fundamental for many, and can often be the deciding factor when it comes to finalising which shed gets the tick of approval.
The clearspan design is required wherever a large open area is needed for ultimate usable space and manoeuvrability, ideal for:
Covered or enclosed implement sheds

Factories

Manufacturing facilities

Warehouse
We've already covered what makes a good lifestyle shed, but what are the benefits of building a clearspan shed? Whether you're looking to build for space, or you're wanting a more versatile shed, a clearspan design is an ideal choice for many reasons. We have explained a few of them below:
Faster shed to build
We often find people needing a shed yesterday! For time-sensitive projects, Alpines' clearspan kitsets are an excellent option. The advantages of our clearspan kitset sheds are the ease of build:
Fewer foundations to dig.
Alpine standard designs don't rely on a concrete floor for strength.
No knee braces in the corners means a faster shed build.
Pre dried timber making it easier to install.
Bolted connections for an efficient installation.
Pre-welded purlin hangers means less time at height and can safely be installed by one person.
With Alpine Buildings, all materials are provided (except the concrete and any concrete related components). We provide every screw, nail, and bolt that you will need. We triple check our kitsets and components in our yard prior to delivery to ensure absolute accuracy when it comes to building day.

However, it's important to research manufacturers and suppliers to find out what is involved in your build and the building consent process. Keeping in touch with a manufacturer during the building consent stage ensures a fast lead time and a better understanding of what is needed from both sides. This way you can have a clear understanding of when the shed can be expected.
Cost Saving
Although clearspan designs are more of an upfront cost compared to centre pole sheds, they have far more long term advantages and give you a significant amount of flexibility for the future with no interior limitations.

Another cost-saving advantage comes by the way of the clearspan pole foundation and minimising interior poles. This reduces construction time and saves money by limiting the need for excavation and foundations. The foundations drill directly into the ground, creating a secure hole and drastically reducing the amount required for site preparation.

It could also save you money in the future. No load bearing walls means there are no walls that are going to interfere with future floor plan changes. This makes adapting the interior of the shed a lot easier, without worrying about altering interior structures. Furthermore, clearspan structures can easily be expanded or relocated.
Quality
Alpine Buildings' clearspans are manufactured with:
HOT DIP GALVANISED
A superior way to finish the standard steel rafter offering:

The longest life expectancy with a coating that is more advanced and ideal for coastal conditions.
The most reliable and predictable finish, 2.5 times thicker than other steel protection coatings on the market.
Best rust protection option on the market.
Tidiest long-term result.
SOLID RHS STRENGTH
Pre-camber offering the best result.
Not only is the Structural Steel RHS good looking but gives you the strongest bird proof construction available.
Steel is the perfect option for versatility and durability, making it the ideal option in a rural environment.
QUALITY TIMBER
Pre-dried quality timber.
Environmentally friendly.
Timber framing offers a multitude of easy options when it comes to linings.
Has a structural tolerance in extreme weather conditions - perfect for New Zealand!
The timber elements in these not only improve the aesthetics but also reduce noise and minimise condensation.
Maximises interior space
When it comes to design there are a few things that you can look out for to ensure you are maximising your interior space. Columns within a shed can hamper manoeuvrability and add extra (and unneeded) stress to those on the job. Clearspan buildings provide the room required for efficiency, with designs that exclude knee and apex braces, and purlins that sit between the legs rather than on the outside - both options maximising space.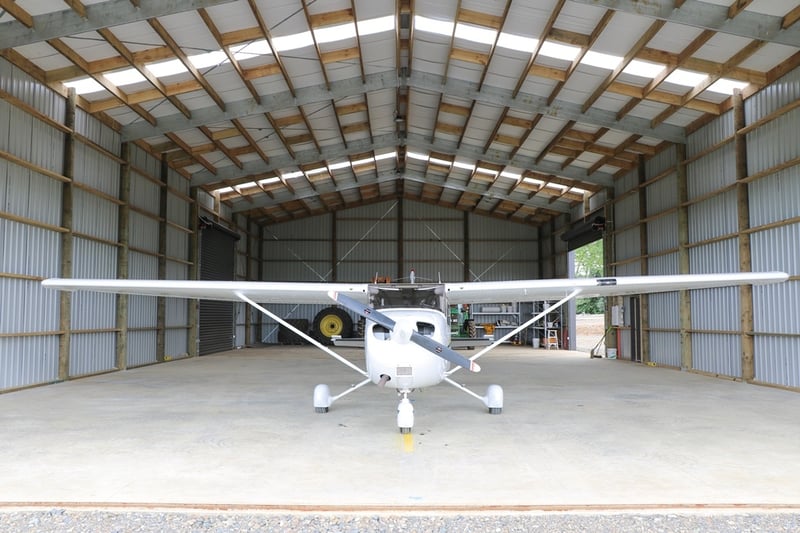 Today's large scale businesses require an abundant amount of room to operate large scale machinery, and a clearspan shed offers ultimate manoeuvrability:
AIRCRAFT HANGARS
A clearspan design is essential for an Aircraft Hangar. Hangars need a wide-span space available for aircraft movement, within and out of the shed. This design is essential for a hanger with a clearspan opening of 50m+. Alpine's buildings are ideal as there is no need for knee or apex braces and internal posts, we can supply a custom design to suit your requirements.


LIVESTOCK HOUSING
Need livestock housing? The wide-open design of a clearspan shed provides a stress-free space for raising happy and healthy cattle. These sheds are perfect to protect young animals from the elements and create a controlled environment for feeding livestock.


WAREHOUSE
For warehouses, clearspan designs can't be matched in value with the ability to easily store oversized equipment, run production lines and integrate storage solutions. Clearspan sheds offer unmatched potential in width, length, and height.
Bird Proof Rafters
Often the design of a shed can encourage birds to perch, so it's important to build a shed and not a bird haven. With Alpine Buildings' bird-perch free rafter design your interior space doesn't become an aviary!

Clearspan sheds offer maximum headroom. Alpine Buildings' timber purlins are bolted to pre-welded joint hangers on the side of the steel rafters, meaning there is nowhere for birds to perch or nest in the roof cavity.
Customise your clearspan
Clearspan not only supplies you with the amount of space required internally, but can easily accommodate additional features you may want to add. Designed with easy access in mind, it only makes sense to think about what additional features you may be after. Whether it's roller doors or large sliding doors, large span spaces or clearlight strips in the roof, it's important to think about what you will need for your shed and your budget.

Additional features to customise your clearspan:
Roller doors
Clearlight
Safety mesh under the roof
Overhangs
Electric openers
Closure flashing
Sectional doors
Building paper
Wall wrap
Personnel doors
As you can see, there are numerous reasons to choose a clearspan for your next building or shed project. Clearspan offers more storage options, flexibility, and of course adds value to your property. When open space is essential, talk to us about building a clearspan building or shed. Alpine will be able to provide you with an initial no-obligation free quote based on the size and clearspan that you require.