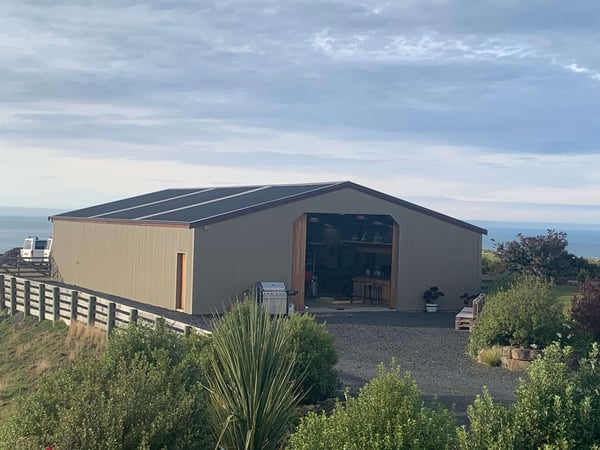 Even though we call them 'man' caves, everyone must admit they all love their own happy place away from the house. Decked out with all your favourite things, maybe it should just be renamed as 'happy cave'.
3 years ago Nathan Faithful, a builder from Otago, decided to invest and build a multipurpose mancave. This week we got in touch with him about it and discovered that during lockdown it's been the most popular space.
Before we tell you about his shed, here is a bit of background about Nathan. At the age of 19 (21 years ago), Nathan started out in the construction industry. He and his business partner have grown their business, Streamline Developments, and now employ 13 people specialising in new house builds, renovations and farm buildings.
Art of Persuasion
For a while Nathan had been wanting to build a large shed on their property as the original shed was just not big enough. When proposing to his partner about his epic mancave plans Nathan found that he had to be creative. He sold this idea on the fact they could build this shed in time for their wedding - the plan for the shed promptly got fast forwarded and "the rest was history". Together Nathan and his wife Paula built a 12.0m x 19.2m long fully enclosed Alpine shed which accommodated their 120 guests and 'everyone had plenty of room to move and the shed was a hit'. To make this shed a genuine man cave they had their friend design a custom bar and since then its been the most used building on the property. "We spend a lot of our down time out in the purpose-built bar and have since put in a pool table and dart board. I have held work meetings in the shed and fishing club meetings also, we are never short of people wanting to pop up."
Mancave Essentials
After seeing images and hearing about Nathans bar he gave us a small run down of what it consists of. The bar is constructed with rough sawn timber and a Jarrah bench top. They had a sink put in with running water and had a window installed in above to take full advantage of the view. A bench top fridge and a standalone fridge keeps them very well hydrated. Nathan and Paula also keep their BBQ in the shed and do a lot of cooking, especially during the summer months. During the Rugby World Cup last year they installed a large tv in the bar to watch the games, and now have gatherings when there is motor sports on etc. "We have had many family gatherings, birthdays, Halloween parties, Bathurst, the list goes on."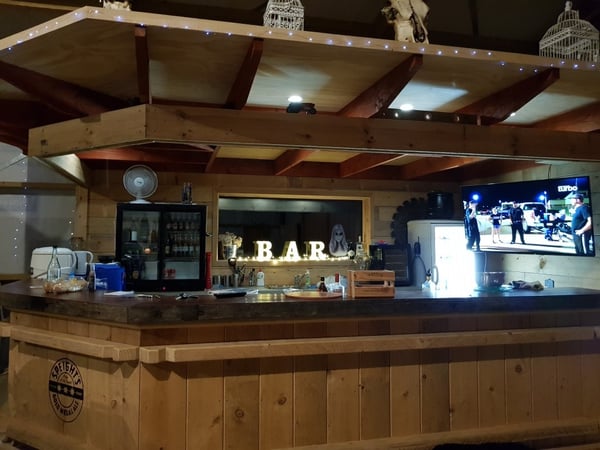 Multi-Purpose building
Apart from the bar, what else does Nathan use his shed for? He uses it for storage, with their motor home and boat occupying a reasonable percentage of the building. Nathan finds that having an enclosed building also gives him a lot of flexibility even for business purposes such as being able to pre-cut timber off site, staining/painting lengths of timber when weather isn't so wonderful, or general maintenance on vehicles and machinery.
Why Alpine
Being a builder, Nathan mentioned "I will always stand by what I construct" and having awareness of the different structures and designs on the market, this is why Nathan chose Alpine. "Alpine was my preference due to their great service, the quality of the product, good pricing and the ability to alter the design to suit my requirements. Nothing was a problem and the team were great to deal with." He also mentioned that the ease of construction and having high quality materials made the installation even easier and more efficient.
With the bolted connections and pre-welded cleats this saves a lot of time on site for builders as there is no wasted time making up beams or rafters. Having our in-house consent team looking after the application and process of council's building consent requirements saved a lot of time for Nathan, allowing him to concentrate on the build and his focus on his expertise. At Alpine we have a consent team who have worked alongside every council in the country and specialise in applying for building consents, saving clients the hassle of another technical process.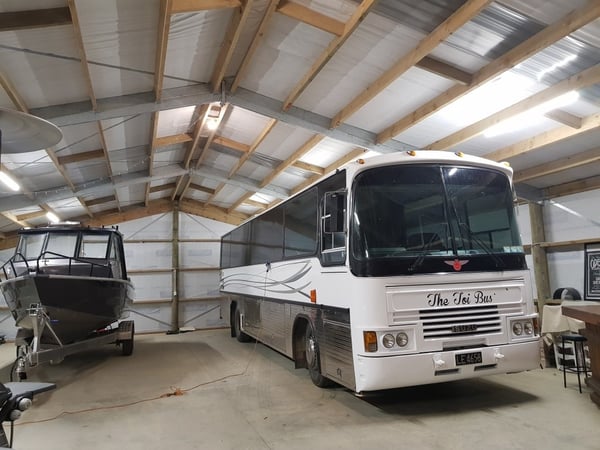 Nathan's Recommendations
As a builder, Nathan finds that having his own shed he can showcase is extremely valuable for potential customers. When clients are in the initial planning stage and have questions, he takes them to his Alpine shed. Having an actual installed shed gives them insights as to what it would look like for them, how it would work, and what changes they would need to make for it to add the most value to them. For example, Nathan's shed has two large custom Macrocarpa barn doors at the front which he designed himself, however for some clients they may prefer the standard roller doors for ease of use. The one thing he tells his customers is, "talk to the team at Alpine, they will listen and design something to suit your requirements, they won't just sell you a pre-designed kit, they will go that extra mile."
"Our Alpine shed has far exceeded our expectations and we wouldn't use anyone else. Top marks Alpine!"
Want to execute that dream shed? Or maybe you just have a few questions? Contact us here or submit your shed design using our online shed builder - the A-team are ready to help.