It's been a busy few months at Alpine Buildings! There's been a wide range of sheds in the making, from hangars and workshops to implement and bulk storage sheds, and even one shed that may just surprise you! Below, we've compiled a few of these standout sheds to give you a little future inspiration. Enjoy!
Lockup and leave lifestyle
Auckland | 12.0m x 19.2m gable shed with two lean-to areas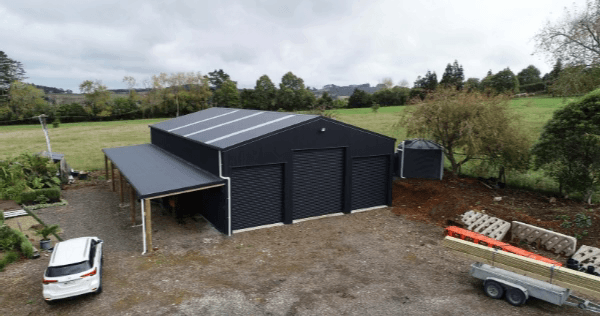 Highlights about this lifestyle lockup:
This shed is a safe and secure lockup set in a stunning lifestyle surround. Based just outside of Auckland, this 16m x 19.2m clearspan gable shed with lean-to on the side for extra storage offers plenty of secure space to work on projects. The black cladding is perfectly on-trend and the clearlight panels offer practical natural light all day long.
Dreaming of a similar shed for your section? Download our workshops and lockups brochure for more inspiration and shed ideas.
Sized for implements
Gisborne | 15.0m x 48.0m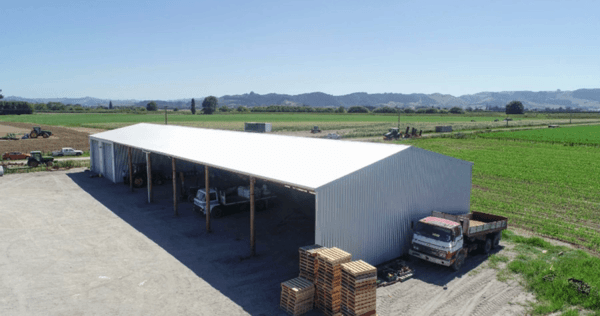 Highlights about this implement storage shed:
Located in Gisborne stands this 15m x 48m Alpine workshop shed. Made up of an impressive eight bays (each 6m wide), two of which are fully enclosed for secure storage, and six are open making them perfect for implement storage and large machinery access.
The wide clearspan area maximises the internal usable space and makes large vehicle manoeuvring simple, while the Zero-Bird-Perch rafter system ensures that everything stored in this shed is free from pesky nesting birds.
Custom luxury
Murawai Beach | 9.0m x 26.6m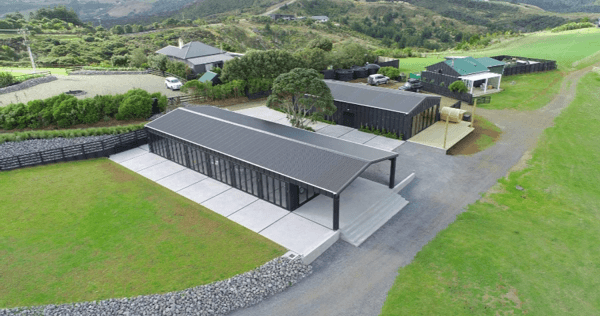 This shed is too cool not to share! Not your "typical" farm shed, this stunner on Auckland's west coast is a showstopper.
Highlights about this vehicle storage shed:
This super-sized shed screams class. This client swapped out roller shutter doors for custom glass bi-folds, and the floor to ceiling windows on three of the four walls provide an endless stream of natural light. This shed showcases the vehicles stored inside like a dream, and is the furthest away one can get from dark and dingy. Custom designed and built by this client's builder, we were blown away with their result.
If you have custom requirements, the Alpine Buildings team is here to help. Get in touch with the A-team and together we'll start working towards your ideal solution.



The ultimate man cave
South Canterbury | 12.0m x 24.0m Gable with 7.0m x 24.0m lean-to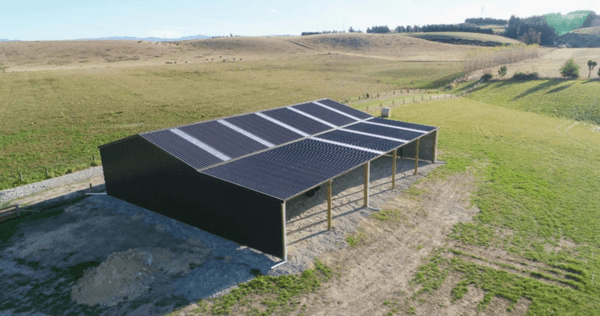 Highlights about this man cave:
This impressive 12m x 24m gable shed with a 7m x 24m lean-to is located in Canterbury. Featuring clearlight panels across the roof, this man cave has plenty of natural light throughout.
Serving as a secure, durable, and long-lasting multipurpose storage space, the treasured items soon to be stored inside this shed will be safe and their longevity protected.
A man cave like this can be a place for the jet ski, cars, boats, and bikes. We've built many man caves over the years and know a thing or two about adding extra features to make them really stand out. Download our ultimate man cave brochure to learn more about what we can do for you.
Farm storage made easy
Taranaki | 15.0m x 24.0m
Highlights about this farm storage shed:
Proudly situated in one of New Zealand's farming hubs, this Taranaki-based shed is designed for all farm storage needs. Surrounded by vast farmland this shed stands large at 15m deep by 24m long. The clearspan design means this client can fit a tractor and implement comfortably inside. With four 6m bays, moving these large farm implements and machinery in and out of the shed is a breeze.
Do you have large valuable farm machinery that needs secure storage? Download our brochure to see how the addition of an Alpine Buildings' shed has impacted a range of NZ farms.
After a busy few months, the Alpine Buildings team is feeling more inspired than ever to continue solving various client challenges, pushing the boundaries of innovation, and delivering value to our customers. We love getting to know all of our clients so we can work with you to design a shed that fits you, your current needs, and any future requirements.
If the above sheds have given you some inspiration and you'd like to learn more about the Alpine Buildings process, please get in touch with our team of experts by simply clicking on the button below.