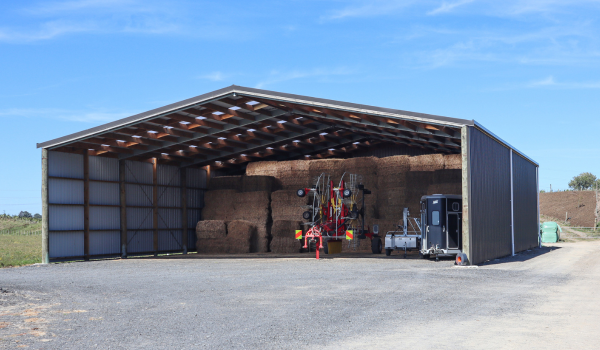 Investing in sheds proves to add significant value to your property.

You may be in a situation where you want to invest in a quality kitset shed but the budget doesn't quite stack up with the design you have in mind. So naturally, you look for ways to reduce the overall cost. We understand. However, we also believe that when reducing costs, it is critical to maintain quality.
Compromising on quality can cause serious headaches - we hear stories of it most weeks. A shed is a permanent investment and not something you want to replace or repair frequently. You also don't want to be in the position of realising when selling your property that a little extra investment for quality at the start could've made you a lot more money in the property sale a few years down the track.
So we've come up with four ways you could reduce the initial investment without compromising on the quality of the shed and ensure you get the best long-term result with no regrets!

You may be thinking, let's just make the shed smaller! Yes, this would reduce the cost, but is the shed going to be usable for you 5-10 years down the track? The most common regret we hear when building a shed is that it is not big enough. So getting the size that's right for you, and then reducing the initial cost will always work in your favour, rather than shrinking in size and reducing in quality to fit the budget.

Here are four options to consider
Zincalume / Coloursteel
Using Zincalume cladding over Coloursteel can save you thousands, depending on the size and design of the shed. Although you may be thinking, it needs to match in with the surroundings, is there another way this can be done? Maybe it's landscaping? By using Zincalume cladding over Coloursteel where applicable, quality is not being reduced, as both products have similar warranties.


Concrete Floor later / Concrete Floor now
Concrete makes up a large proportion of the installation costs, especially if it is over a large area. The Alpine pole shed design doesn't rely on a concrete floor for strength. Therefore, it becomes an accessory rather than a structural component of the shed.

Installing the shed first and then placing a concrete floor at a later date, is another way you can reduce the initial investment cost without compromising on quality. In some cases, this doesn't work for the client, so instead of doing the whole floor, they have only placed concrete in areas that must have it, and then filled in the remainder at a later date.


Designing for future additions
Designing for future additions now can save you more costs on the initial investment than you may think. Take roller doors for instance. Multiple roller doors make up a significant part of the shed's investment. Only including the doors necessary for your current operation now rather than doing it all at once will bring your shed investment cost down.
You can make provisions for future doors in the design by relocating bracing or windows etc, as roller doors can be added later on down the track. By making design changes now can add serious value to your investment in the future all the while keeping your investment to a minimum.

Build Yourself / Qualified Builder
A kitset shed is another way you can save cost on your investment. The Alpine design is really easy to install, meaning you don't have to be a qualified builder to do so.

If you're handy with the tools, then doing some or all of it yourself will definitely reduce the overall installation costs. Even if you paid a builder to do components you weren't comfortable in doing yourself, this will still help reduce the initial investment.
As you can see there are several ways you can help reduce the initial outlay of the shed investment without reducing its quality. It is easy to fall into the trap of reducing the quality to help reduce the cost, however in the long run this ends up being more expensive with all the re-work/repairs required to keep your shed usable!
For more information on our kitset shed designs or to discuss what options you have available for your next project, get in touch with our team of experts today! Alternatively, download our full range brochure here to find inspiration for your next shed.