If you mentioned the words 'craft beer' ten years ago it would come down to a few well-known brands that lined the supermarket shelves, all operating out of commercial factories. Fast forward to today and New Zealand is full of startup craft industries. With many humble beginnings starting in a garage attached to a house, a shed offering full plan flexibility could be the perfect option to take your business to the next level.
With the varying challenges that come with different business ventures, it can be overwhelming to find a space to meet your specific needs. Committing to a multi-year commercial lease while your dream gets off the ground can be daunting, and financially crippling to your fledgling enterprise. Whether you're involved in craft industries by processing hops, or you're transitioning from a 50-litre batch production to 1200 litres per batch production, the most versatile solution for housing your venture could come in the form of a large shed.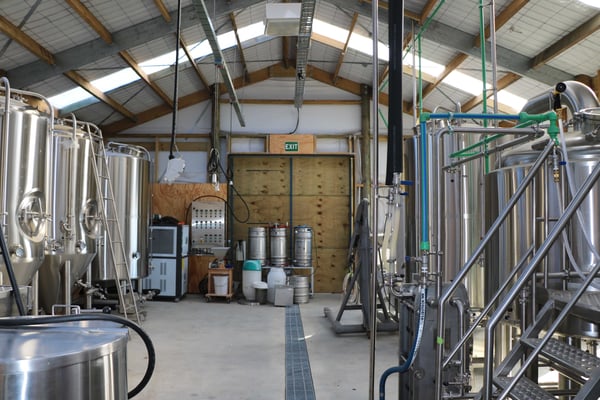 If you're looking for the perfect space for your brewery or distillery production the solution could be found inside the walls of an Alpine Buildings shed. Whether it be an open floor plan, a shed lined with timber, or additional clearlight panels for natural light, there are many designs to meet your specific needs for your industry.
Could a shed be the perfect solution for your business?
As with any investment, there are many things you will need to consider when looking for the perfect shed for your craft industry. Here are some key points to consider:
Space to adapt
With many businesses needing floor plan changes or an abundance of available space to hold all of your craft industry equipment, looking for the perfect space to meet your business needs can be tricky. A brewery, along with many craft industries, requires a wide range of industrial equipment. When developing your craft business your equipment list will need to include kettles, fermentation tanks, storage tanks, kegs, and bottling or canning equipment used for production. Therefore a successful operation will require copious amounts of clear space to operate.
Often when you're searching for a building to work from, you're trying to find the perfect size and location to suit your individual needs. Many buildings are limited with their floor plan flexibility, often having poles or beams located in the wrong areas with knee or apex braces limiting internal clearance, resulting in reduced usable floor area. It's important that you find a provider that is flexible when it comes to the space design that you require. Alpine Buildings offer great design flexibility, with a team that will work with you to meet your specific business needs.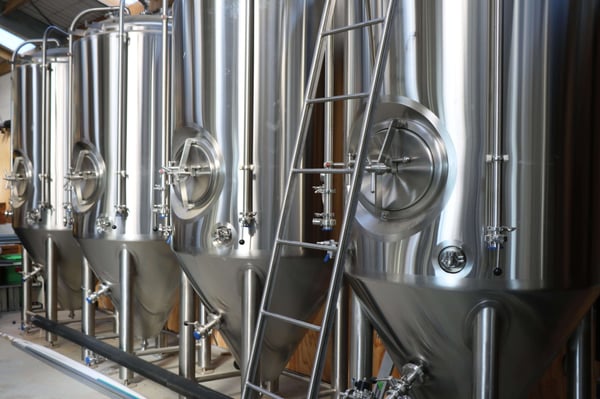 For many industries a clearspan shed is game-changing, offering ultimate flexibility to ensure you're maximising your interior floor space. Columns or poles within a shed can hinder your performance, especially if you have large equipment such as a processing machine, or need forklifts to drive around. Buildings that exclude knee and apex braces, and purlins that sit between the legs (rather than on the outside), are ways to maximise your space for an efficient operation.
If you're looking for a smaller shed, or are in need of a large shed for your operations, then Alpine Buildings have you covered with the opportunity to grow your shed as your business does. It's easy to include this in the design process so you have peace of mind knowing that you won't outgrow your space anytime soon.
Designed to be flexible
While you may need a whole lot of space it's important that the design of your shed meets your specific needs, so that everything is right where you need it. To take full advantage of the room you have available requires you to be smart when it comes to the design after all the secret to a great shed is a great design.
A building which processes hops might require a vented roof allowing for the heat to escape from the kiln during the drying period. Whereas a bottled brewery needs a design to suit their line up of vats whilst still having enough space for people to move about. Other operations may require a decent amount of bays and doors for the delivery of hops or malt, straight in from the field onto the processor or for product to be shipped when ready.

If your craft industry requires a large kiln, a large processor, or any piece of equipment that requires electricity, water or compressed air, it's important that you incorporate this into the early stages of your design process. Depending on the configuration of your equipment, will depend on where the vents are running across the building.
Some other key points to consider when it comes to designing your next shed:
Timber framing reduces noise and provides flexibility for lining your shed to allow for electricity to run along the side of the shed walls.
Making the most of natural light is another important factor to consider during the design stage. The addition of sheets of clearlight is sustainable and makes for a bright and light place to work.
As New Zealand's businesses continue to diversify and grow, Alpine Buildings provide designs that are customised to meet the demands of modern business needs.
iNVESTING IN YOUR FUTURE
If you're a startup in a small craft industry, it's understandable that you might be hesitant to commit to a long term investment. However, it's important to keep in mind that signing a lease for a long period of time is also a big investment, and the chances that you can find a space that ticks all of your needs and wants of your craft business is slim. After leasing a building for several years you will have very little to show for it, whereas investing and owning a shed is adding value to your business and property.
If you're a farmer, or you have additional space and a large enough section on your property why not make the most of an asset you already have and consider building the perfect shed for your business? This will save you money on leasing or buying land so your overheads reduce and with interest rates continuing to be at an all-time low, now may be the perfect time to consider the opportunity.
If you're needing a loan to buy the machinery and assets to begin production then adding a relatively small amount to own the building consolidates costs and gives an asset to borrow against in the future. Being the landlord of your building ensures no surprise rent increases and the stability of knowing it's your location for as long as you need.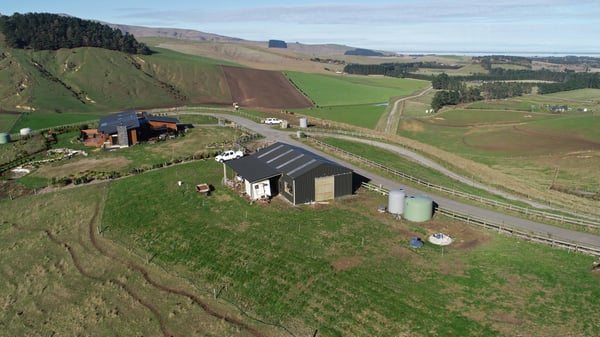 BIRD-PROOF DESIGN
Birds may not be the first thing that comes to mind when thinking about your shed build. However, these companions can set up shop and make themselves at home, finding every little bit of space to perch and nest in. It's important to consider a design that eliminates birds completely. Not only do they make your place of work dirty but their droppings can also be slippery and corrosive, a health and safety issue you would rather avoid and is not a great feature within a clean environment producing food or drink! Finding a shed design with a rafter system that eliminates perches for birds is important, as it leaves your workplace tidy, reduces cleaning costs and investments in bird deterrents.

Alpine Buildings' Bird Proof rafter system doesn't necessarily stop birds from flying in but they will quickly fly out as they will not have a place to perch. Pre-welded cleats allow purlins to be bolted between rafters rather than on top, which is a crucial element to get right during your shed build and makes the process of construction quick, easy and a nightmare for birds nesting. It's important to find a provider who'll eliminate places for birds to perch if you're looking for a clean and mess-free building for your business.
consents handled
The last thing you want to worry about when looking for your shed build is the stress and the paperwork that comes with building consents. Finding a business that looks after the building consents makes it an easier process for you giving you peace of mind and more time to focus on getting your business off the ground.
The team at Alpine Buildings work with many customers daily to ensure they get the tick when it comes to building consent. Having worked with every council in New Zealand they are well aware of the different rules in each location, saving you time and stress.
As you can see there are many reasons why a shed could be a great solution for your business. Alpine Buildings worked with Thief Brewing Limited to help them gear up ready for production, transitioning from a 50-litre batch production to 1200 litres per batch. Originally renting a small building, this business quickly decided that designing and constructing their own shed would not only solve their space issues but would also save them money long term. You can read more about how Thief Brewing Limited worked with Alpine Buildings to bring their business to life here.
If you think an Alpine Buildings shed would be the perfect option for your startup, whether it be a craft business (bottled brewery, keg brewery or for drying and processing hops), or any other industry, then take the time to talk to one of the team today. From brewing, to hop production, to a garden market, an Alpine Buildings shed is designed to make the options limitless.