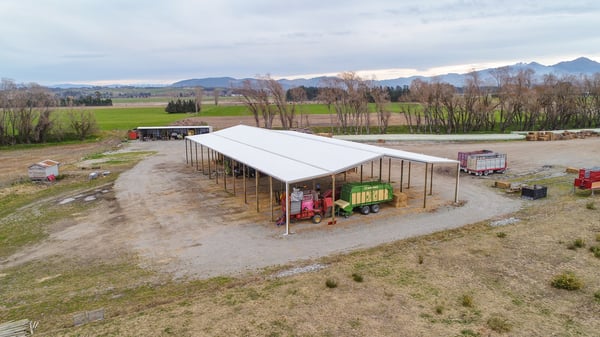 We've already covered why storing your hay in a shed is a lot more efficient and how it reduces losses in our previous blog. But as a recap, here is an outline from the University of Tennessee Extension in a comparison between the amount of forage lost after 6 months.
Stored on the ground with no cover, 37% loss
Stored on tyres with no cover, 29% loss
Stored on the ground and covered, 29% loss
Stored on tyres and covered, 8% loss
Net wrapped and on the ground, 19% loss
Stored in the barn, 6% loss
With hay barn/hay shed storage reducing the losses significantly, the only other storage method that comes close is storing hay on tyres with a suitable cover to eliminate water access. Differentiating the benefits between the two comes down to efficiency and convenience in many cases.
At Alpine Buildings the sheds are highly customisable to suit your needs. Despite the range of personalised sizes and features we can accommodate, there are 3 popular size categories.
Small - Best suited for small bales the popular dimensions are 12m by 19.2m (4 bays), which equates to 230 square metres.
Larger - Commonly these are 15m by 24m (5 bays) long, which amounts to 360 square metres.
Supersize economy - These are often around 18m wide and 48m (8 bays) long, which is 864 square metres.
All sheds are available as roof-only, open gable ends, open sides, or fully enclosed with doors or openings. It's also worth considering integrating some machinery storage with your hay shed, as Alpine Buildings are able to mix-and match styles of sheds into one design to suit your needs.
Another thing to consider is future-proofing your design. For example, a clearspan gable shed can have a lean-to added to it at a later date as your operation and requirements grows. Another excellent feature of the Alpine steel rafter design is you don't need central poles, which makes access and storage a lot easier without them getting in the way.
How big can an Alpine Buildings shed go? There's almost no limit to how long a structure can be, and with the right design you can keep adding as time goes on; making it even easier to reduce forage losses on your hay harvest.
It's also worth remembering that Alpine Buildings sources all of its timber from sustainably managed sources in New Zealand. The timber is pre-dried for strength and to reduce weight; and the innovative rafter design ensures they stay bird-free, helping you avoid all the nasty health hazards we discussed in a previous blog.
Each Alpine Buildings hay shed arrives as a kitset, perfect if you're looking to build the shed yourself. If you're looking for some additional help in building your new hay shed, there are a range of experienced builders around New Zealand which Alpine Buildings can recommend to you.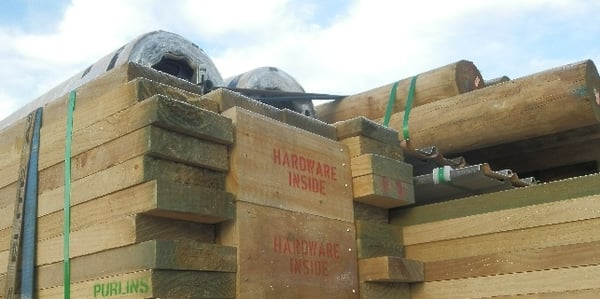 Not only does choosing an Alpine Buildings shed provide the best protection for your hay and reduce forage losses, but it provides easy and convenient access for your machinery and the ability to scale your storage needs as your farm grows.
To discuss your hay shed requirements and find a design that suits your needs, feel free to download our hay storage brochure or call a member of the team on 0800 428 453.