Alpine Buildings is about making building your dream shed easier. From handling the consent process, to nationwide delivery, the team understands that building your shed doesn't have to be a stressful process. And with the launch of the company's new website a new opportunity has arisen to make things even easier.
The new shed builder tool helps you to understand the options available from Alpine Buildings, and helps you pick the perfect shed for your needs.

Our online shed builder helps you understand your options, and a few of the things you need to consider. Having followed the process you'll end up with an overview of your perfect shed and, once you click Submit, the team at Alpine Buildings can come back to you with an accurate estimation of the cost to make your dream come true.
So, without further delay, let's take a tour through the questions you'll be asked and the things you need to consider while using the Alpine Buildings interactive shed builder tool.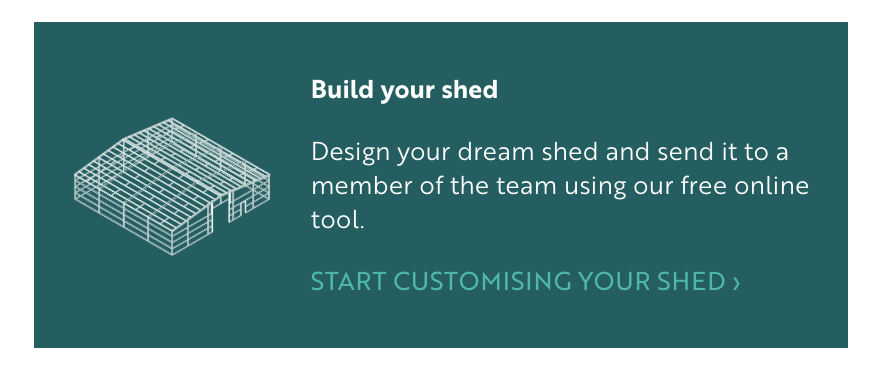 Main Use
The first question you're asked is whether the shed is being used for Agricultural, Commercial or Lifestyle purposes. This is important as it will help the Alpine team guide you on additional considerations, as well as understand the consents required and tasks the shed will be expected to undertake. Let's explore each of the main use types in more detail:
This will be the choice if your shed is being used for implement storage, hay or straw storage, animal shelter, as an aircraft hangar, a workshop, for bulk storage, forestry or contractor work. Each of these have different requirements so understanding the main needs of your shed is key. For example, produce storage will need height and access for forklifts etc but a hangar needs to be secure and include some wide door openings.
Whereas it may seem like there is cross-over between agricultural and commercial these do represent very different uses. Commercial sheds are typically large scale and are used for distribution, freight and logistics as well as factories. Where agricultural sheds benefit from timber for a multitude of reasons, commercial sheds are often steel. Commercial sheds are also typically built on industrial zoned land which has a lot more regulations and compliance attached.
These are very popular for lifestyle blocks and enthusiast/hobbyists. From Man caves to recreational aircraft hangars aas well as workshops, these are also popular with lifestyle blocks and smallholding farmers.
It is worth noting that Alpine Buildings are do not supply shed houses.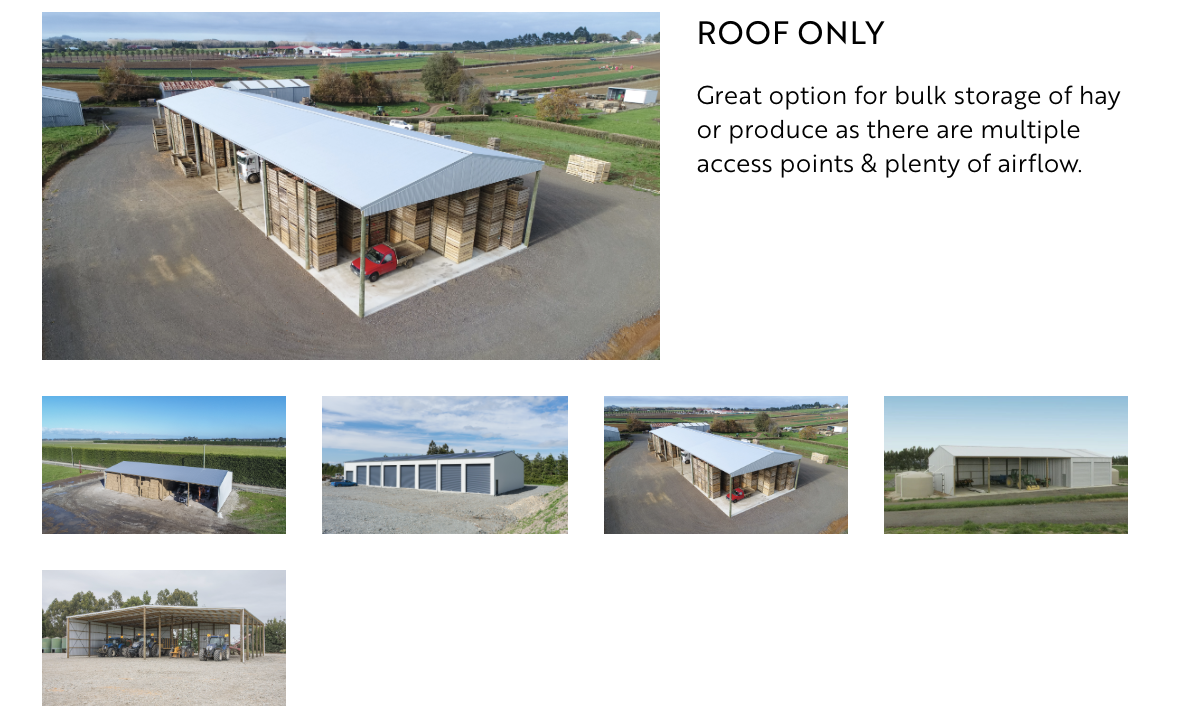 Shed Type
You may have a dream shed in your mind but could be struggling to articulate what that looks like. The shed builder tool helps to make the different styles of shed easy to find. From a shed that only has its roof to fully-enclosed lockable units, the shed type uses imagery to show you the choice you've made so you can check that it matches the plan you have in your head!
Dimensions
This is a question where you don't have to have all the answers. If you know the dimensions of your shed, or you've paced out the space you want it to occupy then add in the details, if you have no ideas then simply say that you're 'Not sure' and our team will contact you to discuss options.
Number of bays
From three bays to a lot of bays, Alpine can work with you to deliver the shed you need. If you're looking to have a combined shed (part open and part enclosed) then you'll need at least 3 bays. Once you have a vehicle occupying one bay you'll quickly wish you'd gone with more! Consider the future when choosing the amount of bays you need, will you have more vehicles in a few years time? What about extra space for animals, feed, tools and space to work? It's harder to add bays in the future so make sure you're well covered.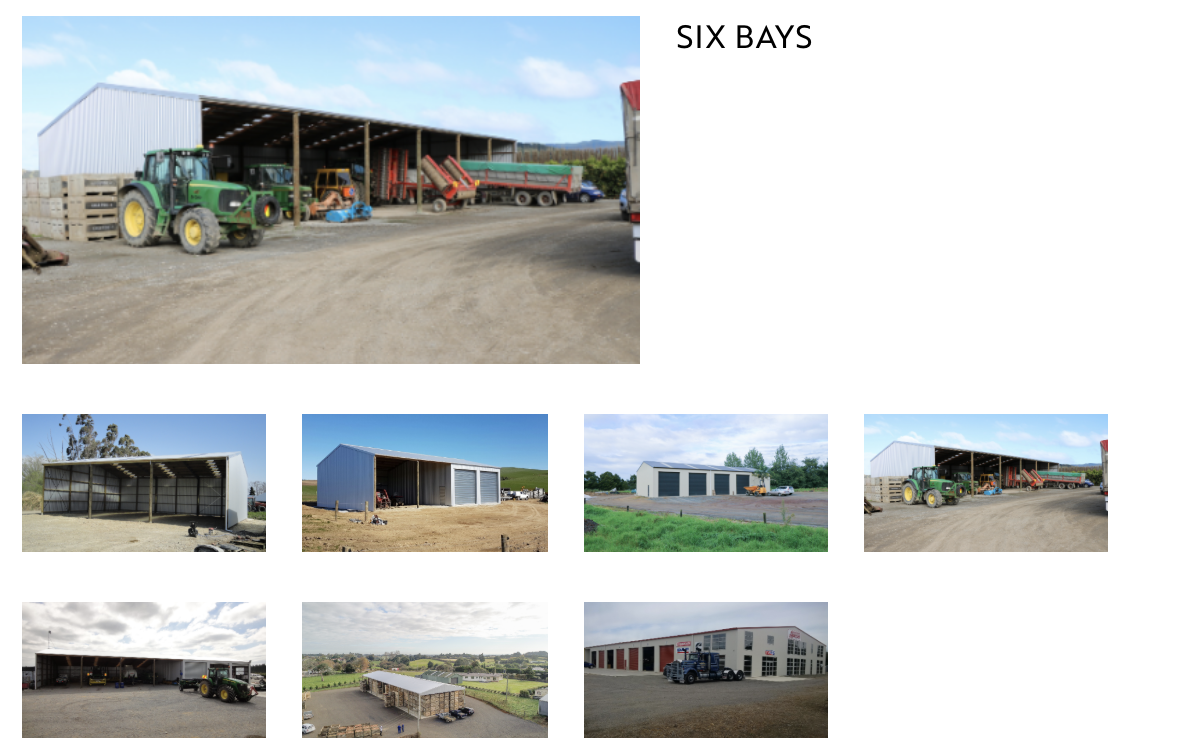 Roller doors and cladding
You're not limited to rolling doors, you can have sliding or sectional doors if you prefer. Combine considering your door needs with the type of cladding you'll need. Alpine recommend the Zincalume product if you are looking for a quality cost effective cladding and Coloursteel if you wish to have a choice of colours, this costs more but can lift the image of your new building and leave it tidy for years to come. Your cladding may be influenced by the local environment, prevailing weather conditions and location - the Alpine team can help guide you if needed.
When you're done...
Click 'Next' and you'll be taken to a form to complete some extra details. These will help the Alpine Buildings team to provide you with the most accurate quote possible. If time is of the essence simply let the team know as they have the capacity to provide a quick turnaround when needed.
To give the Alpine Buildings shed builder a go simply click the button below to get started.