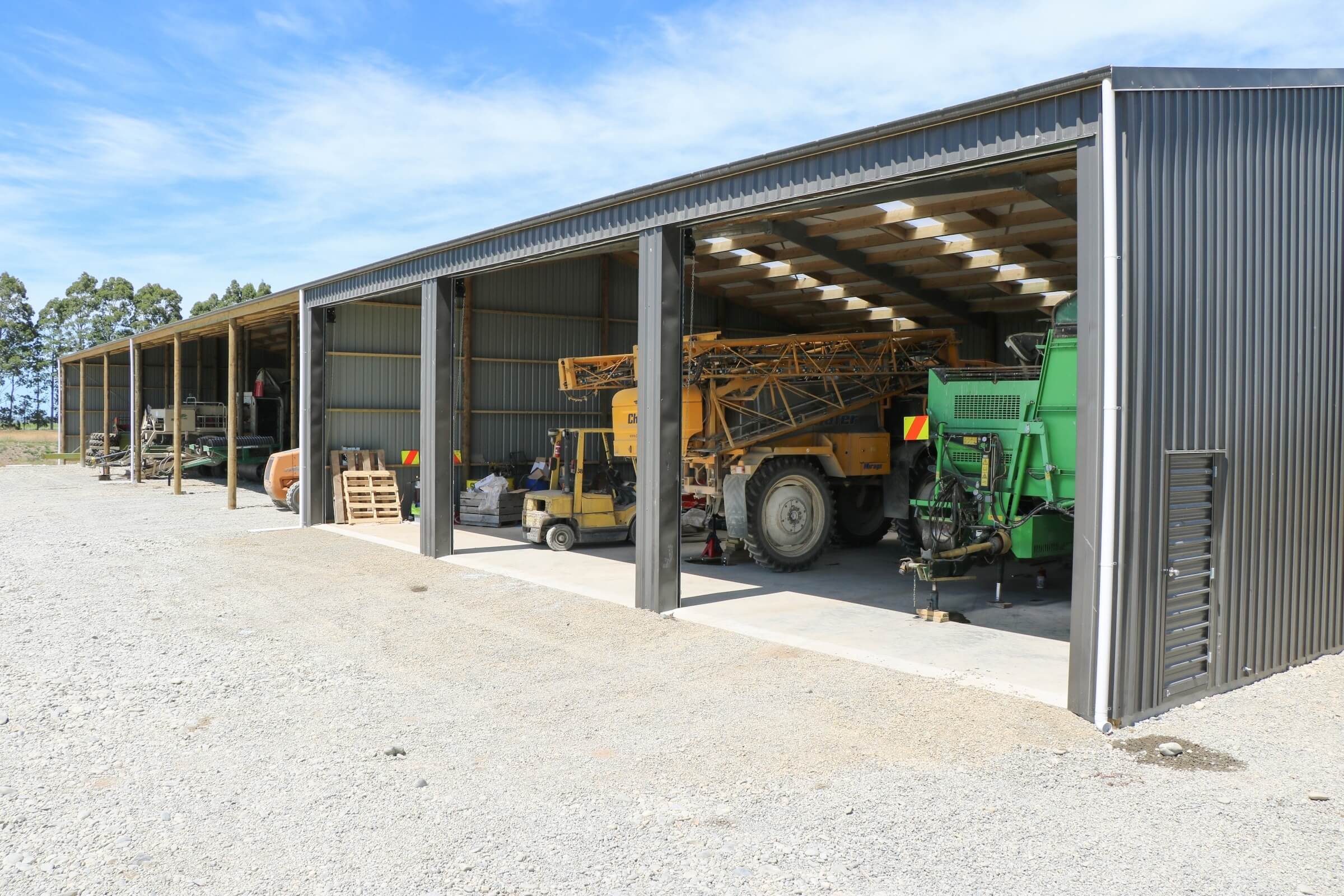 Spring is in the air which means while it's time to begin enjoying the warmer weather, it's also time for New Zealand's farmers to start looking ahead to winter storage options. With an influx of consent requests and lead times, holiday business shutdown periods, and potential backlogs, there's no time like the present to consider a new storage shed for the cooler months to follow.
We thought we'd remind you of why it's crucial to start planning for winter storage options now. From protecting valuable machinery, providing a dry workspace, ensuring higher quality feed, and protection from pests to increasing your bottom line, there are numerous benefits to beating the rush and planning for winter storage early on.
Why it's important to plan for winter storage now
Winter may seem like a long way away, and summer has only just started to show, but then every farmer knows to plan ahead. Using the warmer months to complete construction reduces delays and means your assets are protected when the worst of the weather arrives. Here are some significant benefits to starting soon.
Implement/Machinery/Vehicle storage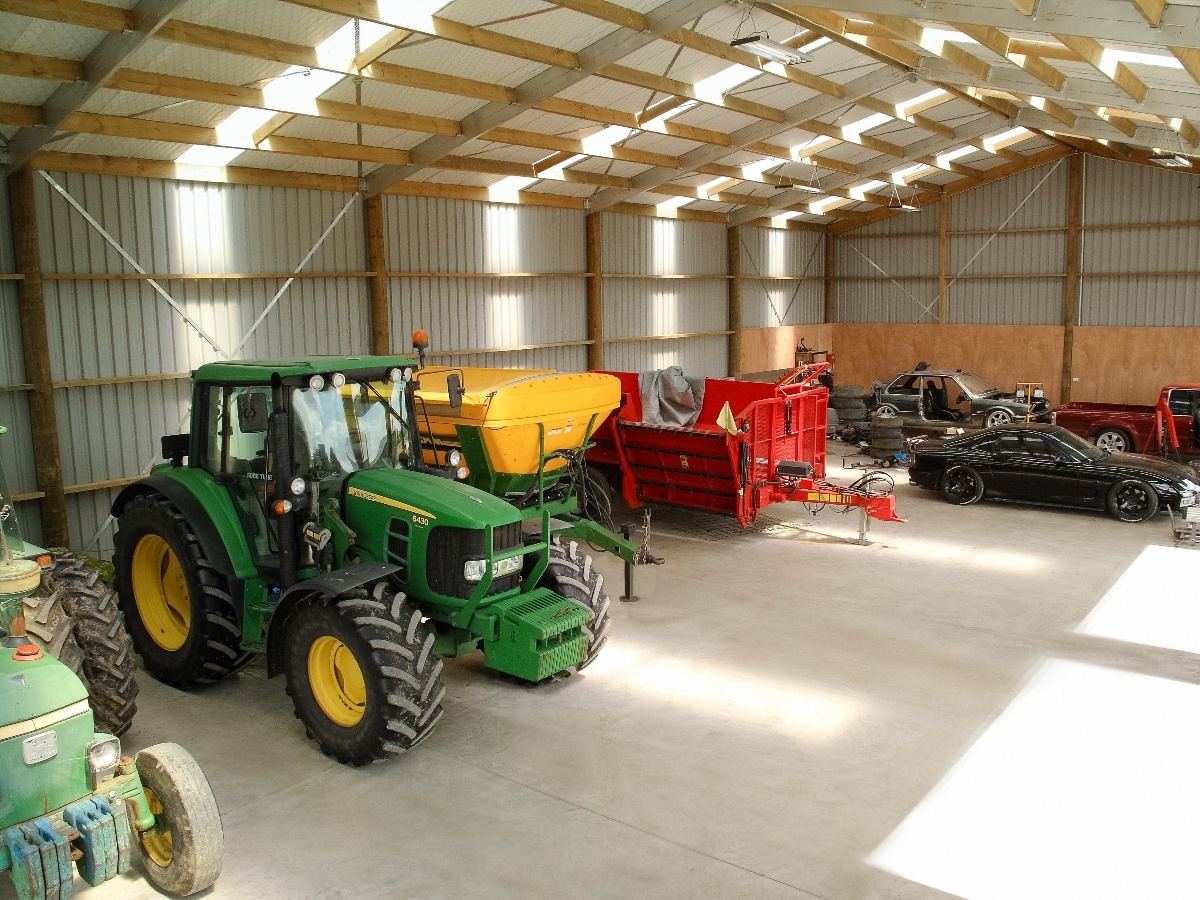 Protect valuable machinery
Farming implements, machinery, and lifestyle vehicles such as boats are big investments and it's important to protect them. Keeping valuable machinery under cover so it doesn't have to sit out in the elements during winter is critical to ensuring the longevity of your investments. It's time to level up your winter storage and protection and say goodbye to pesky canvas covers in 2022. In addition, locking these items up in a secure shed can help to avoid any potential damage or encroaching eyes on your prized possessions and might even reduce insurance premiums.
Conduct machinery maintenance undercover
Maintaining machinery undercover, and providing a dry space for employees to work in, protects both the machinery itself and those working on it. It's safer and more pleasant for all parties to have a secure and sheltered space to undergo repairs and maintenance and a shed is a perfect space to do so - especially a timber pole shed which absorbs sound and reduces noise!
Future-proof your shed for multi-purposes
For many applications, opting for a clearspan shed is a game-changer. Building a self-supporting shed with large bays and no interior columns makes it perfect for storing higher and wider machinery as well as loading and unloading. The interior of a clearspan shed is completely open and unobstructed, providing the maximum amount of usable floor space and floor plan flexibility.
This also lends itself to providing you the most room to grow your operations or interests as a clearspan shed is future-proofed with maximised internal space. Ensuring your shed is designed for other needs throughout the year is the best way to get the most out of your shed investment. An Alpine Buildings' shed can also be customised to have both open and closed bays which provides many storage and usage options going forward.
Often the design of a shed can encourage birds to perch, so it's important to build a shed that eliminates this possibility. Alpine Buildings' timber purlins are bolted to pre-welded joint hangers on the side of the steel rafters, meaning there is nowhere for birds to perch or nest in the roof cavity, protecting your stored machinery long-term.
An Alpine Buildings' timber frame shed also allows for easy internal fit-out. The timber means you can simply nail in any additional extras such as plywood lining, shelves, or hooks, giving you an array of alteration options in the future. The timber frames are also advantageous because they breathe well which reduces condensation. Ultimately, ensuring your storage shed is future-proofed for multiple uses means it will be used not only to store your valuable equipment in the winter but also for various other projects that arise over the years to come.
Feed Storage
Maintain the quality of your feed
The quality of the feed is an integral aspect of any high-performing farm operation which is why it's essential to store it safely and securely. This is especially vital during winter as the New Zealand weather grows less predictable. The effects of having inadequate protection from the elements on livestock feed include leaching of carbohydrates, proteins, and minerals as well as potential mould growth which can negatively impact stock health and nutrition. The erratic weather conditions characteristic of winter in New Zealand mean the need for effective feed storage grows higher.
Protection from pests
In addition to protecting your feed from the unpredictable winter weather, a feed storage shed also protects it from notorious New Zealand farm pests. Birds, mice, flies, beetles, and more are all too common across farmland and can have a devastating effect on feed. That's why having a secure and bird-proof feed storage shed is essential and will help you to keep birds out while maintaining the health of the internal contents of the shed.
Increase your bottom line
Properly stored stock feed is of higher quality and contains greater nutritional value which is excellent news for both the well-being of your stock and your business operations. When the feed has a greater nutritional profile it converts to greater growth for the animals. Ultimately, this equates to an increased bottom line for farmers.
Reduced fodder freight costs
Transporting any product to the rural areas of New Zealand can be a costly experience. However, if you store your feed on-site you'll be eliminating the need for a third-party provider to store it for you which can save you big time regarding freight costs every year. As a bonus, you will gain the convenience of having access to your feed whenever it's required.
Add value to your property and business
A shed is a practical and beneficial asset to both a farm and a property. It could add long-term value to your property while you enjoy the perks right now. In addition, a storage shed will increase productivity and efficiency across your operations which is a vital asset for any business' growth and longevity.
There are numerous benefits to be gained from investing in a storage shed. However, to reap these benefits, you must start planning early. This means that if you're hoping to have your new shed up and running by winter, then you'll need to get the ball rolling now.
As with any investment, a storage shed is designed to offer you the best return on your money. That's why the most logical choice is to invest in a structure that is built to last. We have extensive experience in designing a range of optimised storage sheds that are ideal for numerous settings across New Zealand. It's a cost-effective way to maximise production and slim down running expenses.
Our simple, quick-to-construct, and effective storage sheds are designed to assist you in reaching your storage goals without having to make any compromises. Safeguarding your valuable assets and protecting your feed with a clearspan shed will ensure your operations last long into the future. Do you think an Alpine Buildings storage shed could be an asset to your operations this winter? View our range of sheds, or simply download our full product range brochure to learn more about what we can achieve for your needs and to discover your perfect storage shed for the cooler months to come.