You might enjoy being a hands-on DIY type of person. The type that relishes in standing back at the end of a long project and looking with pride at something that didn't exist that long ago and now can be viewed and enjoyed by all. Those types of people don't need to be convinced that kitset sheds are a great choice - the satisfaction of a challenge overcome is enough to get them seeking the route many actively avoid!
But what if you're not super hands-on with your projects? What if you'd rather spend your time doing other things and pay someone to 'get it right the first time'?
There are several advantages to choosing a kitset shed, even if you have no intention of erecting the building yourself. A kitset gives you the flexibility to do it yourself or enlist the help of specialists. No matter which route you go down there are significant advantages that a kitset shed brings to both scenarios, which we'll explore throughout this article.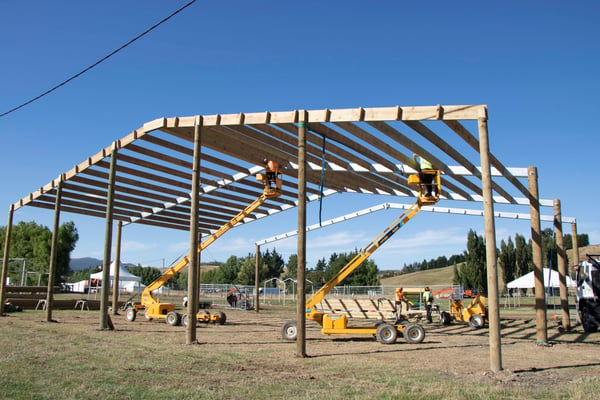 What is a kitset shed?
Pretty much every shed is a kitset. If it comes in pieces and needs to be assembled into its final form then it's a kitset. Some kitset sheds are 'off the shelf' meaning that they come in set dimensions and there is no ability to customise them. Then there are made to order kitsets where all of the pieces are made to your required lengths.
Off the shelf
These sheds are mass-produced and sold in set sizes. You choose the size and configuration you want from the manufacturer and they'll send you the pre-packaged shed ready for you to assemble. These are more common in steel sheds bought from mainstream retailers and may work if you don't have specific requirements, considerations or customisations needed.
Made to order
These will be designed and prepared for your exact requirements. You might want a specific height to accommodate tall machinery or extra-wide doors. A made-to-order shed will have a custom design created and the required material fabricated as per that specification.
Regardless of the type of kitset chosen, and whether you plan to build it yourself or enlist a builder, having a well throughout kitset design will make your build process a lot more seamless.
---
"It was easy to unload and had everything except the kitchen sink basically! Everything arrived down to the last bolt."
- CHARLIE JOHNSON
---
How hard is it to build a kitset shed?
If you've ever built kitset furniture then you might already have all the required skills and experience to handle an Alpine Buildings shed! The tools might need to be a little bigger, and a few more hands needed but in essence, they're an incredibly similar concept. With every bolt ready, simple plans and instructions, and a 'slot & secure' build process an Alpine Buildings shed might be one of the easiest kitset sheds to build in New Zealand.
Rhys Mellor, owner of Love Kitchens, needed to grow his kitchen fabrication business and built an Alpine Buildings shed to accommodate the space needed. When the shed arrived it was well presented, they started to build it themselves and all the materials were provided. You can hear Rhys' story here. The instructions were so easy to follow that he barely needed to contact the service team at all.
What are the benefits of a kitset shed?
A kitset shed offers many benefits but the biggest one is flexibility of choice. With other sheds you may have no option but to use a builder to construct the shed. That might not seem like a big deal but what it means is a build process that's more complex than it needs to be. This adds time to the build, which means you'll be paying more than you need. Here are a few additional benefits to choosing a quality kitset shed with Alpine Buildings:
Freedom of design - customise and personalise without the spiralling costs. We'll design your shed in-house and ensure it's easy to build.


Consents handled - we manage your local council consents ensuring you have one less thing to worry about.


Full instructions - your shed might be unique, we'll still create detailed plans and instructions for you or your builder to follow.


Predried timber - dried timber is straighter and stronger. Drier timber equals lighter timber as well which is much easier to install.


Complete kitset - we try to ensure all bolts and bits are contained within your kit reducing downtime and confusion.


Save time - pre-welded rafter system means you can go ahead and get on with the task at hand; building.
A great kitset shed will have all the parts clearly labelled and ready to go, which is invaluable whether doing the job yourself or paying someone else. With the latter, you'll end up getting charged whether the builder is erecting your shed or dashing to the hardware store to grab a missing bolt!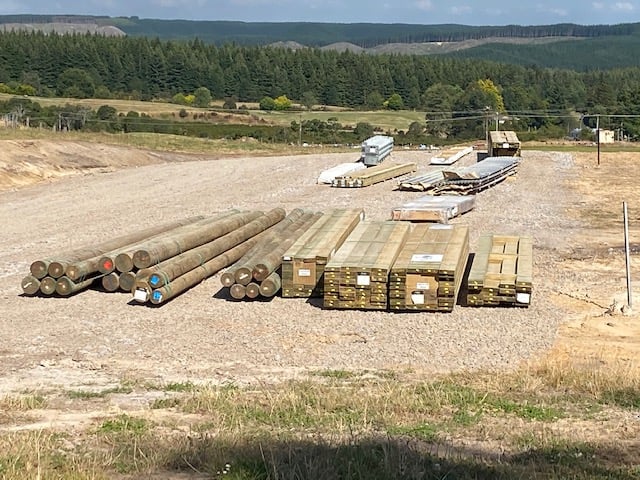 A cheap kitset shed might seem attractive when you hand over your credit card but if the materials aren't high-quality, some parts are missing, or the instructions aren't clear you could end up paying a lot more in the long run. The overall scope of the project needs to be taken into account when looking at your investment. Although our kitsets may come out more expensive than others on the initial quote, the quality and efficiency provided by our design will save you money overall.
There are dozens of reasons why a kitset shed is the best choice regardless of whether you're a DIYer or not. The time and cost savings alone make it worth investigating a quality kitset shed from Alpine Buildings. So whether you're going to make this your next big summer project or need it done while you're busy why not use our free online shed quoting tool to price up your perfect kitset shed.