No doubt you've been thinking long and hard about your upcoming hangar project and have a clear idea of what structure you want. Yes, it's birdproof, vermin-proof, and has no obtrusive knee braces to hinder internal space; however, have you thought about the type of doors that will work best for your hangar?
There are many theories and preferences on the right way to go for hangar doors. That's why in this article, we're detailing the most commonly used options in New Zealand as well as weighing up the pros and cons of each system to help you figure out the right option for your project.
Sliding doors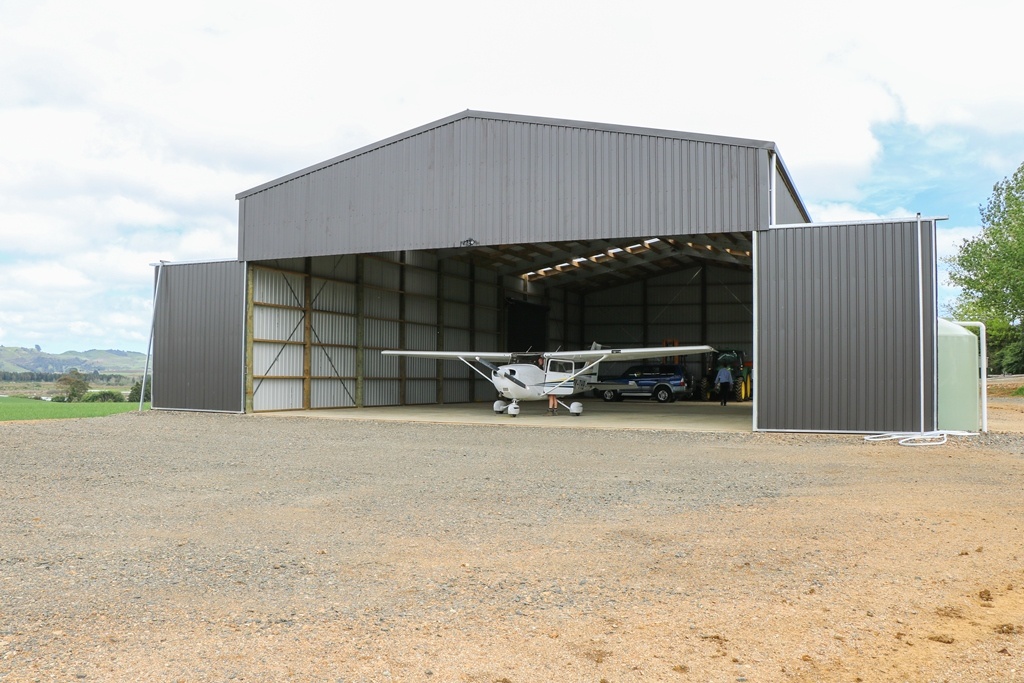 The sliding door system is the most commonly used option and is widely regarded as the easiest and most cost-effective solution due to its low maintenance and simplicity of design. Sliding doors typically run on a bottom track set into concrete, with a guide rail at the top of the door. This minimises the load-bearing of the doors on the structure itself. Another common practice with sliding doors is to recess the bottom track into the concrete below the main floor level. This will ensure a smooth entry rather than a bump over a track that is bolted onto the floor. These door systems are very versatile and can be designed for openings of all shapes and sizes.
The downside of sliding doors is that they can be very heavy and debris can collect in the recessed track jamming the slider. You will also need to check there is sufficient room on each side of the hangar for the doors to slide past when open.
Horizontal bi-folding doors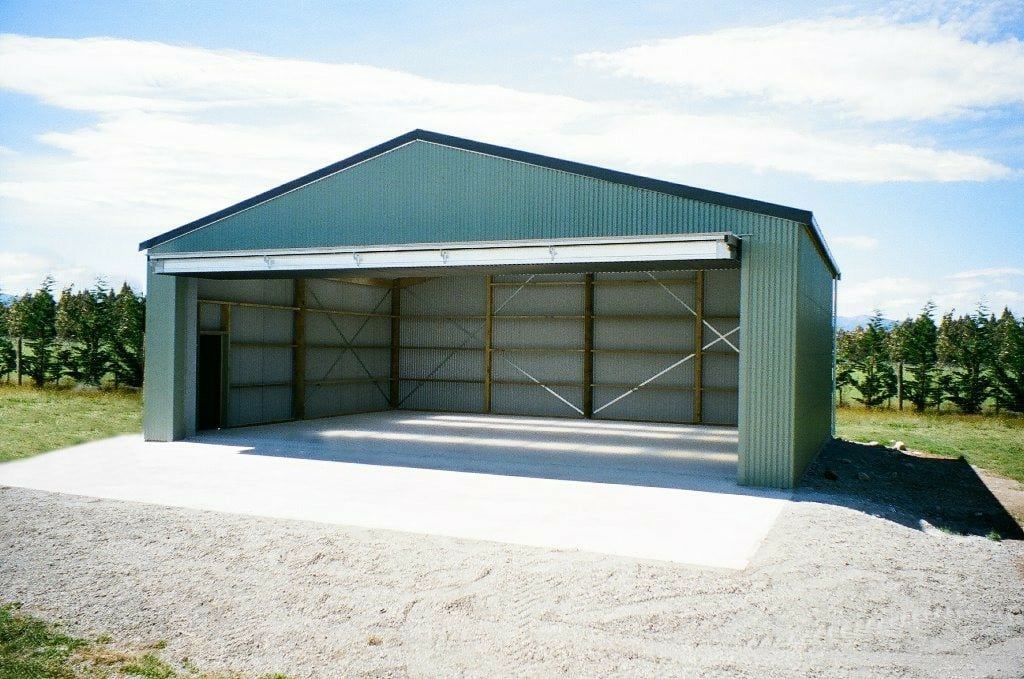 This style of door is often regarded as a high-end option and subsequently comes with a higher price tag. The main reason people opt for a vertical bi-folding door is that the door can be fully opened and placed out of the way with minimal room needed on the walls to accommodate tracks and operating mechanisms.
The footings and framing for vertical bi-folding doors will generally need to be custom designed and engineered which can increase design costs, although it does give you a premium result.
Vertical bi-folding doors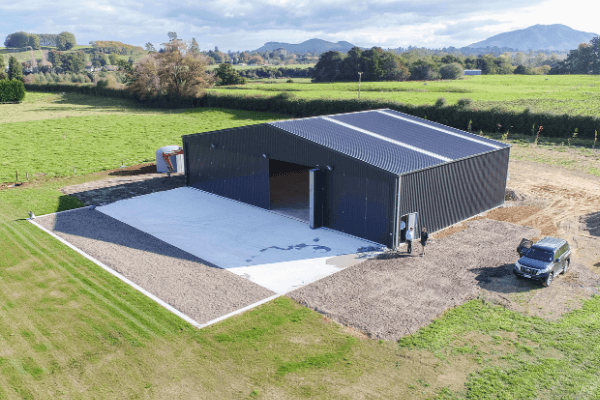 Vertical bi-folding doors are less commonly used and are best suited to situations where there is limited room on either side of the hangar for sliding door tracks to run past the building line. A benefit of these doors is that they can be opened as wide as necessary to get your aircraft through, without opening the full door width should you have several smaller aircraft and a large shed.
A downside of this style of door is that internal guide tracks need to operate within the span of the structure which can limit the flexibility of storing things within the shed. With multiple moving parts, they can also require more maintenance to keep them operating smoothly.
Is your site in a high wind zone?
This is always a key point of consideration with hangar doors as they are large and often in high wind areas. The last thing a pilot wants is to turn up on site and the doors have given way to strong wind gusts compromising the equipment stored inside.
When considering this point, it's wise to look at the integrity of the structure you are using as the connections between the door and the structure are often the weakest point. For a hangar, you will require a structure with solid materials to prevent any wear and tear or weakening of these connections over time. Buildings that consist of structural steel and pre-dried timber are a reliable and strong option. Whereas, a thinner roll form steel structure can succumb to the pressure especially around fixings and screws as they don't always have significant purchases on thinner materials and can rattle loose or slog out over time.
Our timber and steel combination has many benefits in addition to the strength and durability of the building. Find out more here.
If your property is in a high wind zone, our recommendation would be a sliding door because the panels can be reduced in size to minimise the load on each panel. Another option is bolstering the panels by using heavier gauge steel frames and tracks which don't always add additional cost to the project.
Where is the best place to get doors from?
Some shed companies will be able to provide a door system with the kitset, however, this may not be the best option for your project.
Due to the complex requirements for a hangar door, we advise talking directly to a door supplier who already specialises in these types of doors. Another option is to work directly with an engineer and get the doors 'made to measure' for your structure. There are a number of benefits to this solution. You can work with a local engineer to fabricate the door frames and outriggers, supply the rollers, tracks, and hardware and also install the doors on site ensuring there will be a tidy finish with no gaps or rodent friendly areas.
Most structures should be able to accommodate this method however some types of construction are better suited than others. For example, a building that has a structural steel door lintel is often easier to work with than a roll form steel shed as the latter option is a lot thinner and may prove difficult as the door will have a greater impact on the overall structure.
We highly advise you to discuss your specific requirements for your doors with each shed supplier. Stephen Robertson did just this, we worked with him and a local engineer to get the right solution for his site.
Our team has worked with multiple clients using all three systems mentioned above and is equipped to provide advice on your site requirements.
If you want to discuss your next project with our team, start by completing our shed builder. Here you can include all of the requirements for the overall project so our team can help you make the best decision. Simply click on the button below to get started!