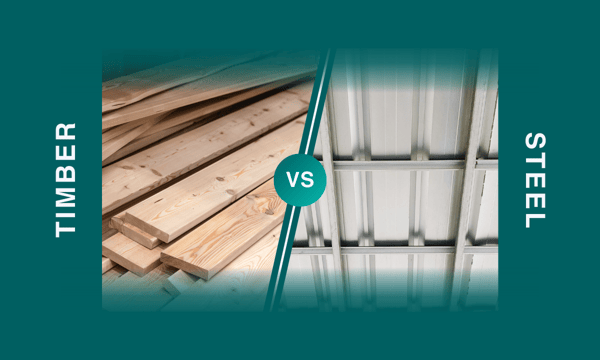 There's always been a lot of discussion around the benefits of timber versus steel as a construction material. Some people love timber and some are steel all the way.
While it's been proven that both are great construction materials, there are a few key differences that are important to explore before making your final decision.
Settling on the right shed construction material for your unique needs is a big decision and there are many aspects to take into account. While some people opt for rolled steel sheds due to their appearance and sometimes lower cost, there are also a plethora of reasons why people opt for timber instead. For example, timber sheds are often easier to line out, and provide a quieter, more natural environment to work in. Both construction materials have their clear advantages and disadvantages which we'll outline in this article so you can ascertain which is most suitable for you.
Timber vs steel: pros and cons
There are a few key pros and cons unique to either timber or steel sheds. We have summarised the main differences below:
Timber sheds
Steel sheds

Pros:

✓ Easy to line out

✓ Sustainable & truly renewable resource

✓ Windows and doors easy to add later

✓ Less noise and rattles in rough weather

✓ More consistent temperature

✓ Bird proof (enclosed members)

Pros:

✓ Materials cut to length

✓ The shed itself has a minimal
environmental impact


✓ Ability to have larger spans

✓ Can be relocated

✓ Sometimes cheaper, if you don't intend to keep the property for a while

Cons:

✖️ Can be susceptible to pests/bugs

✖️ Timber requires onsite cutting

Cons:

✖️ Susceptible to rust

✖️ Can require knee & apex braces, reducing usable space and height

✖️ Not always bird proof
Strengths and weaknesses of timber sheds
Timber has been used for shed construction for many years and is often the more flexible option. By this, we mean that timber lends itself to the easy installation of workbenches, shelves, or electrical wiring (since wood is not an electrical conductor) into the timber framing - even if these aren't in the initial design.
Another clear advantage is that timber will not rust, unlike steel, which means the shed can last longer in certain environments. In the colder months, timber is excellent due to its natural insulation abilities. It keeps the shed's inside temperature at more consistent levels. Likewise, in the hotter more humid months, timber acts as a humidity regulator where moisture is absorbed into the wood itself. This means your shed won't sweat with condensation, making for a more pleasant indoor experience during summer. Timber is a naturally occurring resource, making it a more sustainable option.
In saying this, it does require onsite cutting, sometimes taking longer to install. If timber is not pre-dried before installation, it can be susceptible to twisting if left in the sun for extended periods of time.
Strengths and weaknesses of steel sheds
Steel is a lightweight material which means one labourer can handle multiple pieces at one time. This can cut down on both labour time and cost. With steel being manufactured to the required lengths, this also means cutting is not usually required on site. Also, a handy characteristic of galvanised steel is that it cannot rot and is highly water-resistant.
A less positive aspect of rolled steel is its high noise level during heavy rainfall and other weather events, as well as being prone to rust. However, fully galvanised structural steel (such as RHS) helps to protect against corrosion. The manufacturing of the steel itself can also have a negative environmental impact. To combat this some steel shed manufacturers use a portion (or 100%) of recycled steel which can again be recycled at the end of the shed's useful life.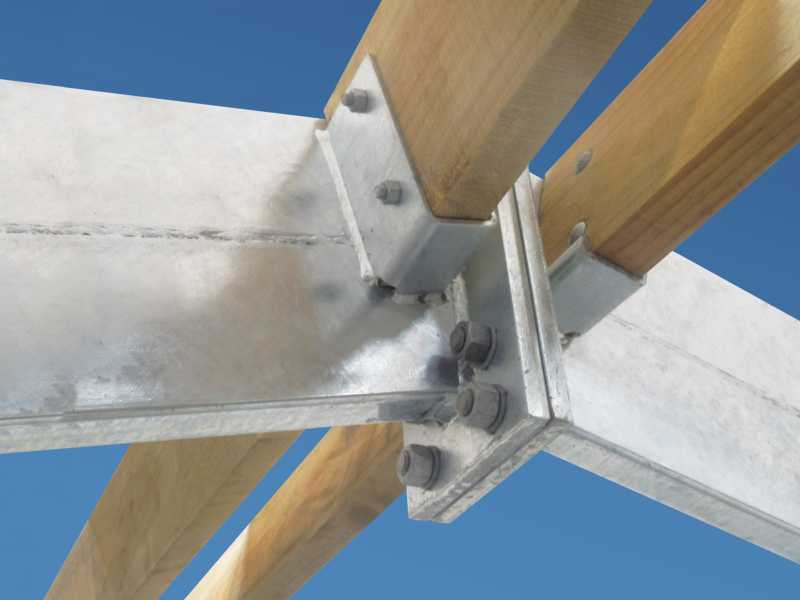 Why an Alpine Buildings shed uses both timber and steel
Both timber and steel have clear advantages which is the exact reason why we use them both when designing a shed. You get the best of both worlds by reaping the benefits of timber while utilising the strength of structural steel. We outline a few of the perks of the timber and steel combination below.
Framing
All standard Alpine Buildings sheds use timber framing. This is primarily for the following reasons:
Limits noise: The external cladding is fixed to timber instead of steel. 'All-steel' sheds tend to be noisier, especially in wild weather where you can get a ringing effect. However, timber framing noticeably softens the sound, making it great for noisy workshops.


Easy to modify: The timber framing makes internal fixings such as wiring, workbenches, and shelves easy to install.


Insulation: Timber is known to be a better insulator, which helps the shed stay at a more consistent temperature. It also minimises condensation or 'shed sweat'.


Maximises space: Timber framing also removes the need for the brackets and braces that most steel frames require, maximising the internal space.
Beams/rafters
To increase the strength and durability of our sheds, we use a steel rafter system that includes:
Hot-dip galvanised steel: By hot-dip galvanising our standard sizes, we've minimised the chances of rust. Hot-dip galvanised coating is known to be the strongest metal protection available - up to 2.5 times thicker than any other coating.


Pre-welded purlin hangers: Unlike standard timber or rolled steel beams, our steel rafters have pre-welded purlin hangers which can save you countless hours of installation time.


RHS box-section rafters: We also use a unique RHS box-section rafter for superior structural integrity over lightweight rolled steel.
Our unique shed design combines the best elements of timber including noise reduction, temperature regulation, aesthetics, and flexibility with the pure strength and rigidity of structural steel so that you gain a quality shed that lasts for generations to come.
Ultimately, deciding on the right shed for your unique needs is no minor task so it's vital you have the information you need to decide what is right for you. If you're interested in discovering more about our unique blend of timber and steel shed construction, simply download our timber frame sheds brochure.