To say it's been a big year for Alpine Buildings would be an understatement! As a business Alpine Buildings delivered more sheds to people across New Zealand than ever before.
To celebrate this, and many other milestones, the team were tasked with choosing their favourite projects from the year and sharing them with you. Each had a personal reason for their favourite project and have shared below their reasons for selecting that particular shed. So why not take a few minutes to learn more about why each project stuck in their mind the most.
Location: Pukekohe
Dimensions: 15m x 30m
What made this shed a stand out and your pick of the year?

It was a pleasure to manage this project with an owner who had a clear vision on how the shed was to look.
The use of Opal Clearlite rather than the standard clear option created a stunning diffusion of white light to a glowing effect, while the outside was finished in a sharp Titania cladding which just looks great.
Due to the location being a high wind area the decision to install roller shutter wind lock doors was a must, and in turn provided an exceptional quality finish.

---
Location: Methven
Dimensions: 18m x 16m
What made this shed a stand out and your pick of the year?

I think the pictures say it all, the location of this shed is simply stunning! Set up towards the Southern Alps, surrounded by high country station – it really takes your breath away.
Not to mention this hangar is solid, structural and stands proud in the surrounding landscape.

---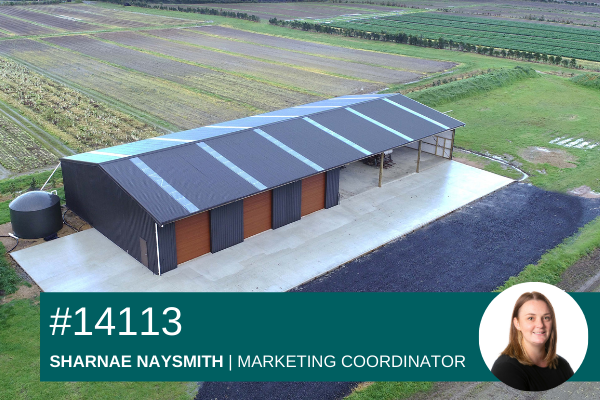 Location: Northland
Dimensions: 15m x 36m
What made this shed a stand out and your pick of the year?

For me the contrast of this shed really stands out, I love it! The dark cladding with timber look doors is a real show stopper.
I like how versatile this shed is as well. With the 3 enclosed bays and 3 open with the concrete floor throughout, it gives this shed a wide variety of uses.

---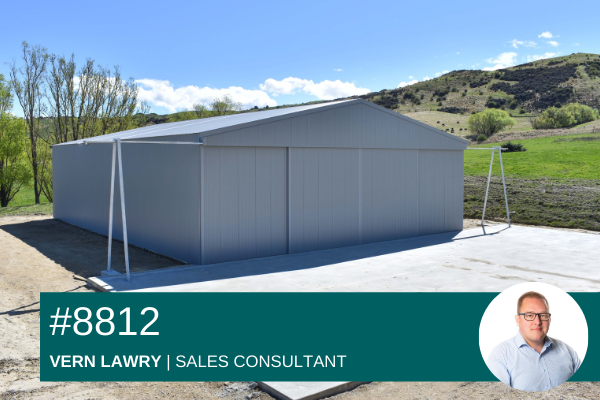 Location: Ida Valley, Central Otago
Dimensions: 15m x 20m
What made this shed a stand out and your pick of the year?

This job was a real credit to the install team! Building in sub zero temperatures with snow on the ground was a real challenge but they did it and the end result was fantastic.
The location of this shed is one of the hottest places in New Zealand in Summer, and the coldest in the Winter, so this shed (which is fully insulated inside) had to be built to withstand some serious conditions.

This hangar sits grand amongst its remote landscape and the concrete floor and clearlights finish this classy hangar off perfectly.

---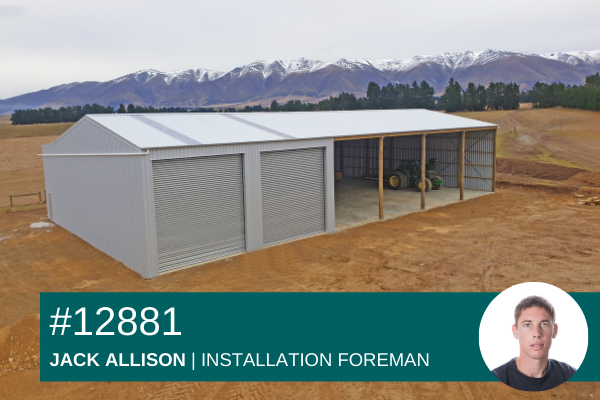 Location: Hakataramea Valley
Dimensions: 19m x 34.2m
What made this shed a stand out and your pick of the year?
If I needed to build a shed, I would build a shed like this. Big, simple, strong, spacious and incredibly versatile.
This shed is made up of 2x enclosed bays which have been designed to use as a workshop, and also has 3 open front bays to be used as workshop overflow as well as implement storage. The concrete pad throughout this shed provides extra versatility, and with additions could be used for grain storage.
This project went well start to finish (despite the -10 degree temperatures) and it was great working in such a beautiful location. The very happy client just topped this project off and made it a real standout for me this year!

---
The looks of disappointment on the team's faces when they were told they could only pick one favourite project was a real testament to the quality of projects they've had the pleasure of creating this year. For each shed shown here there were many more that should have made the list!
Each shed project holds a story. From the hard working shed providing a secure space for farm machinery, to the ultimate man cave chock full of grown-up toys, there's a person and a passion behind each and every shed we build.
By getting to know you we get to know how the perfect shed will fit and can design it with both your current requirements and future needs in mind. If you have a good idea of what shed you'd like then try our online shed builder to put all your ideas to us and we'll come back with an estimate in next to no time. To get started simply click the button below and who knows, your shed might make it onto next year's list!