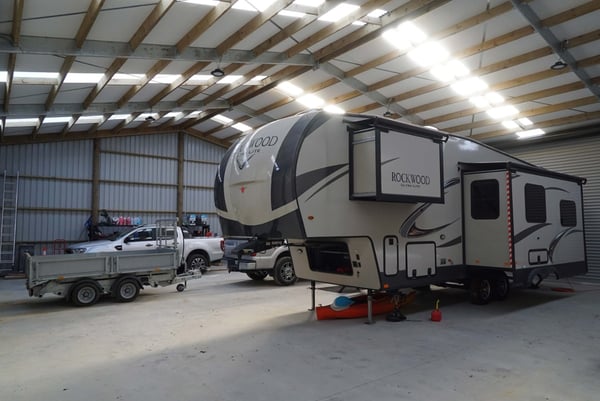 Choosing the best shed design for your needs can be challenging. It is a common question that gets put to our sales team. Most likely, you are working to a budget, so you will want to make sure that you get the best shed for your money as well as for your storage needs.

Below, we have outlined some ways to keep your shed as efficient as possible. No matter which provider you choose, the following four points will help you decide what is the best design for your property.
How do I work out what size shed I need?
A good starting point is working out what depth or span you need. First think - what it is you are going to be using the shed for, and how many items do you intend to store? This ultimately determines how deep the shed will need to be. The depth/span is harder to increase if you need more space down the line, it's recommended to make sure you have ample space - especially with vehicles and boats getting longer. One of the most common comments we get post-sale is "I wish I had gone a bit bigger". Going bigger from the outset will typically be more cost-efficient than building a smaller shed first up and then adding to it down the track.
To work out what size you need, we recommend measuring the site for your shed. Think about the layout, and how you plan to store items inside. This gives you a good idea of the layout and you can go as far as marking out where items may be placed in the shed to get an idea of the sizing. From there, measure the items you will be putting in the shed. Whether it's the new boat, caravan, or the trusty John Deer, record the measurements and have them handy when you are speaking with the shed supplier.
Most companies work within certain design sizes, mainly due to the engineering capabilities of the materials they use. This can range from approximately 6 metres to 20 metres wide with clearspan buildings. Typically spans from 12 - 21 metres wide are most common across a range of sectors from lifestyle sheds, workshops, or ag contracting businesses.
So, what's the best size for your needs?
12m & 15m clearspans
12 -15 metre spans are the most common size for lifestyle/man cave style sheds. With the average length of a car being 4.5 - 5.5m, this is an ideal size if you are planning to store vehicles you will be able to store two deep within the shed while allowing additional space around the vehicles.
A lot of people tend to forget to allow space for things like storage cabinets or workshop benches as these can take up space quickly. Allow an extra 1.0-2.5meters for these areas so there is space to open doors/cabinets and still move around.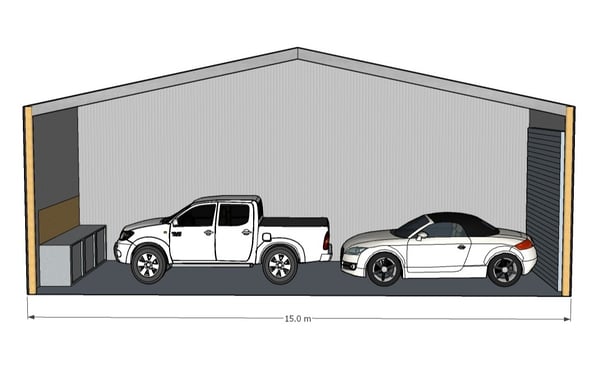 15m & 18m clearspans
Spans of 15 - 18 metres are more common for agricultural uses such as workshops, implement sheds, or hay sheds. Again, it's good to work out what you ideally need to fit in and allow areas for storage racking, benches, or an engineering space to weld, etc.
Having the additional space is great if you are wanting to store implements while being connected to say a tractor, all while being securely stored away from the weather and opportunists.
Remember to allow extra space if you want to use your shed for machinery maintenance over the colder months and to allow for any planned purchases down the line.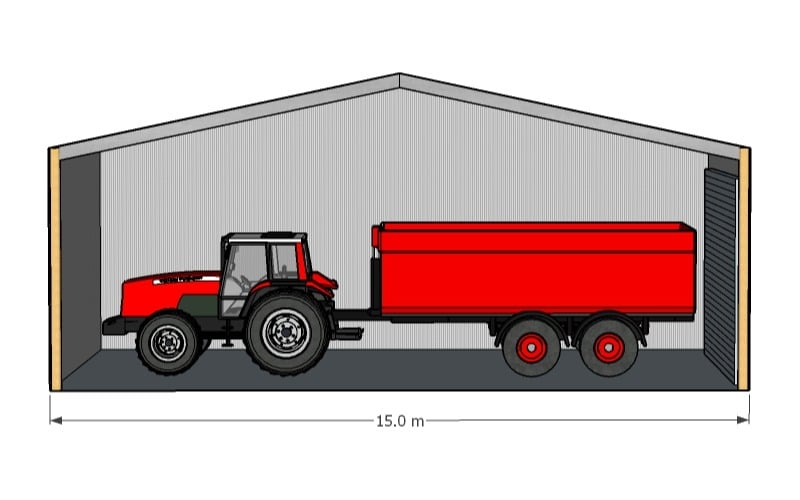 18m & 21m+ clearspans
If you need serious storage space, then an 18 or 21 metre span is the way to go. Whether you need to store large farm machinery, produce, or grain, you will have ample space for all your needs.
With the ability to remain clearspan, this size is great for having the ability to manoeuvre large equipment around within the shed with reduced risk of damage to the shed and equipment.
At Alpine, the most efficient depths for these types of buildings are 12.0m, 15.0m, 18.0m, and 21.0m, however, the sheds are custom designed so if you require a particular depth, just let the team know and we can discuss the options.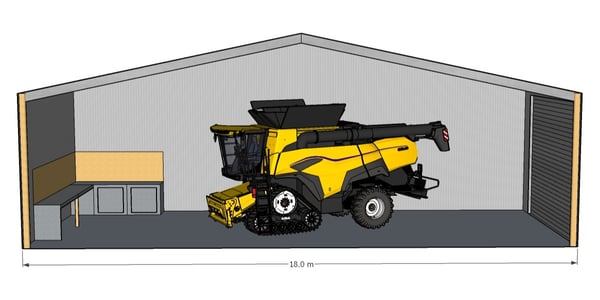 Bay Widths
Choosing the appropriate bay width is another determining factor in how efficient your shed will be. Obviously, the number of bays creates the total length so the cost increases as building length increases. Note: Generally, as the size of the shed increases, the cost per square meter often reduces as the fixed costs stay the same.
Bay widths are generally defined by material ability. Timber and steel have different abilities in terms of how wide they can be. For example, timber comes in lengths of 4.8m and 6m, therefore these are the common bay sizes. Steel sheds are generally more flexible with bay widths as they can get most lengths up to 10m wide, depending on the steel gauge. It's best if you work with the shed suppliers 'standard options' as this will get you a more efficient design rather than a 'one-off' custom size. Keeping the design "standard" means it reduces wastage as you are not cutting down lengths to suit.
At Alpine, we have bay width options ranging from 4.8m to 10.0m wide using both timber and steel. Give us a bell if you need a particular width and we can work through the options.
These are the common bay widths with the Alpine designs:
Timber – 4.8m and 6m
Steel – 7.7m and 9m
Height
Height is one factor that is crucial to get right with the design because once the shed is built, it's very hard to get more height if you require it. Once again, measuring the items you are storing in the shed is important. Measure the largest item, whether it's a trailer boat, caravan, or header, and make sure you allow for a little more headroom to give you peace of mind when you are entering and exiting the shed, rather than worrying about whether you are hitting. Remember to allow for boat canopies, flashing lights or parts of implements that may not be folded away.
Height is relatively easy/cost-efficient to get with sheds as it usually is just slightly longer poles/legs and a little more wall cladding. Note with height, some shed designs may have deeper beams than others, reducing usable height. For example, an all timber clearspan shed 12.0m deep would use something like a laminated timber beam (also known as an LVL beam) system where the beam/rafter would roughly be 0.5-0.6m deep, which means you lose that much internal space in the shed. Whereas a steel rafter/beam may only need 0.3-0.4m deep.
Also, consider whether the building requires knee and apex braces as this will impede the internal space of the building especially if you are planning on parking alongside the building with machinery or you are wanting to install a vehicle hoist or shelving.
Some of the common used in an Alpine shed are:
3.6m to fit a 3m door
4.2m to fit a 3.6m door
5m to fit a 4.4m door
Doors
The two main types of doors are roller doors and sectional doors. Much like heights, doors are a vital part of the shed if you are looking at lock-up options. Door sizes range from 3.0m up to 6.0m in both width and height and they can make up a lot of a kitset cost, especially if you plan to have multiple doors.
Roller doors are most common in sheds and are the primary type of door Alpine uses with its kitsets.
These 4 points are critical to getting your shed right from the start and will determine how efficient your shed design will be in the final wash-up. Each supplier is slightly different; however, the same principles apply to all designs. Work with your preferred supplier to discuss all the options available to you.
If you are looking for a supplier who's been in the game for generations, feel free to reach out to the Alpine team to work through your specific project.