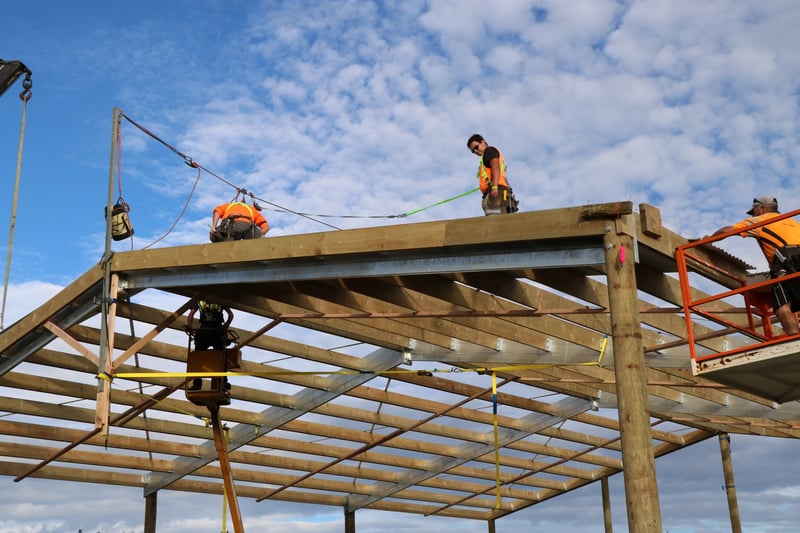 With decades of experience in designing and building sheds built to last the distance, Alpine Buildings have also perfected sheds that are easy to build. Every Alpine shed is available as a kitset and arrives with all the structural components needed (excluding concrete) to get your shed installed as quickly as possible.
So, how long does an Alpine shed take to build?
This is a question we often get asked and the time varies depending on a number of factors such as the size of your shed, the equipment you use, the number of builders or the weather conditions.
We design our sheds to make them as quick and easy to build as possible, and in some instances they could take as little as one week to build. However, no matter the factors involved, there is no reason why you can't be enjoying your new shed in no time at all.
The great thing about an Alpine shed is that you don't need to be a qualified builder to install it. Alpine's kitsets cater for every skill level, from home handyman to the serious builder. Every sheds timber is pre-dried, making it light weight, straight and safe to install. With the triple checking, extra grading and pre-cutting, you can be assured our kitset sheds are the fastest buildings on the New Zealand market to install. If you have ever tried our Steel Rafter system you will know first-hand the pre-welded J-hangers make the install of purlins quick and easy. We also include full instructions with all our kitsets just in case anyone actually needs them!
You will need to scrape out your site and make it level before starting footings and building work. Ensure you are aware of any buried water mains or electricity cables before you start digging. We also recommend that you spread the site with gravel (and compact it well if you are having a concrete floor).
Building a shed can be a brain drain if you aren't sure where to start. With Alpine, all materials are provided except the concrete and any concrete related components. We will provide all the timber, steel and fasteners required.
Benefits of Alpine:
Solid construction - we use 'real steel' in the form of RHS rafters that can be up to 10mm thick.
Build with or without a concrete floor as it's non-structural.
All barges & door flashings are provided.
Timber beams are plumb cut & ready to go.
Dry timber purlins are bolted to pre-welded J-hangers.
Designed specifically for your sheds location, offering complete peace of mind.
Full instructions are included - anyone can put an Alpine shed up!
Council Consents and do you need them?
Council consents are needed for an Alpine shed. There are a few standard exceptions which are:
a) Your shed is less than 10m2 in size. Or a carport 20m2 or less.
b) You are building within the footprint area of a previous shed that you are replacing or repairing. See Schedule 1: Part 1.7 of the Building Act 2004 for more details.
You can start building as soon as your consent is approved, as long as all other requirements are met, such as needing a resource consent. If you don't start work within 12 months (or other time limit specified by the Building Consents Authority) the building consent will lapse, however you can ask for more time if required.
Getting a builder to do it:
We provide an installation service and have many loyal and experienced builders throughout New Zealand. You may already have a preferred builder that you have used previously. Feel free to contact us to discuss your install options.



Our 3 main types of shed construction are Steel Rafter Gable, Steel Rafter Lean-to and XL STRUCTURAL Steel.
Gable Steel Rafter Construction
The original Gable Steel Rafter clearspan building range by Alpine has been tried and proven for many years all over New Zealand including in extreme snow and wind zones.
Alpine Steel Rafter kitset sheds are constructed using the highest quality components, and have a structural sign-off for greater than 50 years (the longest available in the industry).
Our Gable Steel Rafter range includes standard spans of 9.0m, 12.0m, 15.0m, 18.0m and 21.0m, with the bay widths designed to your requirements. If you require a larger clearspan, you can also check out our XL Structural range here.
A concrete floor is optional for all of Alpine's construction methods, meaning Alpine farm buildings are perfect for hay barns, tractor and farm storage sheds, and other structures where a floor is not required.
Alpine gable clearspan structures are designed & engineered to your proposed location, with specific wind & snow loads.
Contact us now for a no-obligation quote, or ask us for expert advice on your project.
Lean-to Steel Rafter Construction
The Lean-to Steel Rafter clearspan range was introduced in 2009 to meet requests from clients who wanted a Lean-to shed with no centre poles.
This popular design, also know as a mono or single pitch shed, is simple, strong and fast to install, and uses the same design principles as our Gable range. The design includes purlin cleats already welded on, with no need to screw on purlin brackets or do any onsite welding.
Our Lean-to Steel Rafter range has standard spans of 9.0m and 12.0m, with the bay widths designed to your requirements.
XL STRUCTURAL Steel Portal Construction
XL Structural structures are capable of clear spanning up to 50m+, making them a popular choice for commercial buildings, hangars, and large agricultural buildings.
At XL Structural, they understand your needs. When you build a structure that is the hub of an operation, you want peace of mind that it will last long into the future.
XL Structural building is designed to be a wise investment for your operation, with low maintenance and high durability. We don't just design to meet the building code, we design to ensure that the building works for your business and is around for generations.
Check out our brochure for case studies, photos and more information on the XL Structural system.
Contact us now for a no-obligation quote, or ask us for expert advice on your project.