At Alpine Buildings, we design and supply the fastest and easiest kitset sheds on the market. Our unique design features make construction both simple and efficient so that anyone (building experience or not) can construct them.
We don't want you to simply take our word for it though. That's why we're breaking down exactly what makes our kitsets so easy to build and have included insights from those that have built our sheds before, so you can hear directly from them about just how different our kitsets are.
So whether you're embarking on a DIY project or you're a building professional, here's what you need to know about our kitsets:


Box Section Rafters
All of our box section rafters are pre-welded with a simple bolt connection. This means you can easily and quickly bolt them together at the apex of the shed. It's just a matter of lifting and attaching to your poles with one bolt.
Andre Nicolai was blown away with how simple our box section rafters are. This feature has substantially decreased his construction times and he couldn't be happier with how quickly he can "get onto the next one".
Alongside this, our rafters are pre-cambered which keeps them incredibly strong and straight in the long run - ensuring the longevity of the shed.


Jhangers
We continue to simplify the construction process with our unique Jhangers which are revolutionary simple J-shaped brackets that the purlins can sit in. Utilising them removes the need for a second person holding the purlins while you fix them.
For this aspect of shed construction, we have quite literally cut the labour requirements in half! The hangers hold the purlin in place and you simply bolt them in - it doesn't get more efficient than that.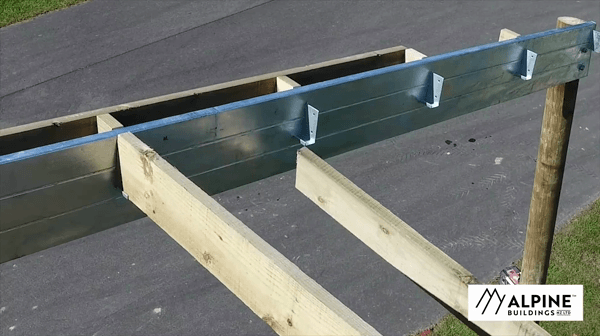 Beams for the end of gable
Our beams for the end of the gable arrive at your door plum cut with the correct angle. Since we do this in-house there is no need for builders to cut on-site, making the beam assembly process very straightforward and easy. With our team eliminating a lot of work by pre-cutting these beams, builders can focus on what they do best - constructing a top-quality shed, and they can do this with increased efficiency.
Pre-dried timber
All of our timber is pre-dried and graded when it gets to you. This saves time on-site that would otherwise be spent sorting through the timber. Another perk of pre-dried timber is that it comes to you straight, which makes it easy to line up. It also makes it much lighter to work with which contributes to increased productivity and a safer working environment.
There's nothing quite like hands-on experience when it comes to explaining the Alpine difference. Mike Wright and his team at Mike Wright Construction have constructed many of our sheds and cannot believe just how hassle-free our kitsets are to construct due to components like our pre-dried timber.
Mike recognises that we produce the most versatile sheds to suit every need without over-complicating the construction process.

Neatly packed components
Going above and beyond to simplify the process, we ensure that everything comes packed together for each component. For example, purlins are packed together, girts are packed together, and so on. To make things as clear as day every single component is labelled which saves a lot of time on-site finding which piece goes where.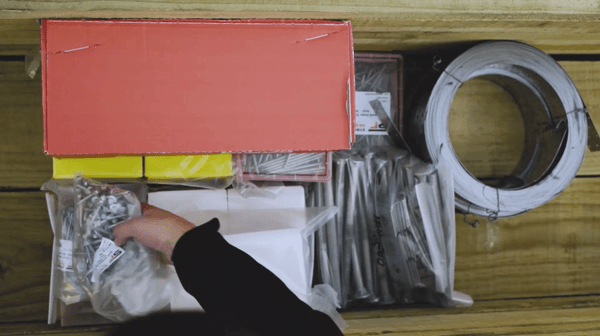 Triple Check System
We do more than just pack each component neatly, we also ensure that everything is always there. We have a triple-check system for each kit that goes out to ensure all components (right down to the last bolt) arrive safely at the site. This system entails each kitset being checked three times in our yard for accuracy and to ensure all pieces are clearly labelled. We provide all shed components including screws, bolts, nails, and everything else - except for the concrete (and any concrete-related components).
The neatly packed components and assurance that no parts are missing are key highlights of our kitsets for Paul Mason from Mainland Homes. After constructing one of our sheds, Paul is telling others to "Get an Alpine shed now, don't worry about the rest".

Easy to follow plans and instructions
Each kitset comes with a clear and easy-to-follow set of plans making every step of the construction process extremely fast. While promoting quick construction times, we do not compromise on accuracy. The precise plans are a simple way to guarantee both an efficient and meticulous build.
Charlie Johnson and his builders believe that our sheds are too good to be true. However, here at Alpine we enjoy making the impossible possible by creating sheds that are quick and easy to construct as well as being strong, durable, and top-quality. Our kitsets have changed the way Charlie and his team view construction.
As you can see, deciding on an Alpine kitset shed can transform the construction process and reduce labour costs. With increased simplicity, efficiency, and safety our sheds are everyone's best option, even experienced builders. We believe the construction process should be both seamless and stress-free.
For your next project, simply click the button below to experience the Alpine difference for yourself.