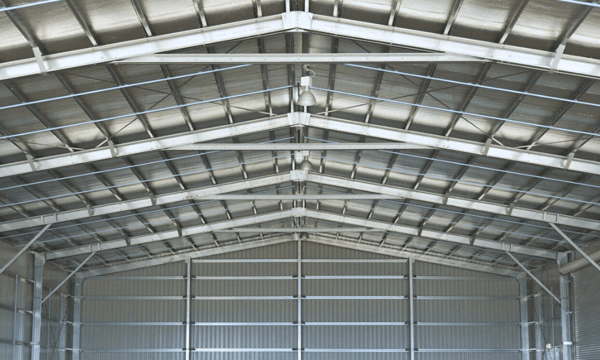 There are many different steel shed systems available on the New Zealand market, and almost all are made from the same raw material and have similar characteristics. So how do you compare them all when looking to build?

In this blog, we discuss eight things to consider when buying a rolled steel shed and discuss a number of questions you can ask yourself during the process. These considerations are commonly heard from clients and builders who have built both steel and timber sheds.
1. What types of steel sheds are there?
The most common steel shed is a lightweight roll-formed steel shed. Most commonly found in residential and lifestyle markets, this design is constructed from 2-3mm thick steel which is rolled into a shape. This system relies on the shape of the 2-3mm tin for strength rather than the steel itself. With roll formed, you will need to have a bracing element to ensure the steel shed is sturdy.

Structural steel is more commonly found in larger commercial buildings and is typically between 6-15mm thick. There are several different shaped profiles available but, due to its thickness, the steel does not rely solely on the shape of the profile for its strength.

Structural steel sheds are widely considered to have superior strength and durability compared to rolled steel and, in some cases, they will last twice as long. While they cost more upfront, the lifetime cost makes this option more cost-effective in the long term as they provide a long-term asset.

2. Climate Considerations
It's important to consider the wind and snow loadings in your area. Will the shed be able to withstand a large snow event? Can it withstand high winds for extended periods? Some other key questions to consider are:
How does the shed meet the snow and wind loading requirements? Does it just meet the code or does it comfortably exceed it, giving you long-term peace of mind?


How do the rolled steel legs connect to the slab? Will rain and moisture cause these connections to rust?


How noisy will the shed be in bad weather? Rolled steel can be prone to rattling unless lined with plywood, for example, to add rigidity.

3. How long does a steel shed last in a standard environment?
In standard conditions, your steel shed typically has a consented lifespan of 25 or 50 years, depending on the supplier. While there are some exceptions to this rule, most rolled steel systems will not come with a 50-year building consent. On the other hand, most other timber and structural steel buildings will come with this as standard. Ask yourself:
How long do you want the shed to last?


What will be the resale value in 10-20 years time?


Is the electroplating rust protective coating suitable for a coastal environment?


How will salt-laden wind affect the structural connections over time?
4. What are the costs I should consider if I buy a steel shed?
While a rolled steel kitset can appear cheaper when compared to other options, the installation can be more costly. Below are some key questions to consider when buying a steel shed:
What type of concrete footing is required?


What earthworks will be required? What additional reinforcing will be needed for the footings? Often steel sheds need extra reinforcing and cages for strength, which is not usually included in the kitset cost.


How long will this system take to build when compared against other shed systems?


How can this shed be lined with ply or gib-board?


How will the electrician run the wiring and how long will this take?
Choosing the right materials can have a lasting impact on the overall durability of the shed and also make it easier for other trades to complete their work, saving you time and money.


5. Is the council's consent looked after?
Typically, council consent will be lodged by the shed supplier, however, if there is more than one project on the go at once, clients will lodge the consent themselves for the project. The consent will typically take up to 20 days to complete. It is important to factor in this process so the timing is right.

Checking with your shed supplier that they look after the entire consenting process is highly recommended. Most companies will advertise that they get the building consent for you but what is the scope of work that is offered? Consider the below when looking into council consent:
Does the company lodge the building consent?


Do they arrange all the required documentation in a council-ready state?


Do they deal with all RFI's (requests for information) from the council?
In many respects, lodging the consent is the easy part, dealing with RFI's and other council questions can prove more challenging.



6. Connection types
With a roll-formed shed, the connections normally have a knee brace connection and an apex brace in a gable clearspan shed. These can limit headroom inside the shed and, as they are a structural component, they cannot be removed. Roll-form steel sheds are typically held together by many Tex screws that take time to construct and can wriggle loose over time. You may wish to also consider:
How do the types of connections affect the overall lifespan of the shed?


How long will this system take to build?


How are the rolled steel portals connected to the concrete slab?


How much headroom will I lose with the apex and knee braces?
7. Concrete footing
With an all-steel shed, you will need to have engineered footings to suit your shed design. These are a huge added cost to your shed project and need to be factored in.
Often, the concrete floor is considered a structural component of the shed and, in certain areas, thickening and additional reinforcing will be required. This can be time-consuming to construct as additional earthworks are needed. These floors are often quite costly due to the amount of reinforcing and the amount of time required to make the reinforcing cages.


8. Bird proof
Most steel sheds have C-section purlins, apex braces, and knee braces, allowing birds to use these areas as nesting and roosting spots. It is common for birds to roost in the roof area and anything stored inside the shed will likely get covered in corrosive bird droppings. While this is more of an issue in open-front sheds, birds can still find their way inside enclosed sheds.
Here at Alpine Buildings, our rafters feature a birdproof design using a simple 'slot & bolt' system where purlins sit between the rafters, This leaves nowhere for birds to perch or nest, helping to maintain a sanitary and hygienic working environment and protect anything stored below.

While rolled steel sheds are often cheaper than some other designs, it pays to carefully consider what you are getting to ensure that you end up with the best possible outcome for both the immediate future and the long term.
At the end of the day, you will be the one using your shed on a daily basis so we recommend doing your research and asking yourself the above questions to ensure you will be happy with both the supplier and the shed itself.
If you are looking to build a shed, get in touch with the Alpine Building's team today to discuss your next project. With years of experience, we are here to help and point you in the right direction.

Alternatively, download our Buyer's Guide, which covers everything you will need to know to ensure you get the best shed for your needs.