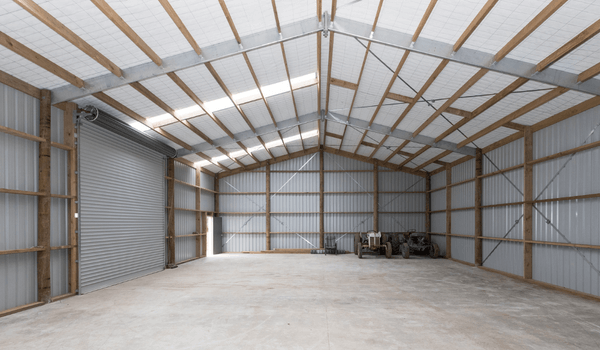 If you think back in time for a moment, there's a high chance you can recall a story from a friend about a shed severely damaged in a big storm or strong wind. The doors blew in, part of the roof came off, and the classic car got damaged. This is not uncommon, in fact, it is quite a regular occurrence in many regions around New Zealand.
While almost any shed provider can technically design for the "wind zone" in your area, there is a practical element to building a suitable shed that doesn't seem to be written in the rule book. You may ask the question, if the sheds are designed for my wind zone, then why do these stories keep surfacing? Well, keep reading to find out.
In this article, we look at the key reasons why wind damage can happen, what types of construction are best suited to these high-wind zones, and what construction methods are more susceptible to damage.
What is a "wind zone"?
Let's go back to the basics and clarify what wind zones are. In New Zealand, a 'wind zone' is a way of calculating the design load of building materials needed for construction in a given location. It also helps engineers and designers understand how to use those materials. There are 3 main categories to take note of — high, very high, and extra high.


What are the best materials to use?
Typically, when building sheds in high wind locations you want to look at what materials the shed is constructed from and consider the durability of these materials. Having an understanding of the structural strength and durability of these materials will give you a good idea of what will work best from a practical standpoint.
Timber, poles, and structural steel are all great options to work with as they are robust and you get good solid bolted connections that will easily stand up to the pressure of extreme wind zones.
Timber
Timber is an age-old building material and has been used for decades. You just need to take a look at some older buildings in Europe, which are still standing strong after well over 100 years. However, in today's world, there are some precautions you may want to consider.

Many shed manufacturers use timber products, but there's one thing to note: you want to make sure the supplier has used pre-dried and graded timber. It is quite common for sheds to be supplied with wet or damp timber straight from the treatment plant. When a shed is constructed from wet timber it will shrink and move after the shed is built, which can reduce overall strength and put pressure on the fixings.

To ensure you get the best results, it's well worth installing your shed using pre-dried timber. A shed installed using pre-dried timber will stay straight and strong and the joints will remain firm. It's a simple process that makes a significant difference and will give you peace of mind that your shed will hold its strength and value long term.
Poles
It's hard to beat a timber pole for strength when it comes to wind loadings. They are very solid and let's not forget they grew up in the elements so it's safe to say they're no strangers to the wind.

Sheds constructed with poles are generally a safe option given the poles are typically between 175SED and 300SED (Small End Diameter). They're concreted into the ground, typically anywhere between 1.2m–2.0m deep depending on the size of the shed so they're not going to easily budge in the wind.
Structural steel
Structural steel is a stand-out product for these high-wind areas. It relies on its thickness for strength rather than its shape or profile. Structural steel is widely considered a lot more durable than lighter-weight roll-form steel designs and is an ideal component for buildings in windy regions.


What materials should You be wary of?
As mentioned, most types of construction can be designed in a way that will comply with the rule book. However, the below materials don't lend themselves well when it comes to standing up to mother nature in the long term.
Roll-form steel
Roll-form steel designs are essentially made of flat sheets of 2-3mm thick tin that are rolled into specific shapes in order to gain structural strength. Sheds made with this construction method generally rely on many components such as brackets, screws, as well as knee and apex braces.

To meet these high wind requirements, these components need to be added to or bolstered to bring the structural strength up to a level that is satisfactory to engineers. Due to the multiple components and connections that are generally fixed with tek screws, over time these connections can rattle loose, screw holes can slog out from movement, and weak points are created. This could make the structure much more liable to give way under the pressure of high winds.
Roller doors
While roller doors are not regarded as a structural component of a shed, they are often one of the first items to succumb to heavy winds. There are some key factors about doors that are often overlooked.

There are generally 3 types of roller doors on the market that are commonly used in sheds across New Zealand. These include:
1. Series 1 Domestic Door
Any doors up to 3.2m x 3.2m wide you can get as a series 1 type door. Series 1 doors have smaller tracks and thinner curtains, and can easily pop out of their tracks. They are typically very lightweight, so it is highly recommended to upgrade if your shed is susceptible to high winds.
Any doors up to approx. 3.6x3.6m wide is likely suitable for high wind zones however if you have your doubts, have a chat with your shed provider, and they will discuss your specific region and give further advice.
2. Series 2 Semi-commercial Door
Series 2 doors have larger tracks than Series 1 doors. The curtain is more robust and you can also get wind lock guides for added strength should you see it necessary.
3. Heavy-duty Roller Shutter Door
Roller shutter doors are a safe option. They have 1.0mm thick interlocking slats rather than one curtain and the tracks are more solid. Again, it is recommended to use these doors anywhere between 3.6m up to 4.0-5.0m if you're in an extra high wind zone.
These are some of the most common doors, however, there are plenty of other options on the market from roller doors and sliding doors to sectional doors. It is recommended you do your research and ask a specialist about your specific location to ensure you get the best outcome.
In summary, it is worth thinking outside the world of compliance to take the time to analyse the integrity of the actual materials that sit behind the tidy external look of the shed. There is a lot more to a shed than its outward appearance. So whether you're about to embark on your project or you're nearing the final stages and about to lock it all in, why not pause for a moment and consider the above findings. As the saying goes, "you only get one chance to get it right" and your shed is no exception.
To discuss your specific location with a specialist, or if you are ready to start your next project, contact our team today.