Like any new project on the farm, a calf shed is a big investment. There are key aspects that need to be accounted for when building a calf shed in regards to the animal's welfare and condition that we will talk about later in this blog, however what we want to focus on first is how you get the most of your investment all year round by making your new shed multipurpose.
Having a space that can be utilised in multiple ways means you are able to see a better return on investment not just in calving season.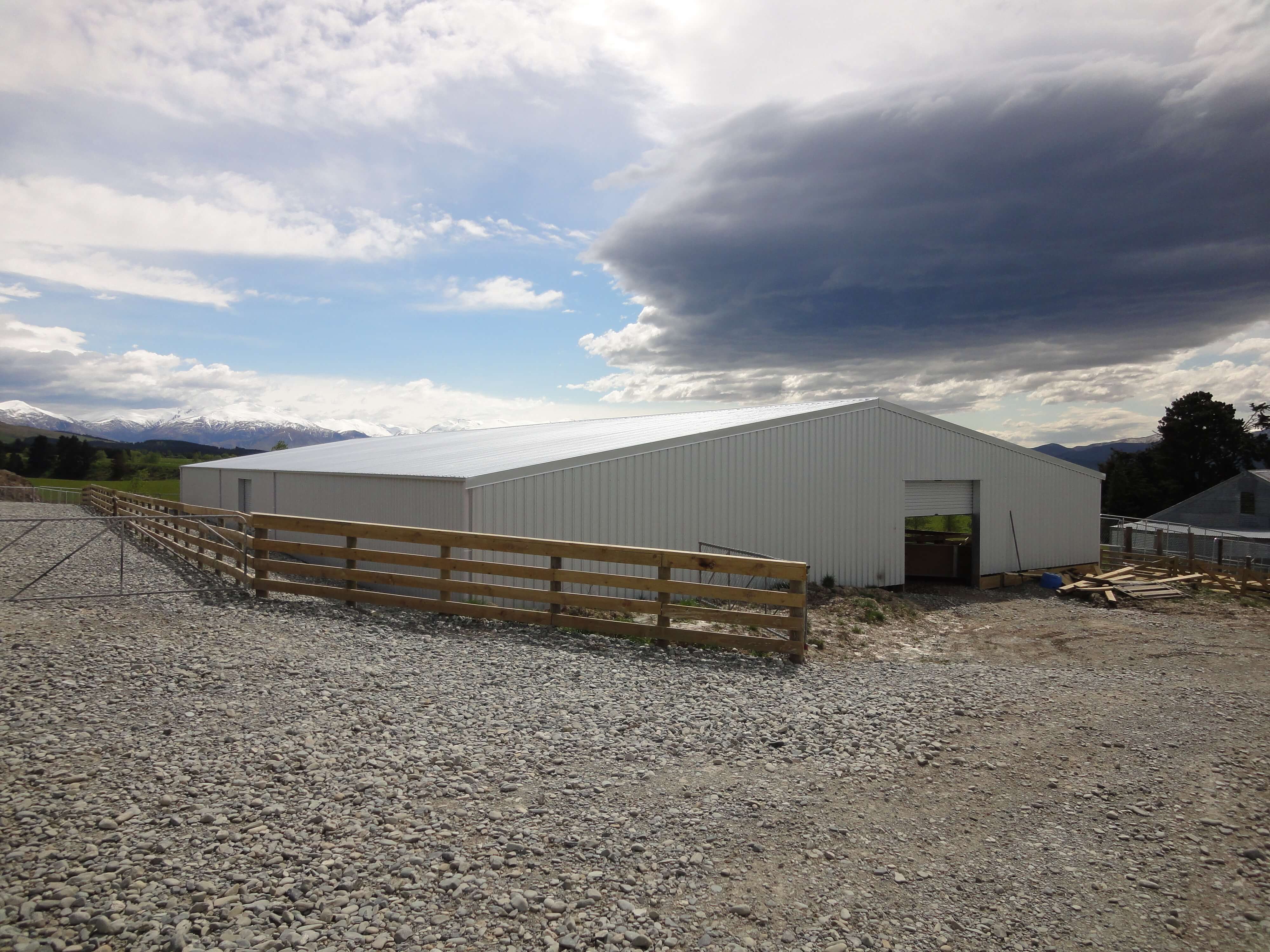 The following are a few things to consider before you build your shed that might just make you grateful in the long run:
Design your shed to be versatile
You may only need a 18m x 9m for a purpose built calving shed, but if you made it a couple of metres bigger could you then use it for implement storage in the off-season? Implement equipment requires a wider span and more height clearance, unless of course you want to spend your time dissembling machinery and manoeuvring between poles.
Put your calving shed to good use and consider a clearspan design with greater depth to ensure that your valuable machinery is kept protected. If this is something you're contemplating doing then also consider the next point when designing your new shed.
Use gates for pens instead of fencing
When installing pens inside your calf shed look at using gates rather than permanently fixed fencing. This will enable you to remove the pens easily when not in use and will open up the internal space for it to be useful for other purposes.
Gates or removable walls should also make it easier to clean out the area frequently as well making it simpler to completely remove the bedding at the end of the calving season.
Add a fully enclosed lockup section to your calf shed
During calving season a lockup workshop can provide great additional feed storage, and during the off-season can be used for your more valuable equipment to ensure it is securely protected.
By considering your immediate needs you'll be sure to have a shed that delivers value immediately, as well as ensures you're compliant with current legislation around calf shelters. Discussing your needs with experts can help you see other ways your shed can return value on your investment over the long-term.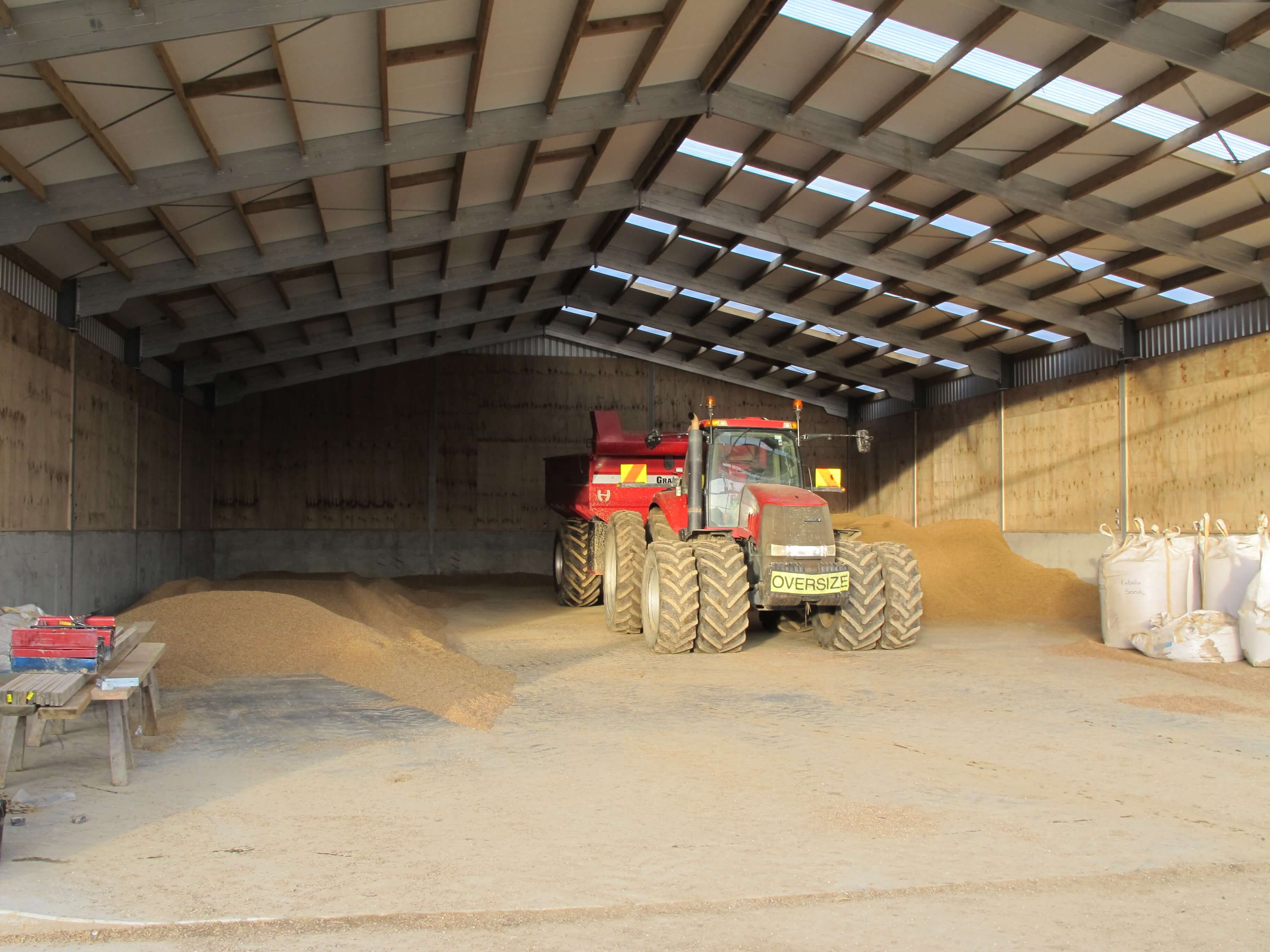 Why an Alpine Buildings' shed for your calf shed?
Alpine Buildings have consulted hundreds of farmers on their unique shed requirements. From calving sheds to farm equipment storage, produce and hay storage each shed can fulfil multiple requirements, regardless of your farm's size. Here are a few of the ways the shed can be tailored to each farm's requirements.
Designed specifically for your location
Depending on where you're located in New Zealand your farm sheds will be required to withstand different environmental factors such as high winds, extreme heat or salt spray damage. Our team has designed sheds all over the country, so we have great expertise creating customised sheds for the needs of the individual farm and its location. Leverage our technical in-house experience to take into account factors you may have not considered yet.
Endless options to meet your needs
From clearlight panels to maximise natural lighting and reduce disease to Colorsteel DRIDEX to combat moisture and condensation, there are a range of optional features you can add to your shed. The team at Alpine Buildings can help you navigate what materials and design elements will be best suited for needs.
Full solution management
Starting from the idea stage right through to the assembly of your shed, the team at Alpine Buildings manage the entire process. The in-house design team ensures your shed is perfect for your requirements. They handle council applications and consents when needed and can recommend local contractors to erect the shed if you don't have the time to manage this yourself.
Now that we have covered off how to get the most out of your investment, we would like to touch on what your calf shed will need to ensure your calves stay in top health.
Whether your calves are set to be replacements for a dairy herd, reared on contract, or being sold as weaners they're an important business asset.
There are some legal requirements you must meet in regards to calf welfare as well, and while we touch upon this briefly below, you can see the full Animal Welfare (Care and Procedures) Regulations 2018 here to find out everything you need to know about being fully compliant.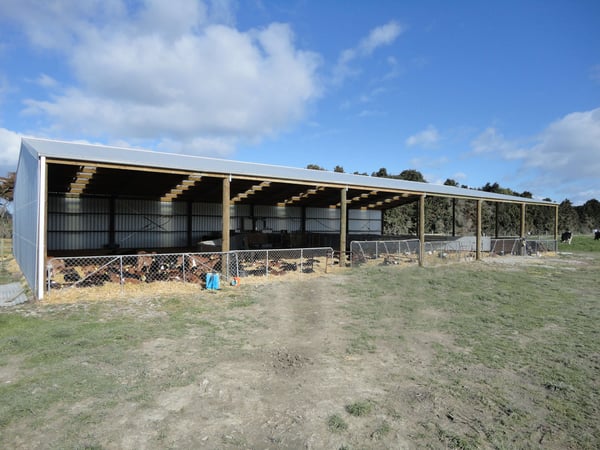 What a good calf shed needs
In order to keep your calves healthy, growing and profitable you need a well-designed environment to rear your calves. This also applies to meeting your legal requirements for their care should they need to be transported for sale or slaughter. Sickness is often the biggest threat to profit margins so we're taking a look at some of the ways you can reduce this risk with a well-designed calving shed:
Good ventilation
It is important to give good thought to the ventilation of your calf shed. Ensuring there is enough ventilation will allow clean air to circulate throughout the shed will result in a reduced risk of ammonia and pneumonia. It's a balancing act though as you also don't want too much draught causing your calves to get cold.
Plenty of space
Legally you're required to give each calf enough space to be able to stand up and lie down in a natural posture, but in order to get more from your rearing efforts you're going to want to give them as much space as you can.
Overstocking pens affects the growth rate of calves, it can also increase the spread of illness. Ensure your shed is built with plenty of space for your calves to move around and grow, as well as enough space for sick pens where you can isolate any calves showing signs of illness from the others to reduce the risk of spreading.
Increasing sunlight
During the first 12 weeks of life calves are working hard to fight off diseases and infections. While the most important thing for them will be good quality colostrum feeds in the first 24 hours, there are a few other things you can do to help keep them healthy and that's where sunlight comes in.
It's no secret that sunlight is renowned for killing off bacteria. In an area where you have a lot of animals kept closely together, especially young animals who are still building up their immune systems, the disinfecting powers of the sun are even more valuable.
Consider installing clearlight panels into the roof of your shed in order to maximise the amount of natural light. This will help to disinfect the pens and will also be great for keeping your calves warm too
Reducing condensation
When moisture gets into your calf shed you increase the chances of respiratory problems developing in your cattle. While good ventilation can help reduce the chances of condensation build-up there are also materials you can use to take this one step further.
Using something like Colorsteel DRIDEX which has an anti-condensation fleece layer will help reduce the moisture build-up in your shed and help keep your calves healthy.
With a strong understanding of compliance, usage, and geographic requirements the team at Alpine Buildings are your shed experts. When you need one of your farm's biggest assets to be right the first time contact our team by clicking the button below.