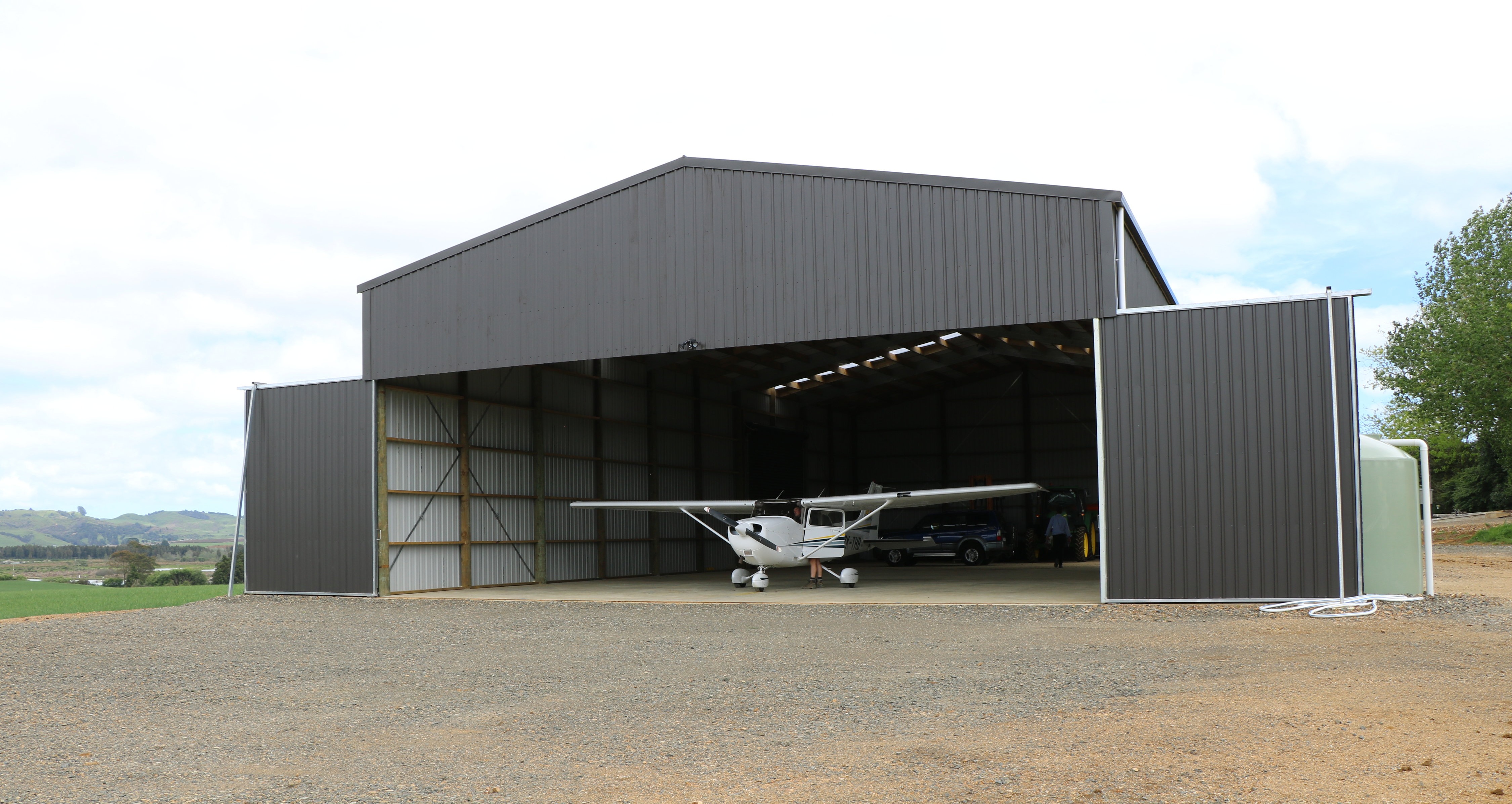 Building an aircraft hangar isn't something most people do every day. For many, it's a lifelong dream coming to fruition, for others it may be a business necessity to accommodate growth. Here at Alpine Buildings, designing, planning and constructing aircraft hangars is something we do almost every day. So we thought we'd share some common considerations and factors so that, when you come to build yours, you have as much information on hand as possible.
But first, why are aircraft hangars so special and how do they differ from a conventional shed or storage building? There are several differences between a standard shed and an aircraft hangar which would make converting one into the other trickier than you'd think. A ground-up build of an aircraft hangar enables the new owner to ensure that every detail is focused on the core purpose; storing aircraft.
What if you want to do more than simply store your helicopter, plane or light aircraft? Maybe this is a business asset and you'll need to prepare, maintain and operate your fleet to keep your income steady. Perhaps you're a recreational pilot and the hangar needs to be multipurpose so the entire family can see benefits. Regardless of your plans, these are a few of the details you'll need to consider before you begin.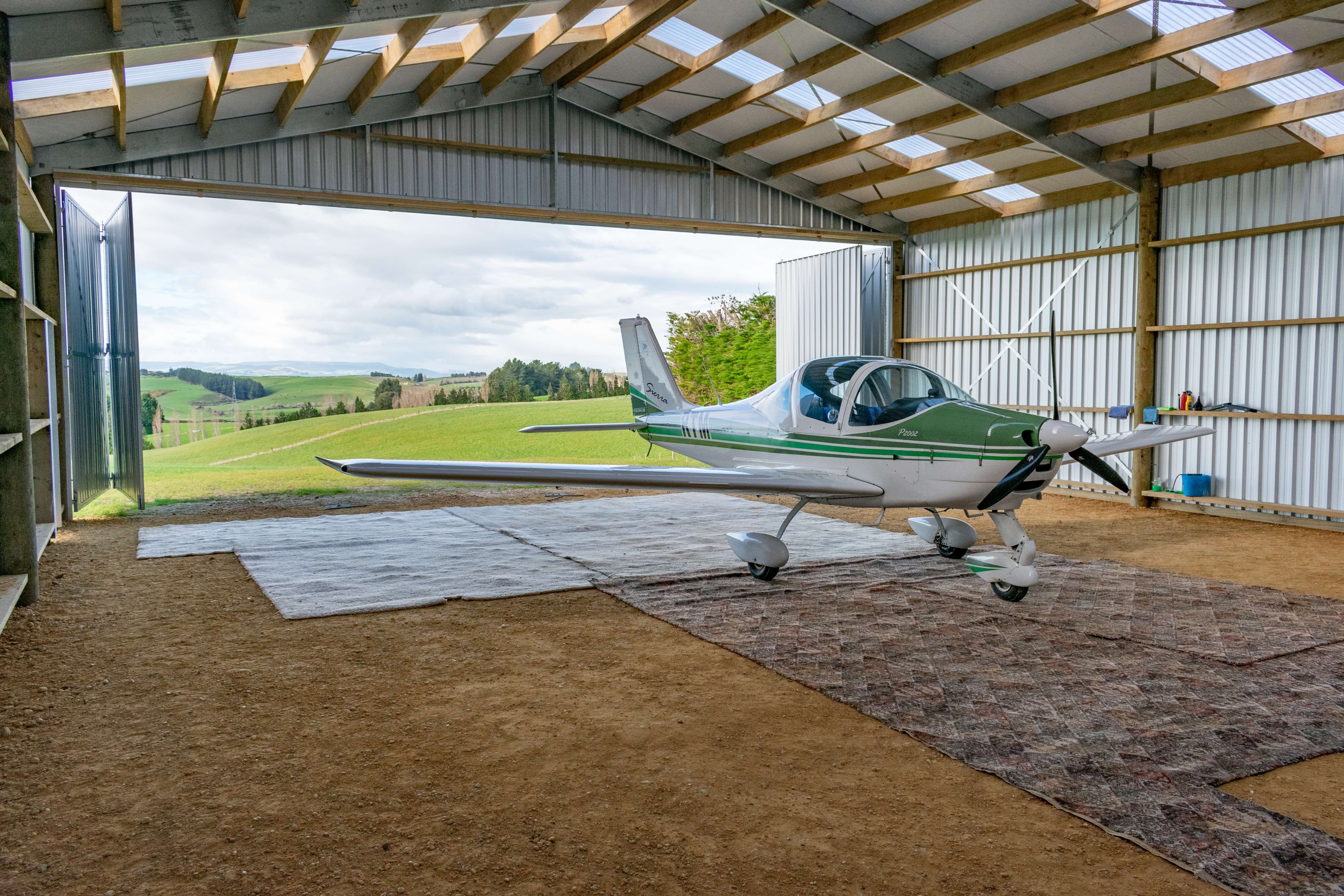 Aircraft Hangar Purpose
Understanding the full role of your new aircraft hangar is important before you begin. You are looking at a considerable investment and you don't want to regret missing a feature years down the line. While the expert team at Alpine Buildings can suggest features to consider, you will be living with this building and need it to be perfect for your unique needs.
Do you need to store a single aircraft or multiple? Will maintenance work be done and a workshop required? Would you like to add extra internal doors to access fertiliser or equipment, or an additional enclosed section for a motorhome or machinery storage?
Build your wishlist long, to begin with, as you can always scale back based on budget and logistics. It's much harder to add additional features later down the track.
Aircraft Hangar Doors
Access is a key consideration for any aircraft hangar and stems from the type of aircraft being stored as well as the frequency of use. For yourself and/or staff a simple personnel door will provide ample access, but for your aircraft there are multiple types of hangar door options available, each suited to various preferences and applications.
Common examples include:
Sectional
Sliding
Bi-fold
Concertina
While you may have a design preference for which of the above is used, several factors may dictate the ones best suited to your build. The prevailing wind direction and typical conditions may favour one style over another. Whether you only want the doors to partially open or open fully every time will be a factor, as too will the size of the hangar itself.
It's possible to create aircraft hangar doors that optimise the full width of the hangar while reducing internal intrusion.
Another thing to consider is having a hangar door at both ends. This can optimize the functionality of the building as you can stack more aircraft in a lot easier, which also gives you the option of leasing out hangar space to others who need it. Designing hangars with openings at both ends is something Alpine Buildings has a lot of experience with.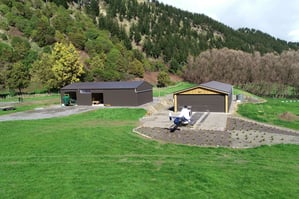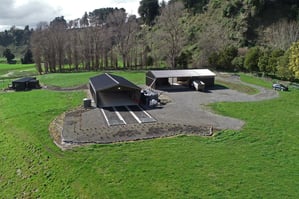 Bird proof rafters
An important, yet often overlooked feature is the hangar's rafter design. If you want to maintain a clean space and reduce the muck on your aircraft then you need a bird-proof design. This style of hangar features additional engineering which maintains structural rigidity and support while eliminating the space and gaps required for birds to roost.
Avoid the undesirable mess by ensuring birds cannot make your hangar their home. Choosing an Alpine Buildings aircraft hangar means birds are unable to perch in the rafters of your building.
The engineering in an Alpine Buildings' hangar doesn't stop at the bird-free design. An Alpine Buildings' hangar is designed stronger and this additional support eliminates the need for obtrusive knee or apex braces, providing more useable space within the hangar.
If you're looking for a building without compromise and a hangar that gives you peace of mind then look no further. With decades of experience building the perfect aircraft hangar, the team at Alpine Buildings are here to support your project and make your dream a reality.
To begin your journey download our aircraft hangar brochure to learn more and see examples of past projects near you.