As we see out another year, the Alpine Buildings team has been reflecting on the excellent year that 2022 was. This year was one of growth, learning, fun and as always, awesome projects! A special highlight was the launch of Rapid Range, the new predesigned open-front Alpine sheds, designed to help provide cost certainty and faster delivery, all while maintaining the Alpine quality and service. Available in stock and at a fixed price.
During our reflection, the A-team was asked which shed project was their favourite from this calendar year. Each staff member had different reasons why a particular project stood out to them, whether it was the shed design or the pure adventure of the project from start to finish. Take a look at a few of the favourites below, and get an insight into this year's stand-out projects.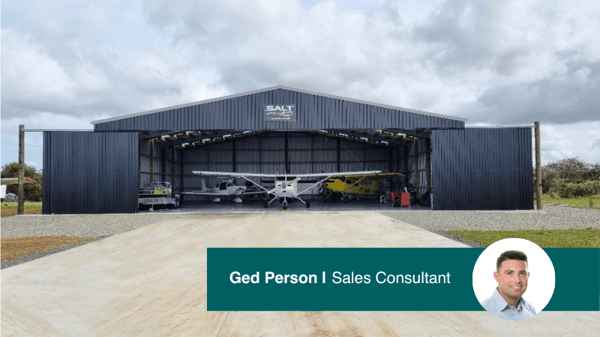 Location: Far North
Dimensions: 20.0m X 18.0m long
Use: Aircraft hangar
What made this shed stand out to you?
Working with Salt Air on this awesome aircraft hangar was a great experience, going through all of this client's requirements to ensure he got the best long-term outcome.

This hangar is home to their fixed-wing aircraft, for which the wide opening of the doors was a must, and it was great to be able to ensure the project was future-proofed for Salt Air, should they purchase a larger aircraft at a later date.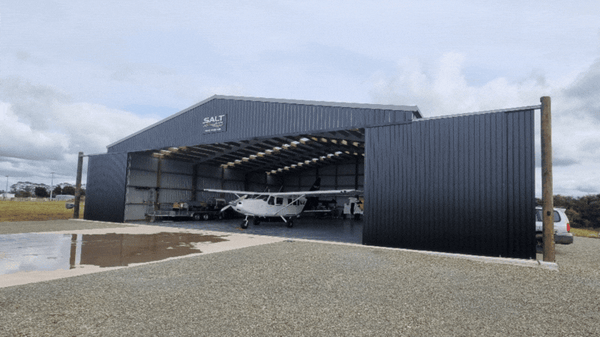 ---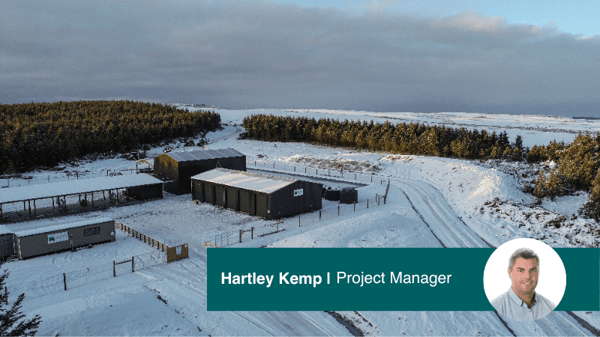 Location: Central Otago
Dimensions:
Building 1: 12.0m X 20.0m long
Building 2: 8.0m X 35.0m long
Building 3: 14.0m X 27.0m long
Use: Oil processing plant
What made this shed stand out to you?
This project was an exciting adventure that the install team and I enjoyed every moment of! These three buildings are being used as processing plants for natural New Zealand essential oils, one for the boiler, one for distillation, and finally, a maintenance shed.

There were a couple of thrilling challenges with this project, mostly from the weather due to the remote inland location. We got a lot of snow during the installation period, which provided a lot of fun and breathtaking views!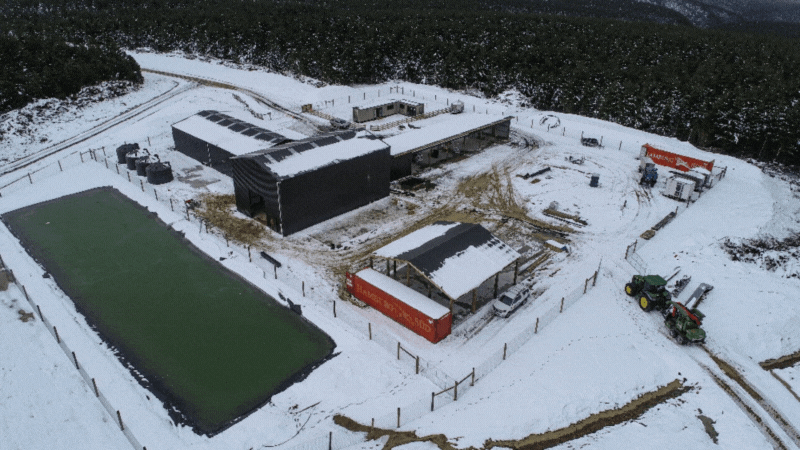 ---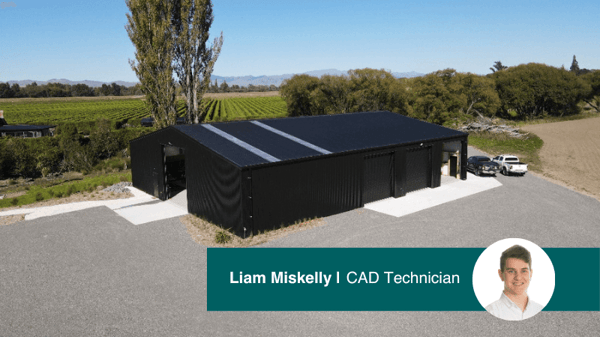 Location: Marlborough
Dimensions: 20.0m x 25.0m long
Use: Vehicle storage and workshop
What made this shed stand out to you?
This project is one of my favourite projects I have worked on in all the years I have been working at Alpine Buildings. Not only is it a stunning shed, but with the 20m clearspan it truly shines as the ultimate Alpine Building. I always enjoy designing sheds with wider spans, so this project was a lot of fun!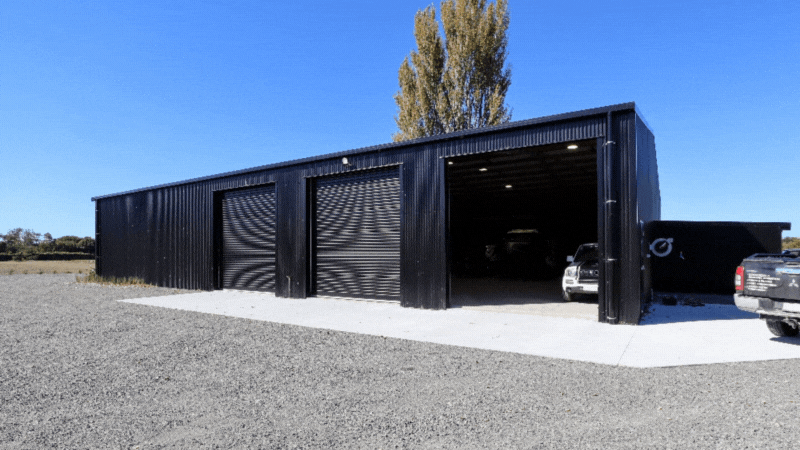 ---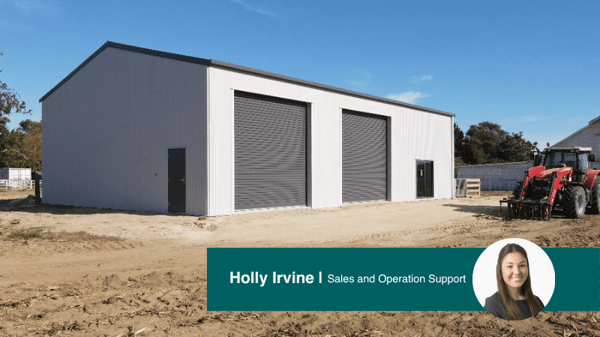 Location: Waikato
Dimensions: 12.0m x 18.0m long
Use: Vehicle storage and workshop
What made this shed stand out to you?
This project was great! It is a classic Alpine lifestyle shed providing flexibility to store a range of items with good size roller doors. This also doubles as an ultimate working space with a few windows and a ranch slider door in one end for ease of access and enabling light to come in.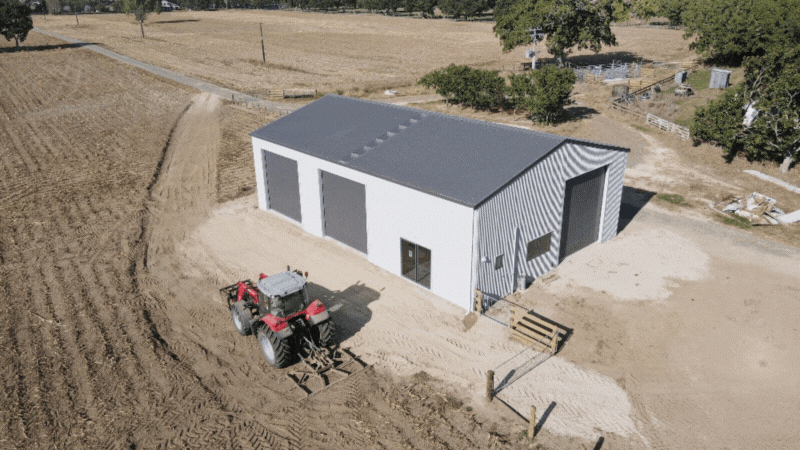 ---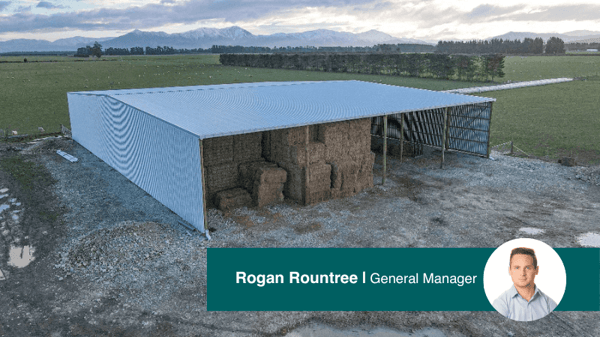 Location: Canterbury
Dimensions: 38.4m x 30.8m long
Use: Hay storage
What made this shed stand out to you?
This project stood out as it was one of our first UltraBay shed designs to be completed.
The client was great to work with and was thrilled with the new UltraBay design. They went ahead with four 7.7m wide bays and 5.8m side height up to 6.8m at the apex, storing hay in the most efficient way possible.

Due to the location of this shed, inland Canterbury, it has been designed for high wind zones and heavy snow loading, with steel purlins in joist hangars between the timber beams.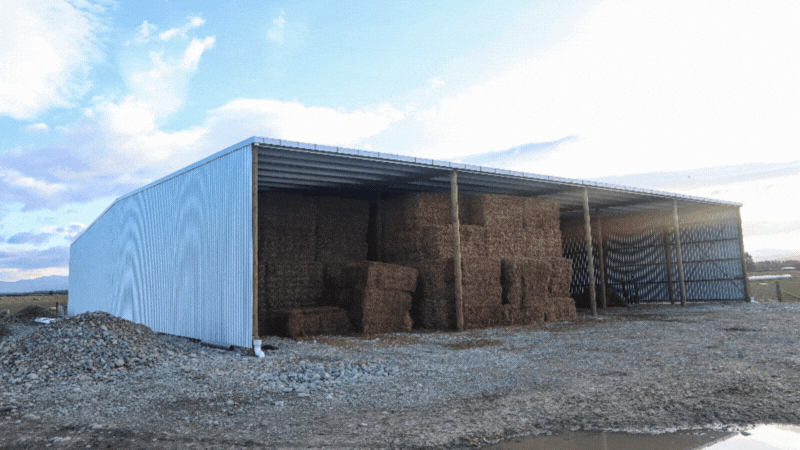 ---
The A-team has enjoyed working on a huge range of different yet awesome projects this year, each unique and enjoyable, which made picking just one project that much harder! We can't wait to see what exciting projects 2023 brings and look forward to continuing to work with many great clients.
If you are looking to build a new shed for your farm tools or toys, require more storage or simply want to discuss our range, reach out to our team today and we can discuss your specific needs, and then suggest the best shed for you!
If you're a step ahead and already know what you're after, head over to our shed builder tool and enter all your specifications. One of the team will then come back to you with an estimate as soon as possible. To start customising your dream shed now, simply click below!