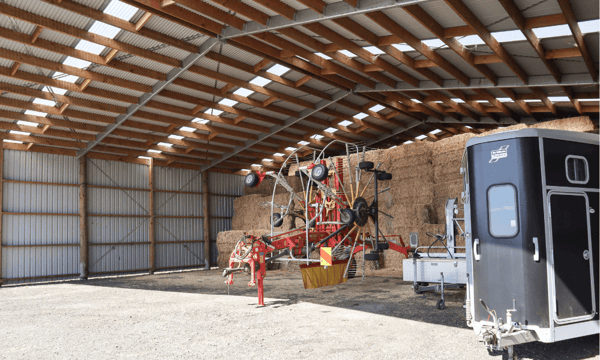 There are several construction methods and systems to choose from when you are considering your clearspan shed project. All of them have varying price points and multiple advantages and disadvantages so which system is best for my shed?

In this blog, we discuss the three most common systems and the advantages and disadvantages of each to help you determine which is best for you and your pending project.
What does clearspan mean?
The span of a building refers to the width of a building and a clearspan structure does not have any internal structural supports. From an engineering standpoint, achieving a wider span is progressively more difficult as the span increases and the materials that can meet requirements become more limited.

As you would see in a typical centrepole shed, standard timber can only span a maximum of 6.0 meters. This means there are typically three other options – structural steel rafters, cold rolled steel, and laminated veneer lumber (LVL).
Structural Steel Rafters design
Pros of Structural Steel RAFTERS
5mm-13mm thick, providing the strongest clearspan option.
The strongest clearspan option.
Welded and bolted connections.
Can be engineered to take the weight of solar panels or heavy snowfall.
Fastest to install.
Bird proof.
Rust proof.
Cons of structural steel RAFTERS
More expensive.
Heavy and requires lifting into place with a hiab truck or similar..
Cold Rolled Steel design
Pros of Cold rolled steel
Lightweight.
Can achieve large spans.
Cons of cold rolled steel
Thin 2-3mm thick steel.
Prone to rust.
Held together by tec screws.
Time consuming to assemble and build.
Often requires apex braces and knee braces.
Generally not birdproof.
Not suitable for solar panels or heavy snowfall.
Laminated Veneer Lumber (LVL) design
Pros of laminated timber
Aesthetically pleasing.
Easy to cut and fix to.
Cons of laminated timber
Limited spans of 10m-15m.
Time consuming to assemble and build.
Prone to sagging over time.
Not suitable for solar panels or heavy snowfall.
Beams are typically 600mm - 800mm deep, limiting headroom inside the shed.
Requires more maintenance over time.
Often require knee braces.

The Alpine System
At Alpine buildings, we use a combination of structural steel rafters and timber poles to achieve clearspans of 9.0m to 24.0m. This maximises the internal square meterage and eliminates the need for centre supports, resulting in a more user-friendly shed.
This Alpine System is extremely strong and, while it is a little more costly upfront than some options, it offers long-term durability and excellent long-term returns on your investment.
Alpine sheds are also birdproof and bolted together and don't rely on small tec screws for structural connections. This eliminates the need for apex braces or knee braces and speeds up the installation process to reduce labour costs.
If you are planning a shed project, speak to the Alpine team. We have in-depth knowledge of all the shed options currently available on the New Zealand market and would be happy to help find the right option for you.
Alternatively, download our full range brochure to discover the full range of shed designs.