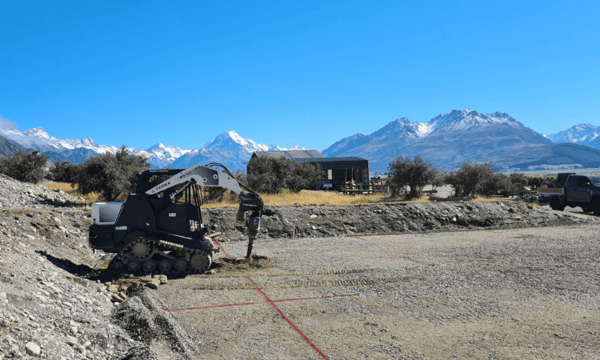 When building a shed or any other structure in New Zealand, a Geotechnical report is often a requirement. As part of the Building Consent application, your local council may require you to submit a Geotechnical Engineering Assessment report at the same time.

Also known as soil reports or Geotech reports, Geotechnical reports play a critical role in assessing the ground conditions and potential hazards on the building site. They provide essential information to architects and engineers, ensuring the development proceeds without any foundation problems or stability concerns.

In this article, we delve into what geotechnical reports are, their significance in shed-building, and the process of obtaining one in New Zealand.

What is a Geotech report?
Geotechnical reports are comprehensive documents that present the findings of a site investigation, assess ground conditions, and provide recommendations for building foundations, earthworks, and retaining walls.

They are designed to evaluate the suitability of the ground to support a proposed structure and identify any potential geotechnical hazards that may arise during or after construction. For example, they will check for any settlement, slope instability, liquefaction, or other geotechnical hazards.

Typically, the Geotech report process involves the following:
Conducting a site visit
Drilling boreholes
Collecting soil samples
Performing strength tests
Conducting laboratory analyses
The evaluation allows architects, engineers, and other professionals to assess the stability and conditions of the site accurately. These are commonly required for projects involving land development, residential construction, commercial construction, and public works or infrastructure.

How to get a Geotech report
At the same time as your building consent application, you may need to get a geotechnical report. The key steps are as follows.


1. Contact your local council
Before you apply for Building Consent, ask your local council if you need a Geotechnical Report or Soil Report. They will tell you what is required and how to proceed. If you do need a Geotech report, they will suggest several local Geotech experts you can contact.


2. INITIAL SITE VISIT AND BACKGROUND RESEARCH
A qualified geologist or geotechnical engineer will visit the proposed building site and the surrounding area to observe the geology, topography and known hazards. Based on these observations, they will make notes and indicate anything that needs further investigation.


3. Ground testing
Ground testing is conducted to measure the strength of the soil and check for any old fill or organic material. Testing will always include hand auger boreholes with strength testing. In some cases, further investigations may be needed using machine boreholes, cone penetration testing (CPTs), and laboratory testing of soil samples.

4. Assessment
Experts will analyse the research and fieldwork results to assess which geotechnical hazards need to be considered in the building design. The need for additional geotechnical analyses may arise, such as assessing slope stability, liquefaction, or settlement. Disposal of stormwater and wastewater is also considered if no reticulated services are available.

5. Recommendations
If there are no significant geotechnical hazards and the soils are considered to be 'good ground', the building foundations can be designed in accordance with New Zealand Standard NZS 3604:2011. This is typically completed by an architectural draughtsperson.

If the existing soils are not considered 'good ground', additional work is required. This may include improving the ground or having the foundations specifically designed by a structural engineer to suit the ground conditions. When the necessary work is complete, the building foundations can be designed in accordance with NZS3604:2011.

6. Submit the Geotech report
When you have the completed Geotech report, submit it alongside your Building Consent application to your local council. In New Zealand, councils aim to process building consent in 20 working days or less. However, this varies depending on how busy the council are or how complex your project is.

If the council issues an RFI (request for further information) for your project, the process is halted. However, if we receive an RFI, our team will work with you to get the extra information as quickly as possible.
7. Start building your shed
Once your building consent has been granted and all the requirements have been fulfilled, you are ready to commence the construction process. Your council will outline anything else you may need, such as resource consent. If you don't start work within 12 months, the building consent will lapse. However, you can ask for more time if required.
How much does a geotech report cost?
The cost of a Geotech report can vary from $1,500.00 to $3,000.00+, depending on the site and complexity of the project. This consists of a range of elements and can differ dramatically between councils.

At Alpine Buildings, we specialise in clearspan steel sheds over 200m², with large spans of 12m, 15m, 18m, and 20m. This means that all of our projects require building consent, which is why we have an in-house consent team that handles everything and works alongside your local council.

If you want to discuss these reports in more detail or are ready to start your next project, our team of experts is happy to help you.