One innovative farmer from the deep south has invested in an Alpine structure for his new Covered Feed Pad. Here are images and details of his Feed Pad as well as some insights into the benefits of an Alpine Buildings animal shelter: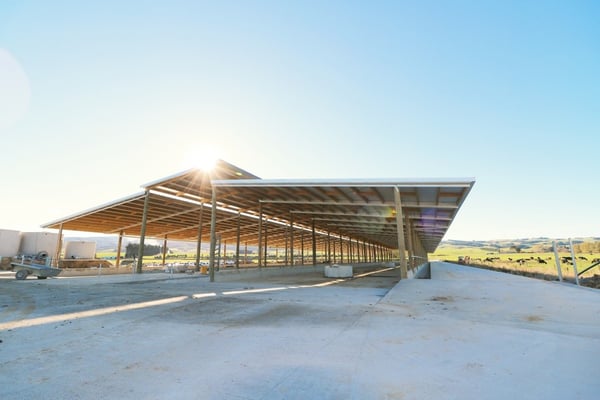 Details of this project:
- 30.5m wide x 135m long Covered Feed Pad.
- 2 Steel Rafter lean-tos for a robust & clearspan construction.
- Feed-out channel in the middle of the shed.
- Overhanging roof for extra protection on the sides and external feed-out options.
- Ridge ventilation for improved air flow and natural lighting.
- Birdproof rafters for positive bird protection resulting in settled and healthy animals.
- Timber framing for a quieter environment and more pleasant atmosphere.
As far as animal shelters go this feed pad is ideal for any sheep, dairy, beef or goat farming operation. Alpine animal shelters are a cost effective way to maximise production and trim running expenses. Alpine's simple but effective animal shelter's are designed to help you reach your profit goals, with the added benefit of being fast and easy to install to meet tight deadlines and minimise disruption to your daily operations.
The many uses of Alpine animal shelters include, but are not limited to covered yards, wintering barns, goat sheds, feed pads, shearing sheds, stables, horse arenas, and calf sheds. View more images of this exceptional project below. But what makes an Alpine shed the perfect investment for farmers?
The kitset design makes it easy to have a specialist erect the shed with minimal fuss or for it to be handled by your team, saving time and money. The quick installation set-up speeds up the time between receiving the kit and using the shed, ideal when you want to see results quickly. The timber design is strong and doesn't rust when exposed to salt air or animal waste, meaning it's durable and can go the distance.