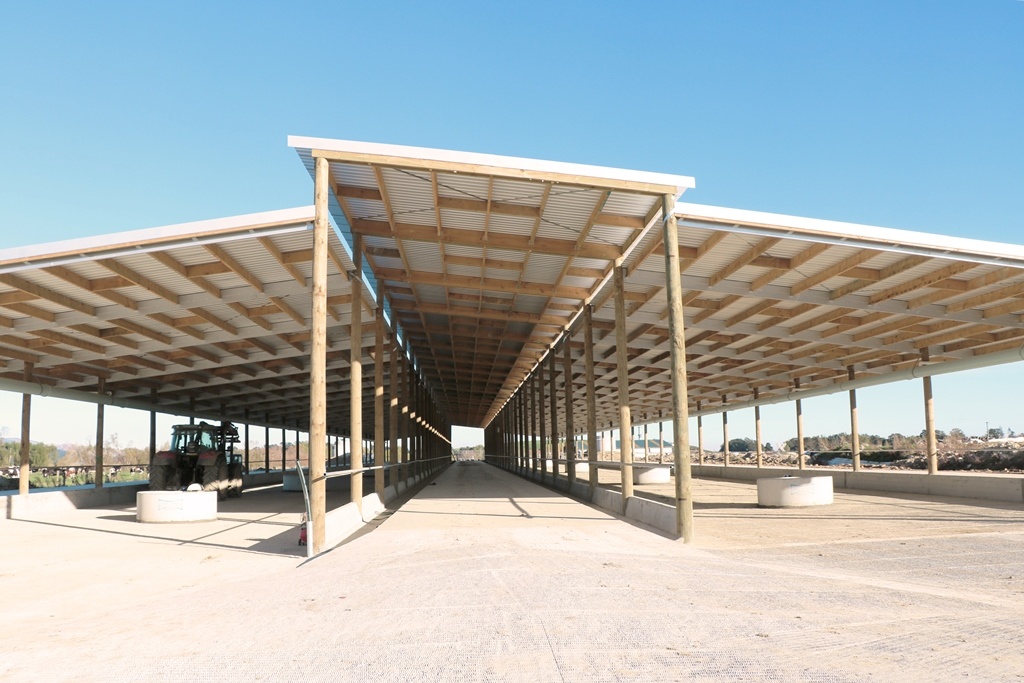 The feed pad is an integral part of any high-performing farm operation. You get out what you put in; and whether you're after higher yield milk, wool or meat, the quality of the feed is a vital part of getting the best product and the best price.
Being a high-density area, the feed pad bears the brunt of a lot of abuse. Using a feed pad concentrates the feeding efforts, and can reduce deterioration of tracks and pastures while creating a focal point for feeding stock.
Determining the size of a feed pad can be a tricky business. Not only do you need to consider the current herd size, but also future requirements.
Feeding pads are different to off pasture feeding options. A feed pad is a defined hard surface (typically concrete) area where animals are held for a short period of time (approx 2 hours) this is typically before or after milking, where water and supplementary feed can be provided. As well as water, these pads can be used to feed hay, silage, mixed rations or concentrates in times of pasture shortage.
As the New Zealand weather becomes less predictable, the need for regulated feed areas can become more important. As shortages in field feed are caused by extreme cold, drought or heat the need to distribute feed and water to animals, regardless of conditions, becomes imperative.
The feed pad itself has several aspects in the design and construction to optimise their performance. They must provide:
Safe and easy access for stock
Allow maintenance of animal health
Adequate working space for farm staff and equipment
Storage of a range of feed and easy access to them, as well as efficient feeding out systems
Water supply
Farm dairy effluent containment
Stormwater management
Shelter
The last point is often overlooked and at the farmer's detriment. There are multiple benefits to having a sheltered feed pad, and making the investment can save you money and stress.
Why build a covered feed pad on your farm?
Aside from the safety aspects and providing a dry space for farm hands to work in, the feed itself can benefit from being covered.

The roof of the shed diverts rainwater from the feedpad, which has the added benefit of reducing the stock effluent needing to be managed during wet weather. In the warm weather, the shed provides welcome relief for the herd, enabling them to take on food and water away from the sun's rays.

Using the drainage systems from the roof of the shed for additional water supplies can help in a pinch if levels run low.
In addition, feed set out on an open feed pad can result in nutrient leaching. Whereas a solid feed pad, that's also covered, means no soil pugging (unlike pasture feed) and no nutrient leaching.
What to watch out for in a covered feed pad
A covered feed pad delivers many benefits, as previously mentioned, but they also bear the brunt of a lot of activity on the farm. From effluent exposure, water and regular knocks and scrapes, the materials you use have the be easily cleaned but also very durable.

Obviously, a feed pad is a very corrosive environment due to the large amounts of effluent. Therefore, it is important to choose a cover that is designed for maximum rust protection.

Building with timber poles and timber purlins is naturally a good choice as they don't rust and they minimise noise inside the building. However, it is also important to ensure that the steel rafter clearspan beams/rafters are designed for maximum longevity.

The Alpine Buildings design is unique in the fact that we use hot dip galvanised RHS steel for our steel rafters rather than roll-formed steel beams. This has a number of benefits for our clients:
The rectangular hollow section is 'real steel' and has a wall thickness between 5mm and 12.5mm (depending on the span). This is much thicker than the roll formed beams which are typically 1-2mm thick, meaning the 'real steel' gives you maximum resilience from structural rust damage.

All standard steel rafters are hot dip galvanised after fabrication which gives a galvanised coating that is 2.5 times thicker than any other coating (including C-section rolled steel that is coated prior to forming). This gives you the peace of mind that you have the best rust protection available

.

As with all investments, a feed pad is there to provide you with the best return on your money - so it makes sense to invest in a structure that is built to last

.



Alpine Buildings has years of experience in animal sheds and feed pads. The work done has included many different types of animal shelters such as covered yards, wintering barns, goat sheds, feed pads, shearing sheds, stables, horse arenas & calf sheds

.





Ideal for any sheep, dairy, beef or goat farming operation, Alpine Buildings animal shelters are a cost-effective way to maximise production and trim running expenses. Alpine's simple but effective shelter designs are designed to help you reach your profit goals, with the added benefit of being fast and easy to install to meet tight deadlines and minimise disruption to your daily operations.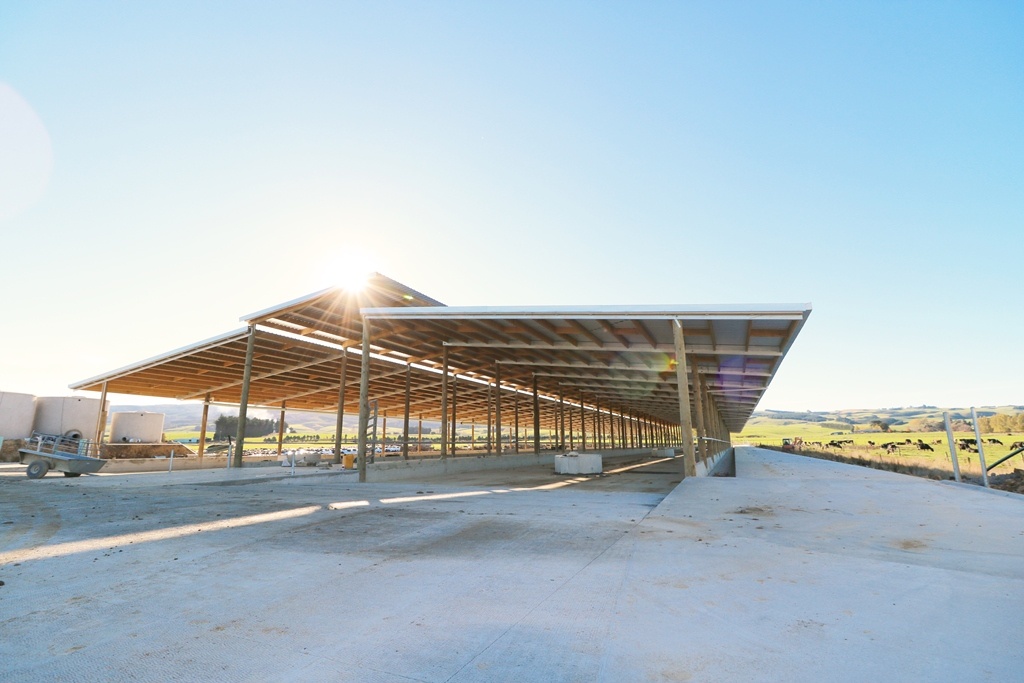 Alpine Project
Details of this project:
- 30.5m wide x 135m long covered feed pad.
- 2 Steel Rafter lean-tos for a robust & clearspan construction.
- Feed-out channel in the middle of the shed.
- Overhanging roof for extra protection on the sides and external feed-out options.
- Ridge ventilation for improved air flow and natural lighting.
- Birdproof rafters for positive bird protection resulting in settled and healthy animals.
- Timber framing for a quieter environment and more pleasant atmosphere.