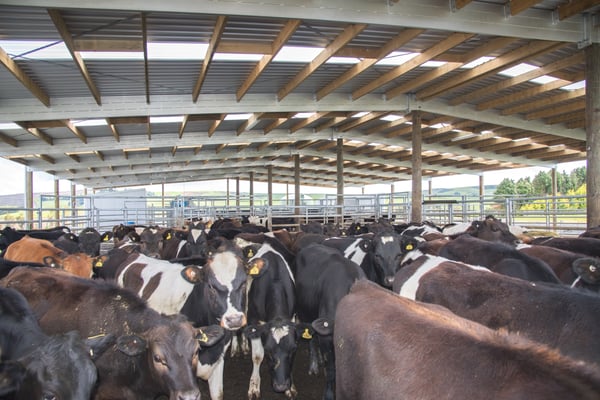 Not one to be left behind, one dairy farming client is finding innovative ways to reduce their environmental impact while ensuring their farm remains profitable for future investments.
From discovering ways to use worms to help tackle effluent requirements to switching to a three times every two days milking cycle, this farmer doesn't follow the standard set by others; so a standard shed wasn't going to cut it either.
What was the challenge?
Logistically, this project required a number of factors to come together to meet the deadline and location requirements. The shed was required so the client's new cattle yards could be used in any weather. The yards needed to be situated in a central part of the farm, close to critical parts of the operation; this meant it ended up on the top of a hill which needed to be flattened out to accommodate the new shed and yards as well as a new 6-bay workshop.
A standard off-the-shelf design wasn't going to suit the requirements of fitting around the newly purchased cattle yards, so a custom design had to be engineered. This ensured a hassle-free experience while ensuring the shed included several peace of mind features.
All of this had to be delivered and constructed over the Xmas holidays, a time when many suppliers and sub-contractors shut down.
What was the solution?
The custom shed was 24.2m deep x 40.0m long covered cattle yards, 8 x 5.0m bays with a total of 14 steel rafters and a roof-only design.
The hill had to be levelled off to accommodate the new structure. And due to the full concrete floor, additional logistics management became a part of the project while the concrete supplier observed long Xmas holidays.
Why was Alpine Buildings chosen?
Alpine Buildings' experience and holistic approach to problem solving meant the farm was in good hands for the 'out of the box' thinking that this project demanded.
The unique design and construction of an Alpine Buildings shed meant the farmer was able to benefit from no-perch rafters. This reduced the health hazards associated with bird fecal matter which helps to provide an environment that's enjoyable to work in all year round.
The sustainably sourced timber poles also provided assurance that rust would not be an issue; ideal due to the high levels of corrosive effluent they would endure. The open-sided design and the use of timber framing reduces noise levels inside the shed, which was seen as an added advantage over an all-steel structure.
The solution has worked well for this client who now holds DairyNZ workshops on site to teach others how to maximise the potential of their farm and its critical elements.