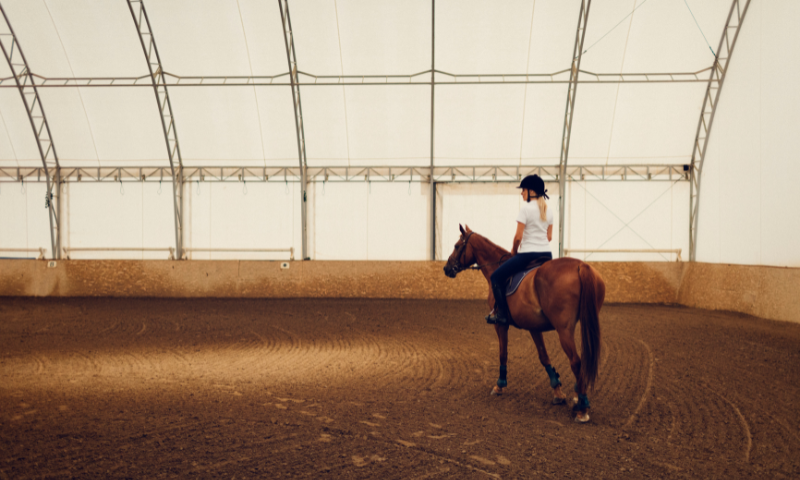 Covered horse arenas are a common desire in New Zealand, with the equestrian lifestyle making up a solid portion of the population.
With any lifestyle, budgets play a crucial role, and with discretionary spending becoming more limited, it's important to know how much you are willing to spend on this type of investment before going too far ahead.
Most people interested in these types of buildings have an initial idea of what size suits them best, however, budgets become the hindering factor, and a re-visit of this is required to determine what will be viable.
To try and make it easier, we have set out a guide on a rough square meter rate for horse arena costs and which companies are best suited to supplying these arenas cost-efficiently so you can plan if you can afford to invest in a substantial structure like a covered horse arena.
The calculations
A good size arena that would accommodate most desires is around 1,000m² to 2,500m². A square meter rate for a clearspan building of this range would be approx. $400m² to $600m² depending on the company and design of the building.
To simplify things:
A 20m wide x 60m long clearspan shed would cost approximately between $480,000 to $720,000 and;
A 30m wide x 80m long clearspan shed would cost approximately $960,000 to around $1.4 million.
What makes up the cost of a horse arena?
Are the above figures a bit more than you expected? If so, there are a few designs tweaks you could make that would help bring this square meter rate down, such as;
Centre poles/Internal supports
Smaller clearspans
Height
These are big, covered areas, so don't be fooled by thinking that being a roof-only shed makes it cheap. There is a lot of engineering that goes into these structures to cater for the large clearspans.
Reducing the clearspan will mean the thickness/design of the steel will likely come back, which provides savings, but keep in mind that it pays to get the desired width right initially, as it can't be added onto in the future.
Having internal supports will make a considerable difference; however, this generally creates more problems as you lose internal floor area, and riders prefer an unobstructed area for their activities.
Installation should also be considered as this figure would be on top of the outlined cost. As a general guide, a horse arena would cost between $90 to $120m² excluding a floor. This will differ from builder to builder, and below are a few reasons why this may vary:
The number of crew on site
The travel distance from builder to site
The distance from main centres
Some companies offer full installation options; others focus on kitsets only, so it pays to check with your preferred supplier what they do to make sure you are covering all bases.
Is a square meter rate a safe guide?
Costs vary a lot from design to design, so there is no real figure we can exactly point to and say this is what it is, purely because each shed is designed site-specific.
To put it another way, two sheds with the same overall measurements but different configurations and inclusions can have varying rates. So, keep this in mind with square meter rates, and it is always best to speak with 'the experts' to get the numbers stated, and confirmed.
What are the best dimensions for a horse arena?
Typically, these buildings need to be clearspan and a substantial height to cater to the horse and rider. Depending on the shed supplier and materials used, the buildings range from 15m to 30m clearspan and 30m to 100m+ in length.
Most of these designs are roof only, but that doesn't mean walls, stables, and tack rooms can't be added. Heights vary from design to design, but typically the side height or stud height starts around 4.0m high and up 6-8 meters at the apex.
Floors for these projects are a specialist item so this would need to be priced by an expert to get a number worth budgeting with.
Height is another point you want to get right as well as this can't be increased in the future. Depending on the design, it may make sense to bring it down a little, and by doing this, it will help with reducing the square meter rate. But as you can see, you want to be designing the building with the future in mind, so paying a little more upfront makes a massive difference to the investment down the track.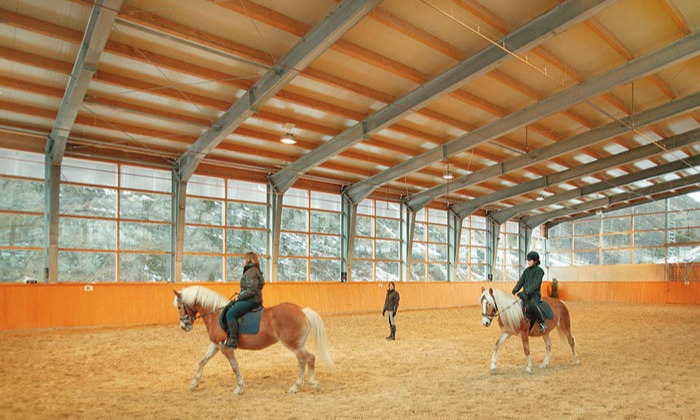 Image sourced from X Span
Who are the best companies to use for a horse arena?
There are a few shed companies that are best suited to provide covered horse arenas in New Zealand, and we would recommend you contact them to discuss your needs. As funny as it sounds, not all shed companies are set up to do arenas, although the design seems relativity straightforward. It always pays to work with someone who has done these types of buildings because they will have tips and tricks to share from previous projects.
SmartShelters
"Covering your arena will transform your horse-riding experience, making it comfortable and enjoyable no matter the weather. Our horse arena constructions are backed by 100 years of experience, where we work with the finest materials available. At SmartShelters, we're able to rapidly design and construct covered equine arenas of the highest quality, enabling you to ride better (and smarter), sooner."
Visit SmartShelters' website here.
X Span
"If you're looking for a fully covered horse arena or building cover for your rural, industrial, or commercial business, then check out our range of premium steel covers and arenas.

Our unique online 'Shed Creator' software allows you to design your own cover exactly the way you want it by following a simple four-step process. All you need to do is enter the required height, length, and span (also available in excess of 25 meters), and we'll provide you with a no-obligation quote."
Wide span
"Wide Span Sheds offers a diverse range of riding or equestrian arenas that can easily be customized to suit your requirements. Whether your arena is for private, educational, or commercial use, we have the capacity and experience to deliver a premium protective solution."

Visit Wide Span's website here.
We hope this has provided you with some direction to start budgeting for your covered horse arena. There are several steps to be taken to ensure you have the right option for your setup. These buildings need to be viewed as a permanent investment; therefore, it pays to speak to a company that focuses on these types of buildings as they will be of the most help.
Here at Alpine, we have our own specialities and shed designs that we are best suited to.
See our full range of shed options here.