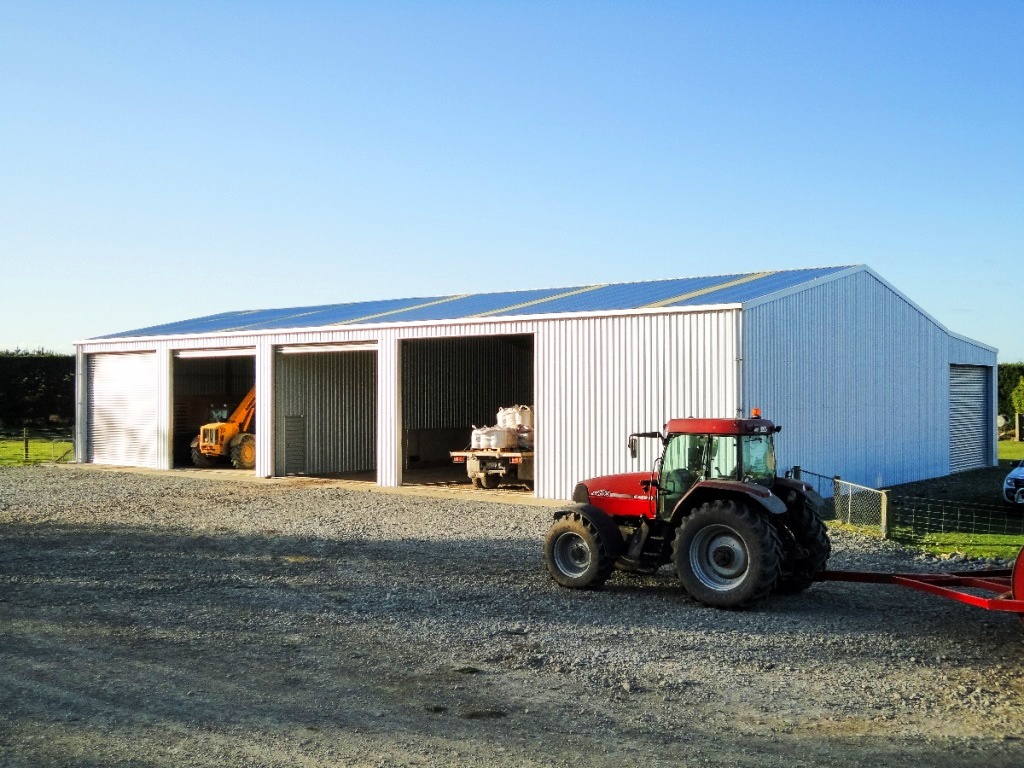 1. What is your budget?
We always find it handy if you have a budget to work towards when designing your shed as this gives our team a better understanding of your project.
With your budget in mind think of the 3 most important things to you on this project, this enables us to prioritise certain features of the shed above others to ensure your new building works best for you. For example, to save costs we can start with Zincalume cladding or if you need clearance to accommodate your car hoist then we can allow for this.
If you have a tight budget and want a way to save costs without making the shed smaller then you could install the shed yourself. Thankfully Alpine kitsets are as easy as 1,2,3 to install anyone can build one, and a lot of our clients do!


2. timber or steel rafters?
Alpine specialise in clearspan structures that are 9.0m + wide, we use structural steel rafters for strength to span the area eliminating the need for centre poles. If you are wanting a shed 8.0m wide and less we would recommend you work with companies who specialise in the timber rafters like Goldpine.
Alpine steel rafters also have purlin cleats already placed and welded for extra strength and install speed. This also eliminates roosting areas for birds.
When buying your new shed, ensure the supplier uses materials that will last the distance. Alpine uses H3.2 tanalised timber framing that has been strip stacked to dry it out, meaning it is lighter and straighter. We use H5 treated poles for 50 years' protection against fungal decay. Our standard structural steel rafters are hot dip galvanised for the best rust protection you can get!
Although Alpine uses steel rafters for strength, we mostly use dry timber for the roof and wall framing, helping to reduce noise to a minimum in noisy environments such as a workshop or cow shed.



3. What size shed do you need?
To help decide what size shed you need, ask yourself these questions:
Where is the shed going to be placed? E.g. what is the maximum amount of space that your shed can take up?
What are you using the shed for?
What will my needs be in 50 years' time? Will the shed be too small? Wrong location? Change of use? Could it end up being my retirement hobby area?
A rough guide to calculate the storage space you require is to add the area of each item to be stored, and add 40% to allow for space between each item. If your shed is for storing machinery, you will need to add at least 20% to allow for easy manoeuvring of items. To future-proof the shed, add another 30% to accommodate short-term future needs.
If you are debating whether to add an extra bay now, or if you should leave it to later; keep in mind it is far more economical to do the whole shed at once because you will save on building consent fees, delivery and install.
The range of shed sizes available at Alpine vary from 9m to 30m+ wide with custom heights, bay sizes and unlimited lengths.


4. How will you access the shed?
You should plan to build your shed in an area with plenty of space, especially at the front of the shed. This will allow for easy manoeuvring of machinery.
Building your shed away from trees will also ensure your guttering is kept free of obstruction.
If your shed is for storing machinery, you may also want to consider traffic flow patterns inside the building to determine door locations.


5. What is the shed going to be used for?
Depending on the proposed use of the shed, there are several factors you should consider before designing your shed:
Lighting – clearlight, open bays, roller doors, windows.
Ventilation – If you are building an animal shelter, you will need to ensure livestock are kept comfortable and healthy with natural ventilation. This can be achieved with design features such as ridge openings, an overshot roof or Yorkshire board.
Access – personnel doors, roller doors, open front bays.