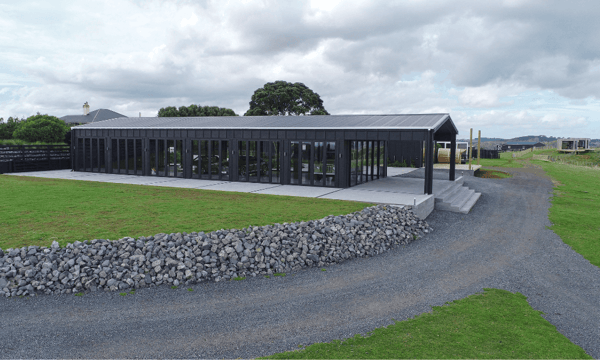 There are several options when it comes to shed cladding. However, the reality is that the size of the shed, shed location, and even its use will play a role in determining which cladding is best.

In this article, we explain the most common cladding materials for sheds and what to be aware of when choosing custom cladding.

Timber cladding
Common timber claddings include board and batten, linear board, and weatherboard. These options can improve the aesthetics of your shed, especially when you are building it next to your house. While timber cladding profiles look great, there are several characteristics that can be easily overlooked.
Cost of framing
Standard framing for a timber shed with standard iron cladding is usually very simple. In most cases, 200x50mm timber girts sit horizontally between the poles and are spaced 1.2m apart. Depending on the size of the bay, you may not need other timber battens or blocking. The iron cladding is simply tec-screwed to the outside of the girts.

Timber cladding typically needs to be fixed with screws or nails, at a maximum of 600mm centres, both horizontally and vertically. This means the amount of framing required increases up to double the amount. This increase in framing materials and fixing hardware adds considerably to the cost of your kitset.
Cost of labour
The increased cost of timber cladding doesn't stop with the additional framing - there is also a lot more labour required. Along with that, wall wrap (building paper) is required on the walls to act as a moisture barrier, adding even more to the cost and installation time.

Ongoing maintenance
While iron cladding is effectively maintenance-free for the duration of its lifespan, this is not the case with timber cladding. Several protective coatings need to be immediately applied to the surface of the timber and may need to be reapplied annually. This can be a costly and laborious exercise, especially for larger sheds.

Here at Alpine, our sheds are built with timber framing but clad with iron cladding in either a corrugated or 5-rib profile. This way, we ensure that your shed is cost-effective and looks great for many years with minimal effort.
What is ZINC Cladding?
Zinc is steel coated with an aluminium and zinc alloy. This protective coating significantly increases its service life by combining aluminium's corrosion protection with the sacrificial anode protection of zinc.
Though corrosion rates vary depending on the conditions, zinc steel coatings outperform galvanised coatings in most environments.

To find out more, ask our experts for more information about Zinc cladding for your shed project. Or for a streamlined project, see our Rapid Range featuring zinc corrugated roof cladding and Zinc 5-rib wall cladding.
What is Colorsteel Cladding?

Colorsteel cladding is similar to zinc cladding in terms of the base material. However, it has another protective colour-coated layer and is available in a wide range of different colours. Check out the range of colours here.
While standard zinc can be painted, it won't last as long and will require more maintenance and re-painting over time. On the other hand, Colorsteel has a UV-protective surface coating to reduce fading and keep it looking good for a long period of time.
What is Colorsteel Maxx® Cladding?
Designed for the most extreme New Zealand conditions, Colorsteel Maxx® provides protection against corrosion in areas with severe to very severe environmental conditions. Colorsteel Maxx® is specifically developed to withstand higher atmospheric salt concentrations.

If your shed is in close proximity to the coast, or in other more corrosive environments, Colorsteel Maxx may be a wise choice. For more information on the best sheds for coastal areas, view our article here.


Deciding on the right cladding for your shed is a crucial task so it's vital to have the information you need. If you're interested in discovering more about our innovative shed construction, contact our team today to discuss it in more detail or simply download our full product range brochure.