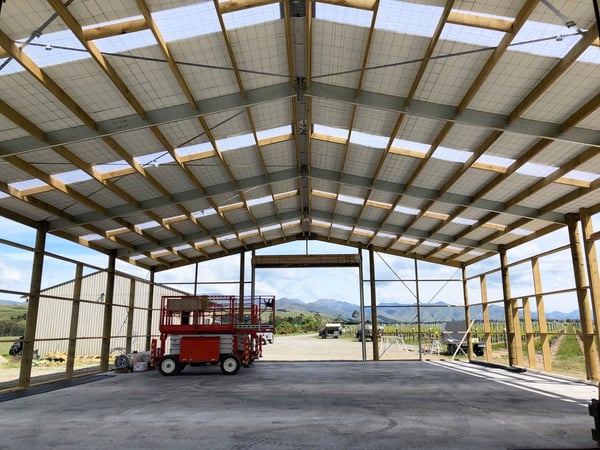 With September now here, all we seem to be hearing is how fast the year has gone and how close Christmas is.
With the end of the year fast approaching, this is the time to start tidying up tasks before the holiday break. This relates to your shed build as well. This time of year, the demand for services increase, and it is important now to think about the next steps in the process for your shed build, and what is going to help keep the project moving over the shutdown period of Christmas and New Year.
One of these next steps is most likely getting a building consent.
What size buildings need to have a building consent?
New Zealand building guidelines dictate that buildings over 110sqm require a building consent. At Alpine Buildings we specialise in sheds over 200sqm as our structure design is most cost efficient in larger clearspan buildings, therefore most of our clients will require a consent for their new build.
How long does it take to get a building consent?
Building consents generally take 20 working days to be processed from the time they are accepted by your council, and with most councils shutting down from mid-December to mid-January, an increase in applications prior to shut down and a system back log after they return may set your project back. No matter whether you are in the initial stages or have confirmed your design, it is important to think ahead and factor in all aspects of the project timeline to ensure you get your shed when you need it.
Getting your consent in early gives you more flexibility as this part of the process is not as adaptable. Therefore, applying for building consent as soon as you have confirmed the design gets you ahead of schedule, takes away the stress and gives you the opportunity to bring forward the delivery of the kitset. If you were thinking of installing your kitset yourself, having it delivered to site before the Christmas break enables you to complete this over the summer break if you wish.
How do I apply for a building consent?
Here at Alpine Buildings we like to make the job of building your new shed as easy and seamless as it should be. We do this by having our specialist teams take care of the process from concept to delivery. We have worked with every council in New Zealand numerous times, so the team are experienced and know exactly what to expect. Having our team look after the consent process will save you a lot of time and hassle allowing you to focus on what you enjoy.
The below graph shows each step for getting your building consent lodged and approved.

It's not too late to get your shed build underway. Whether you need concepts done or your consent lodged, get in touch with our team today and avoid the rush.