If you're thinking about making that move and working from home, or wondering about the pros and cons of owning your own workspace versus renting, you've come to the right place. We caught up with Rhys Mellor from Love Kitchens who knows all about it.
Rhys has over 25 years of experience working with wood and composites. He has spent 13 years in Europe working on super yachts, and has been involved with grand prix yacht racing teams like The Vendee Globe; Round the World; America's Cup; and The Jules Verne campaigns. Rhys has also had the privilege of working alongside the world-renowned furniture designer Joseph Walsh, in his Irish studios. Now settled back into kiwi-living with his wife Jo and their two young daughters, together they run Love Kitchens in a purpose-built workshop from their rural property on the Waimauku West Coast, Auckland.
The Mellor family live on a small lifestyle block and from here their family business, Love Kitchens, was originally based out of a shipping container in the back yard. As the business continued to grow and evolve their 'workshop' was added onto with varying lean-to's and tarps until there was just no place left to add to. After conducting research and costing of building a shed versus leasing, Rhys decided to invest in a 10.0m x 14.4m long Alpine shed. This is why it works for him.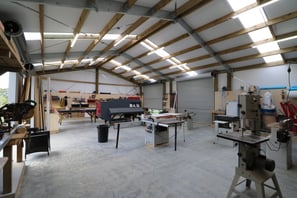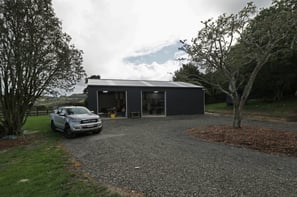 Reducing expenses and overheads
There were various lease options near Rhys, so why did he decide to build a shed?
After looking at the lease cost of a decent sized building it was going to be around 20-30k per annum for a suitable building. On top of the cost to rent, there were also additional costs such as internet, power, up-keep and daily travel expenses to factor in. As Rhys found, this quickly added up to significant ongoing overheads. In fact Rhys calculated that "Over a period of 4 years we would have paid for the completed building in rental costs. It ticked all the boxes for us for sure, we knew it was going to work and one year in it has worked great so far!"
He believes the efficiencies of having your own shed far outweighs leasing. For example, over the Christmas period he doesn't have to pay lease costs for a building that isn't being used. Rhys says, "The 2 weeks off is crucial if you are outlaying for the holiday." The Mellor family took 3-4 weeks off and Rhys was able to tinker in his shed during this time creating some bespoke pieces for their home (see examples of Rhys' work below).
This is essentially money you could be investing elsewhere to get a better return. By having a business on your lifestyle block you may be able to work with your accountant to claim some of the household expenses such as power, water and internet as a business expense.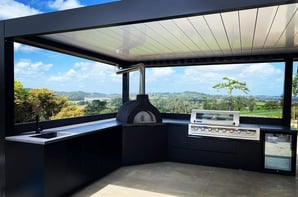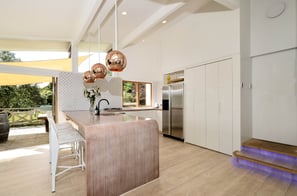 Less Interruptions & More Flexibility
Rhys finds that there are less interruptions during a working day and a lot more flexibility with working hours. Being away from the general public means Rhys' time isn't taken up with foot traffic coming in and out of his store. As we know labour costs far outweighs any type of expense, particularly if you are a business that has a husband & wife work force and every minute is extremely important.
There is a lot of flexibility when working from home with no real restrictions on working hours, compared to some industrial/commercial areas that can often impose strict regulations around operating hours. Rhys can do a solid 9 - 12 hour day with no distractions, and has the flexibility of being able to spend a couple of hours each Saturday morning getting ready for the next working week or attending to an urgent job that requires his immediate attention. He also has the luxury to work a shorter day and take the family out on a fishing trip.
Increases in Equity
It is common knowledge that banks tend to readily approve loans at low interest rates. Rhys stated that "It isn't an industrial building, it's a decent sized shed. So if we did sell the property someone can walk in and use the shed for their hobby and recreational use. It's a great size for the property. Plus as the debt is repaid I am increasing my equity in the property - rather than it going into someone else's pocket."
When we asked Rhys what the disadvantages were of working from home, the only thing he could think of is the occasional family distraction, but having the workshop situated away from the house and not in a garage attached to the house works well.
For more information on Love Kitchen's bespoke indoor and outdoor kitchens, visit their website here.
To hear more about Rhys' Alpine experience and how his workshop is set up check out the video below.